Tomorrow Utah's Governor will be sworn in on the south steps of the State Capitol in Salt Lake City. My sister and I were there just last October and these bronze beehives had been newly installed at the front entrance.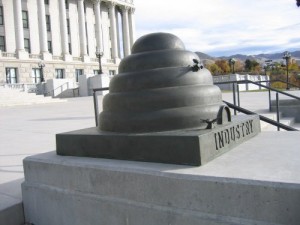 For the State of Utah, the beehive represents the spirit of Community. It is a great symbol of industriousness and community cooperation for everyone. The two bronze beehives and plaques with raised letters that read "Industry," are attached to granite bases; enclosed inside the bases are two time capsules which contain memorabilia from 1976.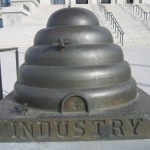 When David sings the National Anthem from the south steps, he will enjoy a spectacular view of Salt Lake City and the Wasatch Front. I'll be looking to see if someone gets a photo of David and these beautiful beehive sculptures. If only I could fly there myself and brave the cold weather! Alas, I am suffering with a cold and sore throat. Those who are able to attend, please enjoy and keep warm. Click on these thumbnails to view a larger photo and notice how the honeybees are 3D, ready to fly into the Capitol Building and create some BUZZ!
Copy this short URL to share this post anywhere: http://www.dabuzzing.org/?p=502

Tags: beehive · industry · Utah
Filed in: music|performances
This Post has earned 1 Buzz.