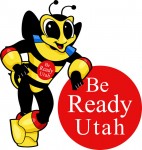 Gary R. Herbert, Governor of Utah, has declared April 4-10 as Earthquake Preparedness Week. Utah has experienced damaging earthquakes in the past and is a seismically active region. The slogan for earthquake preparedness is "Be Ready Utah."
Well, I would like to warn the good folks of Utah that the ground is gonna start shaking this week during Earthquake Preparedness Week. David Archuleta, citizen of quake country, is himself a force of Nature. Be ready, be prepared. Alert the Salt Lake airport that David Archuleta will be flying to Los Angeles. His appearance tomorrow on American Idol to sing his soulful, Eva Cassidy-inspired version of "Imagine" will start seismic activity over the City of Angels, which will spread rapidly eastward.
By Friday, April 9, David, the Quaker, will fly back to SLC to perform during halftime at the UT Blaze game at the E Center. Alert the airport and E Center security teams.
So, "Be Ready Utah." Be very ready! The next 72 hours will tell whether your emergency plan was sufficient to the task.
Copy this short URL to share this post anywhere: http://www.dabuzzing.org/?p=15039

Tags: Imagine · UT Blaze
Filed in: David Archuleta|opinions
This Post has earned 2 Buzzes.