Elvis Presley would have been 75 years old today. Sadly, he died at age 42 at Graceland, his home in Memphis, Tennessee. On a cold and rainy day during the Christmas holiday, I had the honor of visiting his gracious mansion. There I bought the official guide to Graceland and a copy of Life Magazine's "Remembering Elvis, The King at 75." The year-long celebration will include a partnership with Cirque du Soleil, a concert tour by "tribute" artists and a traveling show of photographs of Elvis at 21.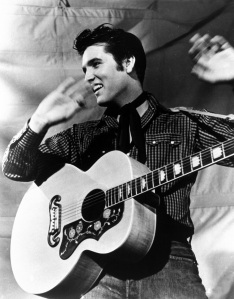 Today the Presley family was there at Graceland, along with 1,500 visitors. Priscilla Presley said, "He was bigger than life, but very humble and very gentle." Asked what he would think of today's celebrity culture, Priscilla said he would love American Idol, Fox Television's top-rated amateur singing competition. I can imagine that Elvis would have appreciated the talents and the character of David Archuleta. As others have noted, the comparisons between the two singers are interesting. Both were child singers who won singing competitions. Both had/have strong religious convictions; there's even a story that Elvis was planning to be baptized into the Church of Jesus Christ of Latter Day Saints before his untimely death. Both had/have hearts of gold! And…both were/are great balladeers.
At Graceland, one can feel the presence of Elvis and of his love of music. The lovely mansion is one building Elvis has not left.
Sources:
Elvis Feted in Memphis
Cirque du Soleil
Cirque-Elvis
Tears of a King (2007)
Copy this short URL to share this post anywhere: http://www.dabuzzing.org/?p=9187

Tags: American Idol · Elvis Presley · Graceland · Memphis
Filed in: music|news|opinions|voice
This Post has no Buzz yet.