The other day I heard a disturbing news report about American knowledge of our nation's history. A poll conducted by the nonprofit Marist Institute asked, "From which country did the United States win its independence?" Twenty-six percent of those surveyed did not know that the U.S. achieved its independence from Great Britain.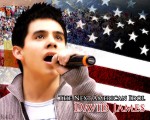 Then I read an inspiring story from David Archuleta which gave me hope. He usually spends Independence Day with his family, barbecuing and watching fireworks. He feels it is important to remind ourselves exactly why we celebrate these special occasions. He says, "I've been into watching National Geographic or the History Channel during the holidays…just so we realize, 'OK, what are we celebrating again?' and just go into the details of what happened in history."
This 4th of July David is making a little history himself. He'll be singing "The Star Spangled Banner" at the annual PBS special, A Capitol Fourth. He says, "I'm really excited to get to sing with the orchestra…and just the fact that I get to be a part of it is really cool. It's always neat to be a part of something I watched growing up….it's like you're walking into a dream or something."
David Archuleta will also sing "Stand by Me." Hosted by Jimmy Smits, the concert and fireworks extravaganza also features performances by Gladys Knight, Reba McEntire, and Darius Rucker. A Capitol Fourth airs live on PBS from 8:00 to 9:30 pm ET, 7 Central, in High Definition from the West Lawn of the U.S. Capitol.
Before you settle down to listen and watch, test your knowledge of the Fourth.
Happy 234th Birthday, America!
Copy this short URL to share this post anywhere: http://www.dabuzzing.org/?p=16787

Tags: 4th of July · A Capitol Fourth · Independence Day · National Anthem
Filed in: career|David Archuleta|news|opinions|performances
This Post has no Buzz yet.