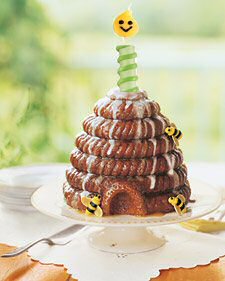 Happy Anniversary, DA Honeybees!
Today's the day! We Honeybees celebrate November 20 as our online anniversary. Here's the anniversary cake I promised you! It's a beehive-shaped honey cake with a honey glaze and cute marzipan bees. If it were possible, I'd give each Honeybee and Angel a slice with extra honey drizzled on top. Since it's only a cyber-cake, please make a wish and symbolically blow out the candle. Then follow the Queen Bee to a Grand Party at a Grand Hotel in the "Land of David."
Let's set our imaginations free and dream of a fabulous First Year Anniversary Party. It would go something like this. Today, November 20, the Honeybees form a flight pattern and swarm over the Wasatch Front to alight in Salt Lake City for a sweet celebration.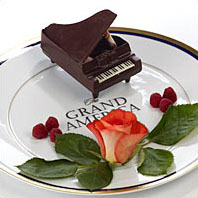 Beehive Transportation lets us all ride in a beautiful stretch limousine to the Grand America Hotel, the only Five Diamond hotel in SLC. There we are escorted into the Grand Ballroom where a hundred hexagon tables are intermeshed, forming one giant honeycomb. At the center sits the entire David Archuleta family, including cousins, uncles, aunts, and family pets. We dine on sweet meats, candied veggies, honeyed bread, and, of course, sweet nectar. We are entranced by the euphonious entertainment from David and his siblings. After hours of singing, dancing, and buzzing, we Honeybees present David with a grand piano—a chocolate grand piano, just one of the delectable desserts on the menu at the Grand America.
All too soon, the Anniversary Party is over and DA Honeybees buzz out. We scatter to all points on the compass and begin another year of sweet buzzing for David Archuleta.
Copy this short URL to share this post anywhere: http://www.dabuzzing.org/?p=7840

Tags: anniversary · DA Buzzing · DA Honeybees
Filed in: news|opinions
This Post has earned 9 Buzzes.