Subtitled "Blown Away"!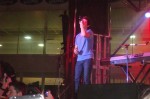 Man, was I blown away! Just the sound check had my heart pumping! To be in a small venue with David Archuleta only 10 to 13 feet away was just "too much." I literally felt the beat thumping throughout my body, from my feet to my heart! I had not seen David live since August 2008. The greatest part about this time was that he was singing songs that were his own—some new, some 'old,' but all gold!
Note: click picture to see larger version.
David was no-nonsense during the sound check and very pro­fessional getting the musical instruments coordinated to his voice and liking, but then he would give his fans a heads-up or a shout-out and we'd all scream for more!
I don't remember the line-up of songs perfectly. I can say for sure that he sang these songs, just not necessarily in this order:
"Something 'bout Love"
David chose to sit on the edge of the stool but he could not sit still as he got into the song. I was afraid the stool might fall over, but David is very corordinated. This song has a wonderful catchy tune! Wow! Hearing SBL live was a dream come true. This is David's first single from the new album, The Other Side of Down. The music video for it was amazing, so I was hoping he would sing it.
"A Little Too Not Over You"
This one really got all us fans jumping and screaming. This song is so David and I believe he really enjoys singing it. Again, just perfect with a few surprise twists! It was shocking to me how David did this with all the songs and didn't miss a beat. How does he ever remember all these different twists in a song? His natural musical talent makes him a great live performer.
"Touch My Hand"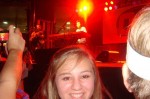 During "Touch My Hand" I got to witness first hand how it is to be 16 and have your arm touched by David Archuleta! Becca (beccakayy) was so completely enraptured by David as he reached out to touch the hands of fans. Later, she saw the photo her mom had taken, confirming that David had indeed touched her arm! It thrilled me to see someone else show how much she cared for this wonderful artist.
Note: click picture to see larger version.
"Somebody Out There"
I think SOT was a freebee because there was something going on with the keyboard and the crew had to come onstage to work on it. To kill some time David stood back up and gave us this wonderful treat. I love this song and I believe it's my favorite. The words are just incredible and hearing it live just thrilled me!
"Elevator"
Oh, my! What a thrill to hear this brand new song which will be on the new album. Written by David and his guitarist, Mike Krompass, this is David's latest single.
"Crush"
Back at the keyboard, David gave us "Crush" and I was just blown away again! It hit me why David is so well-known for this song. It has been running in a loop in my head for about a year now, but hearing David sing it live gave new meaning and beat to this song!
"God Bless America"
David listened to all us fans out there and sang one more even though Mike, the guitar player, was on the way off the stage. When David sang "God Bless America" a cappella, it brought tears to my eyes! I couldn't believe that after all the videos that I've watch with David standing in an arena singing this song that now I was getting to hear him live! Amazing last touch!!
And then he was gone. All too soon!
Many people at the Delta Fair commented on this one thing: David will be around for as long as he has the desire to sing. I've thought this since I first heard him more than two years ago. As I looked at the audience last night, I could tell one reason David has longevity as a performer: his fans range in age from two years old to 99. And there are more than 99 reasons people love David and his music.
Another observation—not to compare David to other artists—is that at age 19 he already has that special 'star quality' we have seen in many well-known and successful artists. Like Elvis, David humbly says 'thank you very much.' And when David walks, it reminds me of the Beatles walking across the 'the yellow brick road.'
So long as people love music and true vocal talent, David will have a captivated audience. His talent is awesome. How can he sing so beautifully and make his fans feel every chord on an individual level? Each high note and every low one makes us feel the gift and the power of music.
Yes, I've been following David since Idol 2008 and I can foresee a great future for him and his fans!
Copy this short URL to share this post anywhere: http://www.dabuzzing.org/?p=17801

Tags: Delta Fair and Music Festival · Memphis
Filed in: David Archuleta|music|news|opinions|performances
This Post has earned 10 Buzzes.