'Tis the merrie, merrie month of May! It's spring, my favorite time of year, and I want to wish all David Archuleta fans, friends, and family a lovely day…a lovely month. To celebrate I've decorated DA Buzzing with flowers and will keep them until after Mother's Day. Also, please let me say "thank you" to those who have made purchases on Zazzle. Your purchases are, of course, private, so I cannot thank you personally. Zazzle only lets me know that a certain item has sold. Thank you so very much! And now, on with May Day celebrations!
I give you this poem by Henry Wadsworth Longfellow:
Hark! The sea-faring wild-fowl loud proclaim
My coming, and the swarming of the bees.
These are my heralds, and behold! my name
Is written in blossoms on the hawthorn-trees.
I tell the mariner when to sail the seas;
I waft o'er all the land from far away
The breath and bloom of the Hesperides,
My birthplace. I am Maia. I am May.

HW Longfellow (1807 – '82); The Poet's Calendar for May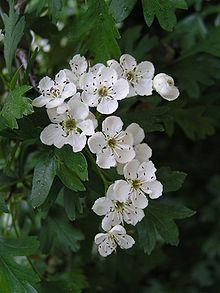 The common hawthorn belongs to the rose family and produces its flowers in late spring in corymbs of 5-25 together. (A corymb is usually flat-topped flower cluster in which the individual flower stalks grow upward from various points of the main stem to approximately the same height.) The hawthorn's fragrant blossom has five white petals and numerous red stamens. It is the official state flower of Missouri where more than 100 species grow.
Ever noticed how the maypole looks similar to DNA and with the alignment of the planets? Woooo! I get chills just thinkin' about it!
Copy this short URL to share this post anywhere: http://www.dabuzzing.org/?p=15822

Tags: Double Helix · Henry Wadsworth Longfellow · May Day · Planets
Filed in: opinions
This Post has earned 5 Buzzes.