This is Music Beat. Exploring the music world into which David Archuleta is immersed. Featuring Music Biz, Buzz Board, the Way-Back Machine, and more. Enjoy!
Music Biz
Mapping Worldwide Music Sales
Counting music sales is difficult, if not impossible. The International Federation of Phonogram and Videogram Producers (IFPI) counts total units as album equivalents for global comparison (3 singles = 1 album). Nielsen Soundscan, the entertainment industry's data information system that tracks point-of-purchase sales of recorded music product, underreports music sales by relying on conventional album units. The RIAA (which relies on Soundscan) reports on the basis of conventional albums as well, and confounds the counting system even further by relying on shipments, not actual sales.

On first glance of this total music market map, it looks as though David Archuleta should tour Japan. According to the IFPI, more than 95% of the total revenue from music in 2003 was derived from the thirty major countries in the proportions shown in this graphic, organized roughly by geographic location. However, the share of album sales by country is complicated by the fact that the Japanese music market is dominated by local music that does not sell much outside the country. Therefore, the Japanese market for international albums is actually less than 2 percent of the world market. The four largest markets—the US, UK, France, and Germany—represent approximately 68% of global sales. If only counting album sales were as easy as setting a metronome!
More: Graphic courtesy of Steve Hawtin based on widely quoted data from IFPI, released under the GNU Free Documentation License.
Music as Product
As the music business changes and adapts to new technologies, such as the Internet, we see music incorporated into all sorts of things. We access music by listening to web radio, downloading onto iPods and other devices, and hearing music in games like Guitar Hero.
Mobile and broadband consumers can discover, download, and play music, anywhere, anytime. It's called cloud music and here are some of the ways companies are testing the idea.
Nokia's "Comes with Music" service (DRM-free in China) by Thomas Ricker, 8 Apr 2010
Song Ericsson's Play Now Plus by Darren Murph, 24 Sep 2008
Sky Broadband's launches Sky Songs for unlimited streaming and downloading, by Marie Bloomfield, 15 Oct 2009
Vevo live in North America, Vevo, a joint venture among Universal Music Group (UMG), Sony Music Entertainment (SME), and Abu-Dhabi Media Company, by Marija Jaroslavskaja, 10 Dec 2009
Apple's iTunes. It's rumored that Apple may be ready to launch an unlimited music subscription service. Interfacing with the popular iPod, iPhone, and iPad: take your pick or choose all of them.
Thomas Hesse, president, global digital business, Sony Music Entertainment, had this to say about music as product. "Ultimately we will see all sorts of products come with music – home stereos, cars and potentially televisions. Music can become an important element that enhances the value of consumer electronics devices, providing consumers with a very complete and satisfying experience."
I will truly be astonished when my washing machine grooves to the voice of Don Henley singing "Dirty Laundry."
Buzz Board
So…what is Music?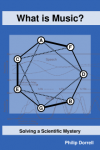 Many things in this world astonish me. Electricity, wave lengths, telephones, televisions, silicon chips, wireless internet, laser surgery, jet aircraft, space ships, black holes, microbes of any kind, artificial intelligence. Things are getting so complicated I suspect one day microbes will eat silicon chips and television will fade into a black hole. When it all overwhelms me, there is one 'technology' to which I turn. It is Music! Music never fails to provide a measure of comfort, peace, and joy. Music is the most astonishing thing of all, and it is the most beautiful.
What is Music? Of all technologies, music is perhaps the most intrinsic to our human condition. It comes with 'who we are.' Arthur C. Clarke, the English physicist and sci-fi writer (1917 – 2008), said, "Any sufficiently advanced technology is indistinguishable from magic." I couldn't express a more perfect definition of music than that. But there is no universally accepted answer to the question, "What is Music?" Any sufficiently advanced technology is indistinguishable from magic. – Arthur C. Clarke, Profiles of The Future, 1962 The ancient Greeks described "tones ordered horizontally as melodies and vertically as harmonies." They waxed poetic of Music as "the harmony of the spheres." However, 20th-century composer John Cage thought that any sound can be music, saying, "There is no noise, only sound." Philip Dorrell wrote a book to explain a scientific theory of music. The main idea is that music is a "super-stimulus for the perception of musicality, where "musicality" is actually a perceived property of speech." (His book is available as a free download.) Human speech is musical: we speak on pitch and and with rhythm. Dean Kaelin, David Archuleta's vocal coach, is a teacher of the Speech Level Singing (SLS) method developed by Seth Riggs. SLS explains how David is able to be very flexible with vocal runs and retain vocal power during the bridge. It also helps us understand the emotional component David brings to the lyrics. He is able to tell us a story in song.
Way-back Machine
Pure Voice
Bobby McFerrin reminds us of the purity of the human voice. Listen to him singing "Blackbird" by The Beatles. The clip will open at lala.com and will play once completely and a 30-second snippet thereafter.
---
And the Music Beat goes on…but you may have missed MB last week.
Music Beat Buzz
Copy this short URL to share this post anywhere: http://www.dabuzzing.org/?p=15584

Tags: Bobby McFerrin · Music Beat · Nielsen SoundScan · RIAA · Speech Level Singing
Filed in: career|David Archuleta|minja|music|news
This Post has no Buzz yet.