The Elvis Smile Elvis Presley's captivating smile had as much to do with his gorgeous eyes as with his quivering mouth. David Archuleta smiles often and sometimes his smile reminds me of Elvis, as in this photo.
Another "Just David" moment
Our Photo of the Week was taken during the American Idol Top 7 results show last year. The contestants were split into two groups. Syesha Mercado, Brooke White, and Kristy Lee Cook were in one group; David Cook, Carly Smithson, and Jason Castro were in the other. Archuleta was the only one not sorted into a group. After being told that he was safe, David was asked to join the group he thought was safe. David has never been one to pull mean-spirited tricks, so he smiled and plopped down in the middle of the stage, sitting cross-legged in innocent protest. With his endearing sense of justice, he applauded both groups. David has a knack for finding a perfect solution to each and every situation.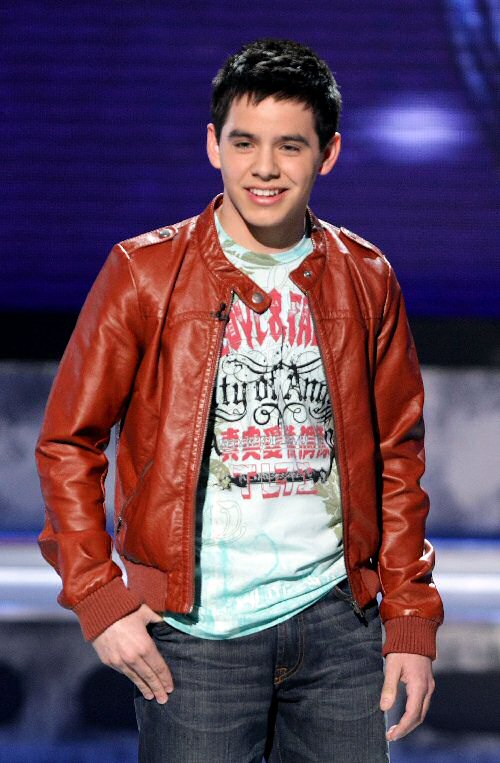 David Archuleta, American Idol results show, April 16, 2008
Photo posted on http://www.david-hq.org/photos/index.php
By the way, it was Kristy Lee Cook's turn to exit the show that night. And on a random note, David wore a beautiful pale blue Elvis t-shirt when I saw him in July at the Sacramento concert. You can see the t-shirt clearly thanks to gengen Wang's great concert photos.
Did you miss last week's Photo of the Week?
David Archuleta, a Photographer's Dream.
Copy this short URL to share this post anywhere: http://www.dabuzzing.org/?p=7349

Tags: American Idol · Elvis Presley · Photo of the Week · topazjazz
Filed in: columnists|David Archuleta|photos|topazjazz
This Post has earned 3 Buzzes.