Got a "Crush"? David Archuleta's first single, "Crush," debuted at #2 on the Billboard Hot 100 the week of August 21, 2008. This was the highest debut for a song on the Hot 100 last year and the highest debut for any song on this chart since February 2007. "Crush" was a great hit for David and continues to make news. This week we had the tremendous pleasure of celebrating the 20 millionth hit of the music video of "Crush" on YouTube. The song will be covered by Chris Colfer on Fox's new show Glee and will be on the second soundtrack of the popular show. Amazing!
The Photos of the Week are the "Crush" art covers for the digital release.
I am reviewing the photo artwork used for "Crush." If you want to learn more about the song, please read Honeybee Katie's excellent Song of the Week column. She has all the details about David's first single as a solo artist.
The artwork for the U.S. release is what I call a magazine shot. It's a candid snapshot of the smiling teen singing star.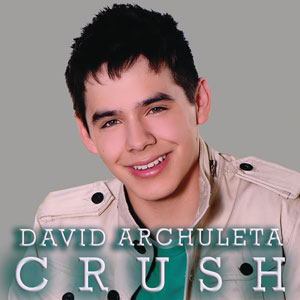 Cover art for the single "Crush" by the artist David Archuleta, August 2008.
For the UK release, "Crush" got a more street treatment with this photo of David taken in Brooklyn. Graffiti art technique in the logo matches the artwork on David's debut album, which was released several months after "Crush."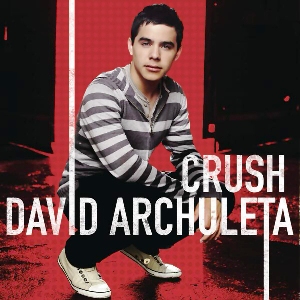 UK cover art for "Crush" by David Archuleta, 2008.
"Crush" Music Video—20 Million Hits
Go hit the official "Crush" video again — let's click it up to 30 million hits!
The music video of "Crush" was directed by Declan Whitebloom and filmed in North Georgia. It was first leaked on September 7, 2008, through AOL, initially restricted to Canada and then released September 16, 2008 on iTunes. Today the video has more than 20,000,000 views and a 5-star rating with 56,000-plus comments!
Photos courtesy of Jive Records
Flip back to last week's Photo of the Week
David Archuleta, a Photographer's Dream.
Copy this short URL to share this post anywhere: http://www.dabuzzing.org/?p=7352

Tags: album cover art · Crush video · Photo of the Week · topazjazz
Filed in: columnists|David Archuleta|photos|topazjazz
This Post has earned 1 Buzz.