David Archuleta, My Calendar Guy I'm enjoying my new calendar for 2010 because every month features some of my favorite photos of David. As the year marches on, I'll enjoy using this calendar for schedules, birthdays, vacations—and hopefully to mark dates for David's 2010 concert tour! On my calendar, February's photo is unexpected, because it's not David covered in Valentine hearts. It's GREEN!
Photo of the Week is February Photo Art by R4D.
David Archuleta is extremely photogenic. The eyes, the smile! The camera loves him! Many photographers have snapped him in studios, on stage, and off stage. Another kind of visual artist—the graphic artist—has been inspired to interpret the photos of David in unique and sometimes unexpected ways. One such artist is James, better known among David's fans as Rabid4David or simply R4D. He's a Filipino artist who has created many digital art posters of David Archuleta. The artwork is so cool—posterized, colorized, digitized. There are even iconic depictions of David as James Dean and James Bond. R4D could produce a fabulous album cover for David!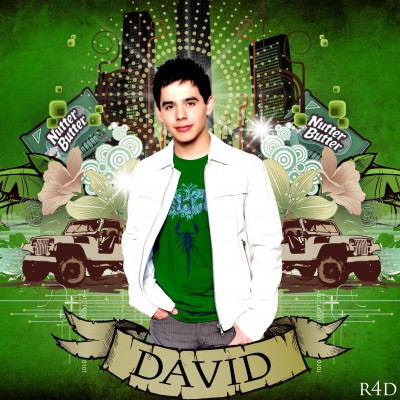 Did you miss last week's Photo of the Week?
David Archuleta, a Photographer's Dream
Copy this short URL to share this post anywhere: http://www.dabuzzing.org/?p=11400

Tags: 3cota · David Archuleta · Photo of the Week · R4D
Filed in: 3cota|columnists|photos
This Post has no Buzz yet.