David in StudioWe fans of David Archuleta know about his stage persona: the emotion, the 'hunker-down', the stomp-dancing, the dazzling smile at the end of the song. But what about his studio persona? Ever wonder…?
Photo of this week is…!
In this photo of David Archuleta in a Nashville studio, is he giving the peace sign or is he ordering two hamburgers?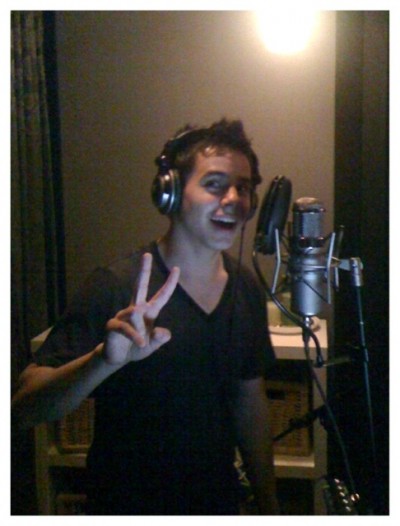 Photo Credit: Matt Bronleewe, Nashville, TN
In a studio hand signals are necessary when the microphones are live. I wonder how many hand signals David knows.
We know David knows the thumbs-up signal. It means everything is going OK. David's production crew probably uses that one more than any other.
The cut signal, drawing the index finger across the throat in a cutting motion, would look so out of character for David. But if he had to kill the microphone, he would resort to using the cut signal, I'm sure. Somebody get a photo!
The stand-by signal, holding one hand above the head with palm forward, is followed immediately by the cue signal, pointing index finger at the talent. Let's all point at David Archuleta! He's ON! Live in the studio!
---
Did you miss last week's Photo of the Week?
David Archuleta, a Photographer's Dream
Copy this short URL to share this post anywhere: http://www.dabuzzing.org/?p=15120

Tags: 3cota · Matt Bronleewe · Nashville · Photo of the Week · studio
Filed in: 3cota|columnists|David Archuleta|photos
This Post has earned 4 Buzzes.