David Aloha!The weather outside is frightful…I mean, delightful! It's almost May, the month of flowers, and that means warm weather in the Northern Hemisphere. As we fans know, David Archuleta enjoys warm, even humid, weather. But as a frequent flyer, his experience of seasonal changes is often radical. He can be freezing in Utah one day and basking in the California sun the next. In the winter of 2009 it was cold even in Florida. David was there promoting his album and tour. Then he flew away to sunny Hawaii for a brief trip to sing at the Pro Bowl. Then he flew back to Florida to open the American Idol Experience at Disney. In less than ten days he had flown 12,000 air miles.
Photo of this week is…!
At the Pro Bowl on February 7, 2009, David Archuleta sang the national anthem in Honolulu. He was joined by more than 200 military volunteers and a spectacular flyover by Hawaii Air National Guard helicopters.
From Hawaii David wrote in his blog, "It's so beautiful here, and I forgot how much I miss hot humid weather. It's been a long time since I haven't worn a scarf and jacket, because even last year during spring and summer, we were always inside cold studios or arenas…So before we went to Hawaii, I was in Florida doing promo. What was shocking is how cold it was there! I didn't think I'd have to wear a jacket and scarf there, but it felt like Utah weather at some points…I'll be heading back to Florida after Hawaii for the Disney thing this week, so I'm excited! I've been trying to not adjust to Hawaiian time, because I'm already in the Florida time zone mode lol."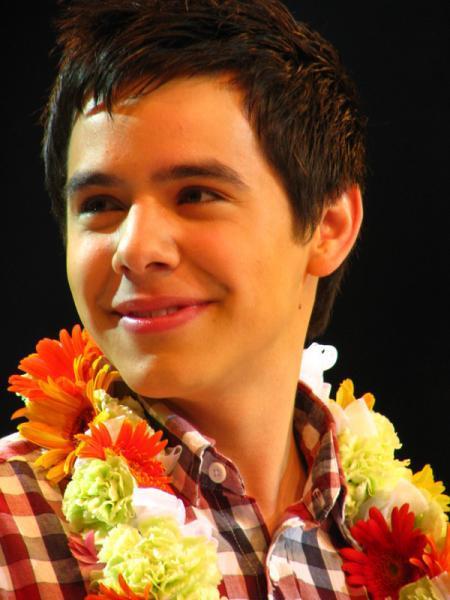 The Hawaiians were so excited they wouldn't let him finish "Stand By Me." Check it out on YouTube!
Photo Credit: David Archuleta
---
Did you miss last week's Photo of the Week?
David Archuleta, a Photographer's Dream
Copy this short URL to share this post anywhere: http://www.dabuzzing.org/?p=15803

Tags: 3cota · aloha · Hawaii · lei · Photo of the Week
Filed in: 3cota|columnists|David Archuleta|opinions|photos
This Post has earned 7 Buzzes.