In Memory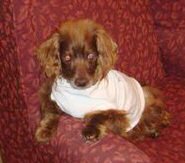 Like David Archuleta, many of his fans love dogs. As we love and care for them, they become an endearing and enduring part of our lives with family and friends. Even when we must say good-bye, we will always hold them dear to our hearts. This week our Honeybee 3cota, who usually writes the Photo of the Week, had to say good-bye to her beloved Cauley, a chocolate long-haired Dachshund who has been in the family for thirteen years. Cauley Girl died peacefully after a long illness. Wearing her David Archuleta Honeybees sweater, Cauley has been featured on this blog. We send 3cota our deepest heart-felt condolences at this sad, reflective time.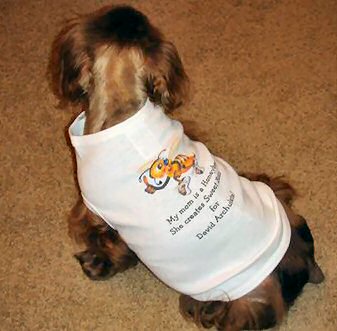 Photo of this week is…!
Besides music and food, a favorite subject for David Archuleta is the family pets. The Archuleta household has many of them. Recently, a furry friend joined David in the recording studio and took over the microphone. The photo of the week is an adorable family picture of David with his own canine companion. It was taken a few years ago before David's American Idol experience.
Photo Credit: David Archuleta
---
Did you miss last week's Photo of the Week?
David Archuleta, a Photographer's Dream
Copy this short URL to share this post anywhere: http://www.dabuzzing.org/?p=16093

Tags: memorial · pets
Filed in: 3cota|columnists|David Archuleta|opinions|photos
This Post has earned 3 Buzzes.