Fan powerThis week David Archuleta became a best-selling author. On a cross-country book-signing tour, he demonstrated his vocal cords of strength by singing a cappella. And his fans rewarded him with their own 'power of perseverance': standing in long lines, mustering up the courage to speak to The Voice, and making his book, Chords of Strength, A Memoir of Soul, Song, and the Power of Perseverance, fly off the bookshelves.
Photo of this week is…!
David Archuleta in Salt Lake City 7 June 2010
This week I had a difficult choice for Photo of the Week. It's hard to beat a photo of David Archuleta with the President of the United States! However, I chose another picture which depicts David's star-status. This cluster of fan power speaks—screams!—volumes about David's star power. Gosh, the excitement of these young girls is contagious!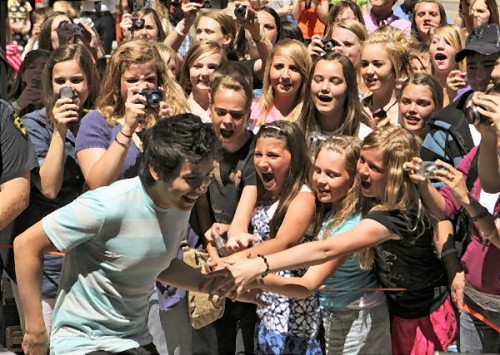 David Archuleta Greets FanGirls, Salt Lake City, 7 June 2010
---
Did you miss last week's Photo of the Week?
David Archuleta, a Photographer's Dream
Copy this short URL to share this post anywhere: http://www.dabuzzing.org/?p=16506

Tags: Chords of Strength · Salt Lake City
Filed in: 3cota|columnists|David Archuleta|news|photos
This Post has earned 2 Buzzes.