An Ear for Music David Archuleta has a natural musical gift. His ear for pitch and tone is perfect. In the recording studio David's vocal talents come together — as he and the producers and sound engineers create intricate layers of music and vocals. As we all know, David has a way of changing a song each time he sings it, so let's hope they have a habit of recording every take.
Who invented the headphone?
You'll be surprised to learn that it was another fellow from Utah!
The science and technology of sound have come a long way since Nathaniel Baldwin, an eccentric Utahn, invented headphones in 1910. Those headphones were no doubt extremely heavy and uncomfortable. Thirty years ago when Andreas Pavel invented the portable personal stereo player, people thought he was crazy to walk around wearing a pair of headphones. Today most of us regularly use some kind of headphone.
Recently David has been recording in his Utah studio. He tweeted:
Almost out of the studio for today! My ears are sore from wearing the headphones for so long!
As we can clearly see from this American Idol photo, David's ear is red. And he has one ear cushion off his ear, so that he is better able to hear himself. When he starts to rehearse and record songs for his sophomore album, we fans would enjoy seeing some of the behind-the-scenes work that goes into album production.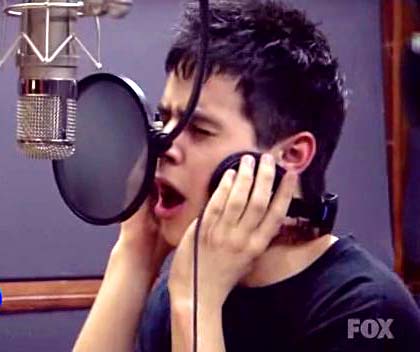 David Archuleta in the AI Studio, spring 2008
Last week's Photo of the Week
David Archuleta, a Photographer's Dream.
Copy this short URL to share this post anywhere: http://www.dabuzzing.org/?p=4502

Tags: headphones · Photo of the Week · recording · studio · topazjazz
Filed in: columnists|photos|topazjazz
This Post has earned 3 Buzzes.