O! Say! I'm enjoying my 2010 calendar because every month features some of my favorite photos of David Archuleta. The photo for July is "Patriotic David," a composite created by the graphic artist R4D.
Photo of the Week is July Photo Art by R4D.
David Archuleta sings American patriotic songs like no other. He has proven his ability to handle the one and a half octaves of the "The Star-Spangled Banner" with clarity and flare. This year on the Fourth of July, he will be singing our National Anthem at PBS' "A Capitol Fourth" in Washington D.C. Marking its 30th year on broadcast TV, the musical and fireworks extravaganza airs live, 8 ET/tape delay PT, (check local PBS listings). Set your recording machines to capture this momentous occasion. David will be singing to the biggest audience ever! As many as 300,000 people will be there and millions more watching on television. Joining David to help celebrate the nation's 234th birthday are Gladys Knight, Reba McEntire, Darius Rucker, John Schneider, classical pianist Lang Lang and the National Symphony Orchestra.
"I love getting a chance to sing a really special song, and what better place to do it than an event like this?" says Archuleta, 19. He's also set to perform "Stand by Me" by Ben E. King.
Here's another composite photo created by James Ortega, better known among David's fans as Rabid4David or simply R4D. He's a Filipino artist who has created many digital art posters of David Archuleta. David plays a left-handed guitar, so you can see the artist has taken a little creative license.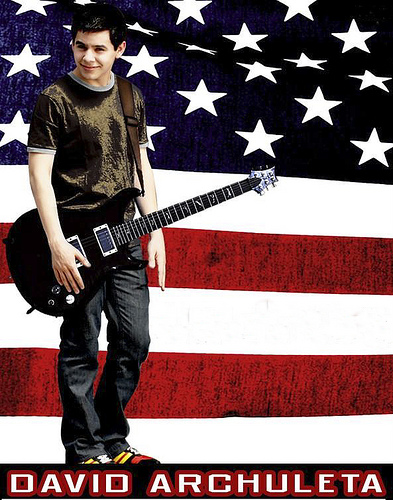 Did you miss last week's Photo of the Week?
David Archuleta, a Photographer's Dream
Copy this short URL to share this post anywhere: http://www.dabuzzing.org/?p=16750

Tags: 3cota · A Capitol Fourth · Independence Day · July 4 · National Anthem · Photo of the Week · R4D
Filed in: 3cota|career|columnists|David Archuleta|music|news|opinions
This Post has earned 1 Buzz.