Shape-Ups are exercise shoes by Skechers. On Tuesday David Archuleta attended a private gifting event at the Gifting Services showroom in West Hollywood where he posed with several different products. He was snapped sporting a pair of Shape-Ups. I wonder, did he find something to wear to the Teen Choice Awards this Sunday?
Celebrity gifting shows usually take place around important awards shows like the Oscars, the Emmys, and the Grammys. It's a win-win situation: companies build brand recognition for their products and celebs get expensive gifts. The first Celebrity Gifting Suite was founded by Kari Feinstein with her Kari Feinstein's Style Lounge. With her partner Mike McGuinness, Feinstein/McGuiness PR is a leader in red carpet productions, publicity, product placement, branding, celebrity outreach, and entertainment marketing.
Photo of this week is…!
David Archuleta shapes up.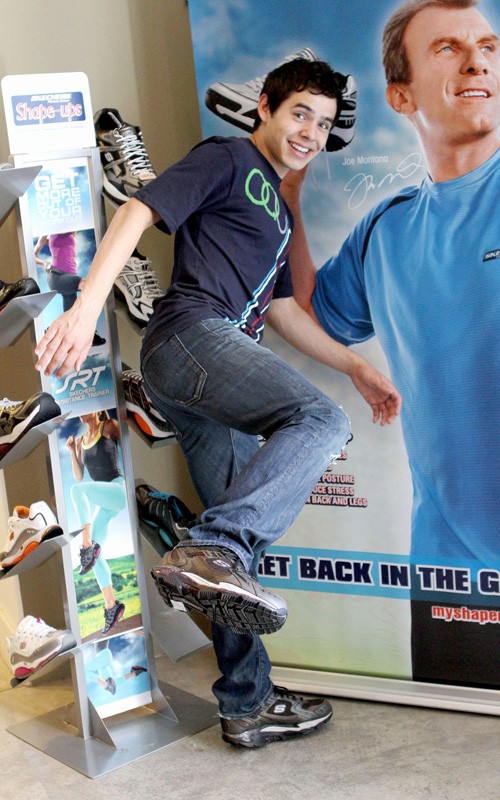 This photo illustrates the value of product placement. Those Skechers are placed just right—on the feet of David Archuleta, world-famous running enthusiast. He even sang a song entitled, "Running." (listen on YouTube) How many David Archuleta fans will want to buy a pair of Skechers? I hope he got a pair for each of his four siblings too!
David will be an award presenter at TCA this Sunday in Los Angeles. A special live webcast airs Sunday, Aug. 8 (3:30-5:00 PM PT live/6:30-8:00 PM ET live) online at Ustream.tv and Teen Choice Awards. The show will be broadcast the following evening at 8/7c on Fox.
---
Did you miss the "flexible fingers" photo last week?
David Archuleta, a Photographer's Dream
Copy this short URL to share this post anywhere: http://www.dabuzzing.org/?p=17139

Tags: Gifting Services Showroom · Photo of the Week · Shape-ups · Skechers
Filed in: 3cota|David Archuleta|photos
This Post has earned 1 Buzz.