David Archuleta kisses…a dolphin! Taking a cue from bigarchiefan's Song of the Week, let's mark the end of summer with a couple of poolside photos.
David and the Atlantic bottlenose dolphin.
On May 3, 2008 the Top Four AI contestants flew to Las Vegas to see Cirque du Soleil's "Love," a tribute to The Beatles. The AI "Fab Four" visited the dolphin habitat at the Mirage Hotel. It was only a few days before on April 30 when David had received a kiss from Natasha Bedingfield and here he was in Vegas giving a kiss to a dolphin. Lots of kissing going on. I had to include this first photo because it shows David's face and his sunny smile.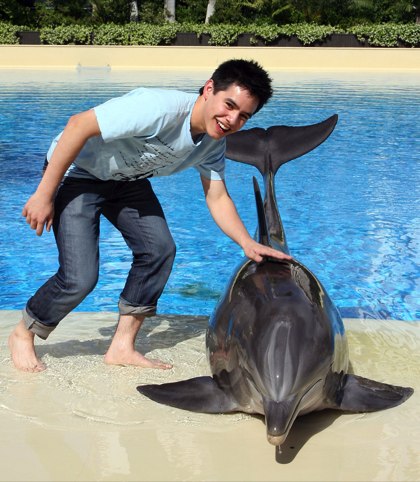 David Archuleta Pets Dolphin at Mirage Hotel, Vegas—May 2009
But this is the picture that caused a ton of buzz on the Web. Fangirls wondered how the dolphin felt. Many fans would have gladly turned themselves into mermaids if they could! That dolphin's life probably changed forever — notice the big smile on her cute face!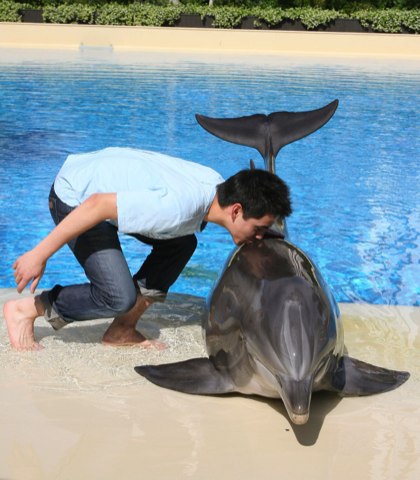 David Archuleta Kisses Dolphin at Mirage Hotel, Vegas—May 2009
Photo by Ethan Miller/Getty Images for Cirque du Soleil
David Archuleta, a Photographer's Dream.
Copy this short URL to share this post anywhere: http://www.dabuzzing.org/?p=4997

Tags: Cirque du Soleil · dolphins · Las Vegas · love · Photo of the Week · photos · The Beatles · topazjazz
Filed in: columnists|David Archuleta|photos|topazjazz
This Post has earned 3 Buzzes.