¡Viva! David Archuleta This week we saw our first glimpse of the cover art for David's debut Christmas album. And, like many David Archuleta fans, I am awed and intrigued by David's bright eyes, that enigmatic smile, and the simplicity of the layout. However, we can focus on that picture in the weeks to come before Christmas from the Heart is issued on October 13. Today, tonight, to be exact, we will put the spotlight on the ALMA Awards. A Honduran-American, David will be performing at the event and is also nominated for "Year In Music's Rising Male Star."
The ALMA Awards show was taped yesterday on the UCLA campus and will air tonight, September 18 at 8 EST/7 CST on ABC-TV. For the first time, ALMA will broadcast during National Hispanic Heritage Month, a month in which all Americans celebrate the contributions that Latinos have made to this country throughout its history. And it so happens that Hondurans celebrated their 188th Independence Day on September 15.
David honors Honduran Independence.
Recently, David Archuleta spent some quality time with his extended family in Los Angeles. He was photographed standing in front of a large Honduran flag.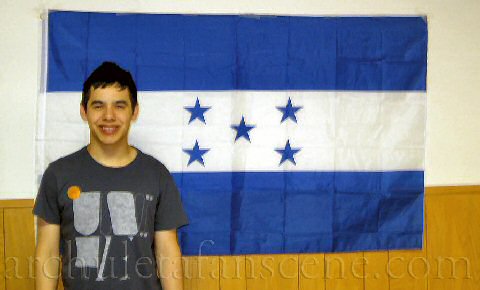 David Archuleta Celebrates Honduran Independence Day, September 15, 2009, Los Angeles
David Archuleta, a Photographer's Dream.
Copy this short URL to share this post anywhere: http://www.dabuzzing.org/?p=5347

Tags: ALMA Awards · Honduras · Photo of the Week · topazjazz
Filed in: columnists|David Archuleta|photos|topazjazz
This Post has no Buzz yet.