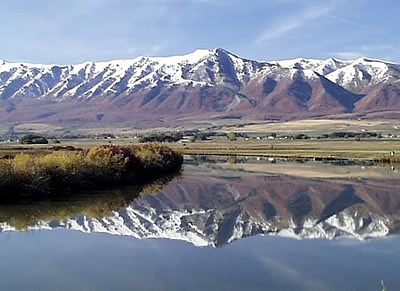 The Wasatch Mountains of Utah
Today is Pioneer Day. On July 24, 1847, Brigham Young and his faithful followers first arrived in the Great Salt Lake Basin after a long 17-month journey across 1,297 arduous miles. My thoughts were of these hardy pioneers last October as my jumbo jet glided over the beautiful Salt Lake Valley and its ring of snow-capped mountains. Pulling wagonloads of all that they owned, the 19th century pioneers walked every step of the way to their Land of Golden Opportunity, seeking freedom from religious persecution and a place of refuge. Looking out at the Valley protected by the formidable Wasatch Mountains, I realized on that bright October day what those early pioneers knew, that "this is the place." Those mountains provide an unbroken circle of protection and shelter.
Fifty years after their arrival, the early Mormon settlers held the first Pioneer Day. The parade featured a giant model beehive with young women dressed as bees. Just four years earlier, the Salt Lake Temple had been completed after a forty-year building project. There was much to celebrate on that first Pioneer Day.
Today Utah continues to attract new pioneers who lead the way with innovations in energy, environment, science & technology, engineering, and personalized medicine. The pioneering spirit is alive and well in Utah and the future holds great promise. Although David is miles from home today, we can be sure he will think about Pioneer Day. The DA Buzzing Honeybees would like to wish all Utahns a happy Pioneer Day.
Admin Note: This post is a Sticky, meaning it will remain at the top of the blog for the duration of Pioneer Day. Newer posts will come after this.
Copy this short URL to share this post anywhere: http://www.dabuzzing.org/?p=2568

Tags: Pioneer Day · Utah
Filed in: news
This Post has earned 1 Buzz.