Songs As Christmas gets closer, I am starting to get into the holiday spirit more and more each day. I've written my cards and put up the tree. The house has been decorated and I have gotten almost all my shopping done.   However, I have not tackled any wrapping of the gifts yet. That is such a tedious and very long job to me.  It is one of my least favorite things to do during the holiday season.  But when I do start my wrapping, I am definitely going to listen to David Archuleta's CD, Christmas from the Heart. It has become my favorite holiday CD, and I know it will help get me through all that wrapping. When I put it on and hear the strains of David's golden voice, I will start to feel the stresses of the holiday season melt away.
David's voice seems to have a way of doing that, doesn't it! It's a voice that leaves the listener feeling peaceful and more relaxed. Honestly, when I hear David's voice singing the traditional carols, it is like listening to a lullaby. It has such a positive effect on me, and I know I am not alone. I have a friend who called me the other day to thank me again, for the Christmas from the Heart CD I gave her a few weeks ago. Apparently she had been out among the crowds trying to get some shopping done. The hustle and bustle of all the people in the stores was taking its toll on her already frayed nerves. She explained to me that when she got back in her car, she found the CD I had given her and put it on. She said David's soft and soothing voice immediately calmed her. She went on to say that listening to the CD put her in such a good mood that she continued driving and finished her shopping! She added that she had a smile on her face the rest of the afternoon, just thinking about David singing all those lovely Christmas songs. I am willing to bet, that if there was a medical test done on people while they were listening to David Archuleta's voice, one of the things that the Dr. would notice is a drop in the listener's blood pressure. What great medicine David's voice could be! 😉
I know David's voice not only calms me, but it has a way of getting into my soul, especially as I listen to him sing the holiday songs. There is one song in particular that when I hear it, I feel an immediate sense of peace. It is a Christmas carol that has been sung by many popular recording artists for many, many years. But to me, David's version is the most beautiful and powerful one I have ever heard.
The Song of the Week is…
"Silent Night"
"Silent Night" is a very well known Christmas carol which has been recorded by more than 300 artists over the years, and it has been translated into more than 44 languages. 
The original lyrics of "Silent Night" were written in German by the Austrian priest, Father Josef Mohr in 1816, titled "Stille Nacht." The melody was composed by Austrian headmaster Franz Xaver Gruber in 1818 for a Christmas Eve service performed in the Nikolaus-Kirche (Church of St. Nicholas) in Oberndorf, Austria.  In 1859, John Freeman Young published the English translation that is most often sung today.
The first time I heard David sing "Silent Night," it was an a cappella performance that he did a little over a year ago in Hollywood, California, during a Christmas tree lighting ceremony. I remember when I heard it, I was absolutely blown away. It was so powerful and David sang it perfectly. It came straight from his heart!
Here is the video from that night on December 6, 2008 in  Hollywood, California: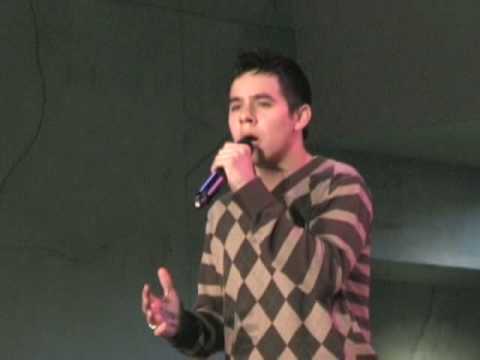 I was so happy that David recorded the song "Silent Night" for his new holiday album.  But after hearing him sing it a cappella last year, I wondered what the recorded version would be like. Needless to say, I knew I would not disappointed, and I was right!
Here is David's recorded  rendition of "Silent Night" from his holiday CD, Christmas from the Heart.
Produced and arranged by Richard Parkinson and Sam Cardon for Jive Records.
Silent Night
Lyrics by Franz Gruber~
Silent night! Holy night! All is calm, all is bright!
Round yon Virgin Mother and Child!
Holy Infant, so tender and mild.
Sleep in heavenly peace!
Sleep in heavenly peace!

Silent night! Holy night! Shepherds quake at the sight!
Glories stream from heaven afar, Heavenly host sing, "alleluia!"
Christ, the Savior is born!
Christ, the Savior is born!

Silent night! Holy night! Son of God, love's pure light!
Radiant beams from Thy holy face!
With the dawn redeeming grace,
Jesus, Lord at Thy birth!
Jesus, Lord at Thy birth!
And now a 'live' version of David Archuleta singing "Silent Night" from his current Christmas tour.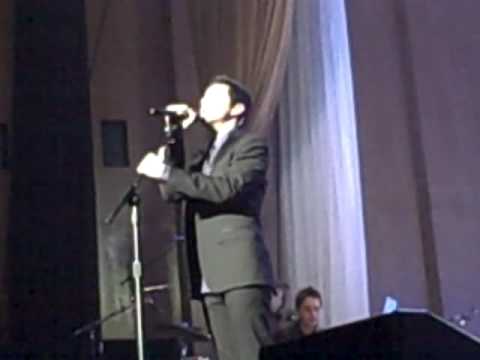 Again, you can find many versions of this profoundly beautiful song. But for me, there are none like David's heartfelt version of "Silent Night". He feels the words and the music and interprets it so amazingly, that you feel it with him.
Well, I guess I'd better go get some wrapping done! 🙁
Have a nice week everyone and as always, take care.
Katie
Listen to Song of Last Week.
David Archuleta, the Voice
Copy this short URL to share this post anywhere: http://www.dabuzzing.org/?p=8460

Tags: baf · bigarchiefan · Christmas from the Heart · Silent Night · Song of the Week
Filed in: bigarchiefan|career|columnists|David Archuleta|music|news|opinions|performances|photos|reviews|voice
This Post has earned 4 Buzzes.