Songs Today is Martin Luther King Day. For some, it may be a day off from school or work. For many, it is also a day to celebrate the man who "had a dream…"!
In the 1960s Martin Luther King, Jr. had a hope and a dream about a world where men and women would be treated equally, regardless of their race or religious beliefs. A world where peace and harmony would reign. It was a beautiful vision and, though some of his dreams have come to fruition, there are many that we as a nation still need to work on. However, I do believe that if Martin Luther King, Jr. were alive today, he would be very happy to see that many of his ideals and beliefs have become a reality in this country. As I thought about this, one song immediately came to mind. While a contestant on American Idol in 2008, David Archuleta sang a beautiful song that captured the hearts of listeners around the world. It is a song full of the same ideals that Martin Luther King, Jr. spoke of in his famous "I have a dream…" speech. The song touches on the hope that people throughout the world would someday live in peace and harmony "as one".
The Song of the Week is…
"Imagine"
The song "Imagine" was written and performed by English rock musician and legend, John Lennon. It is the opening track on his album Imagine. The song "Imagine" was released as a single in the United States in October 1971, where it reached only number three on the Billboard Hot 100 for that year. Since its release, "Imagine" has been included in a broad array of the most-influential and greatest-songs-of-all-time lists all over the world. Here is just a sampling.
In 1999 BMI named "Imagine" one of 'the top 100 most-performed songs of the 20th century'.
"Imagine" ranks #23 in 'the year-2000 list of best-selling singles in the UK'.
In November 2004, Rolling Stone magazine ranked the song the third greatest of all time in its article, 'Rock 'n' Roll Hall of Fame's 500 Songs that Shaped Rock 'n' Roll'.
In January 2005, the Canadian Broadcasting Corporation named "Imagine" the greatest song in the past 100 years as voted by listeners on the show 50 Tracks.
It ranked #30 on the Recording Industry Association of America's list of 'the 365 Songs of the Century bearing the most historical significance'.
In Australia, it was selected as 'the greatest song of all time' on the Nine Network's 20 to 1 countdown show in September 2006.
And former US President, Jimmy Carter was once quoted as saying:
"In many countries around the world—my wife and I have visited about 125 countries—you hear John Lennon's song "Imagine" used almost equally with national anthems."
It is a very powerful song with a wonderful message from which we can all learn! David Archuleta says it is a favorite of his as well. Eva Cassidy's soulful rendition of "Imagine" inspired David to sing it in that style. Accompanied on guitar by his vocal coach, Dean Kaelin, David sang "Imagine" on Good Things, Utah when he was just 13. Love the growls and the falsetto!
Here is David's shortened rendition of John Lennon's song "Imagine" from American Idol Season 7.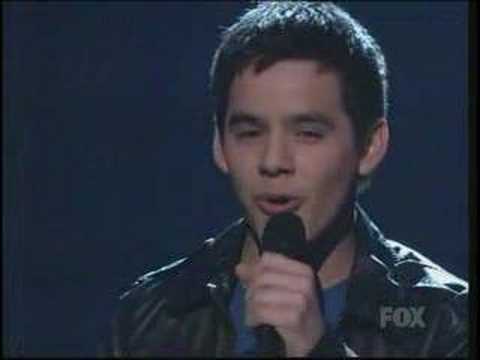 David singing "Imagine" for the American Idol Season 7 finale. He was so nervous, but gave such a beautiful and very powerful performance.
David Archuleta singing the full version of the song "Imagine" at the Ford Day concert in September 2008:
"Imagine"
by John Lennon

Imagine there's no Heaven
It's easy if you try
No hell below us
Above us only sky
Imagine all the people
Living for today

Imagine there's no countries
It isn't hard to do
Nothing to kill or die for
And no religion too
Imagine all the people
Living life in peace

You may say that I'm a dreamer
But I'm not the only one
I hope someday you'll join us
And the world will be as one

Imagine no possessions
I wonder if you can
No need for greed or hunger
A brotherhood of man
Imagine all the people
Sharing all the world

You may say that I'm a dreamer
But I'm not the only one
I hope someday you'll join us
And the world will live as one
I am sure if Martin and John were alive today, they would both be very impressed with David's rendition of "Imagine". David sings it with so much emotion and strong conviction that the song's message truly touches the hearts and souls of those who have the pleasure of hearing him sing it.
Have a nice week, and I wish you all "peace" on this day as we remember Martin Luther King, Jr.  and his dream!! 😉
Katie
Listen to Song of Last Week.
David Archuleta, the Voice
Copy this short URL to share this post anywhere: http://www.dabuzzing.org/?p=9773

Tags: baf · bigarchiefan · Dean Kaelin · Imagine · John Lennon · Martin Luther King · Song of the Week
Filed in: bigarchiefan|columnists|David Archuleta|music|news|opinions|performances|photos|reviews|voice
This Post has earned 3 Buzzes.