Songs
I am a big fan of the show American Idol! It all started for me when I first saw David Archuleta on AI's Season 7 in 2008. Since then I have followed the show for the past few seasons. I will admit, I have not been moved by many Idols be they past or present, the way I have been by David Archuleta. For me, he is the best American Idol to come from the show. Still, I am looking forward to watching the show this week now that the new Top 24 contestants have been chosen. They will be performing their first songs, starting with the women on Tuesday evening, followed by the men on Wednesday. On the Thursday night Results Show we will learn which contestants did not make it to the next round.
I always find the beginning of the performance nights on AI very exciting, and I am looking forward to seeing what all the contestants will bring to this new season. I already have a few favorites, but I am not going to say anything until I see how they do on Tuesday and Wednesday nights of this week. So what does all this have to do with my 'Song of the Week'? you may be wondering. Well, as I was thinking about the show and this first week in particular, I thought about David Archuleta and his first week's performance two seasons ago on February 19, 2008. It was that performance that cinched it for me. David Archuleta became my favorite! With that in mind,
The Song of the Week is…
"Shop Around"
"Shop Around" was written by Bill 'Smokey' Robinson and Berry Gordy in 1960. It is about a mother giving her now-grown son advice on how to find a woman worthy of being a good girlfriend or wife. The original recorded version of the song had a strong blues influence and was released as a single in Detroit, Michigan. However, Berry Gordy decided to record a pop-friendly version that would be commercially viable outside of the Detroit area. One night, he had Robinson and a cast of other famous artists of the time record "Shop Around" for the Tamla (now Motown) record label. This group became know as 'The Miracles'. It was their version of the song that became a major national hit. The original record label credits Bill "Smokey" Robinson as the writer and Berry Gordy as the producer.
The single "Shop Around" is notable for being Motown's first #1 hit on the Billboard Magazine R&B singles chart and the #2 hit on the Hot 100. "Shop Around" also reached #1 on Cash Box pop charts and is also noted for being the first million-selling record for The Miracles and The Motown Record Corporation. The song became a Grammy Hall of Fame inductee in 2006. The Miracles' version of the song ranked at #495 on Rolling Stone's list of The 500 Greatest Songs of All Time.
"Shop Around" was the perfect song for David Archuleta to sing to his new audience on American Idol two years ago. He blew the judges away with his rendition of the song and won the hearts of many fans that night! I have posted the original version of the song by The Miracles and David's performance from American Idol so you could compare the two. In my honest opinion, David's version is more soulful. I love the way he sings the song. Both videos are fun to watch, especially as the singers dance—gotta love some of those moves! 🙂
The original song "Shop Around" as sung by The Miracles, featuring Smokey Robinson, 1960:
David's version of "Shop Around" as performed on American Idol Season 7. February 19, 2008. This performance always makes me smile!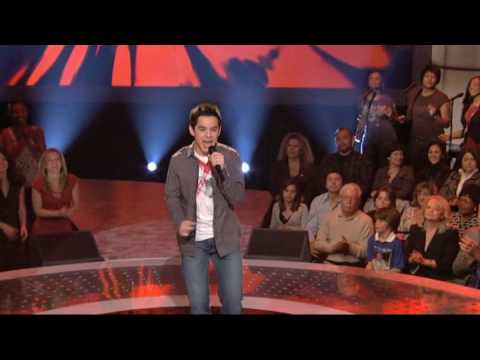 Hope you have a nice week and if you are planning on watching American Idol this season, I would love to hear your thoughts about it. And as always, love to hear your thoughts on "my American Idol," David Archuleta, any time you would like to comment!! 😉
Take care all,
Katie
Listen to Song of Last Week.
David Archuleta, the Voice
Copy this short URL to share this post anywhere: http://www.dabuzzing.org/?p=12738

Tags: American Idol · baf · Berry Gordy · bigarchiefan · David Archuleta · Motown · Shop Around · Smokey Robinson · Song of the Week · The Miracles
Filed in: bigarchiefan|columnists|David Archuleta|music|news|opinions|performances|reviews|voice
This Post has earned 2 Buzzes.