SongsInexplicably, the judges on American Idol took great pains to complain that contestant David Archuleta sang ballads. Even more inexplicably, the producer and one judge chose two ballads, "And So It Goes" by Billy Joel and "Longer" by Dan Fogelberg, for David to sing in the Top 3 performance.
Ballads have been sung for centuries. With many variations in tone, rhythm, and rhyming scheme, they are pure poetry in song. Anyone who can sing ballads can probably sing anything. David has a natural talent as a great ballad singer. On his debut album, he sings "You Can" with tenderness and warmth that would melt the hearts of even tough-minded AI judges. David has said that "You Can" is one of his favorite songs from the album.
If 'you can,' explain to me why "You Can" was not a huge hit single!
"You Can"
by David Archuleta
"You Can" on AOL Live Sessions
YouTube video credit: annalisasinger84
3:54 minutes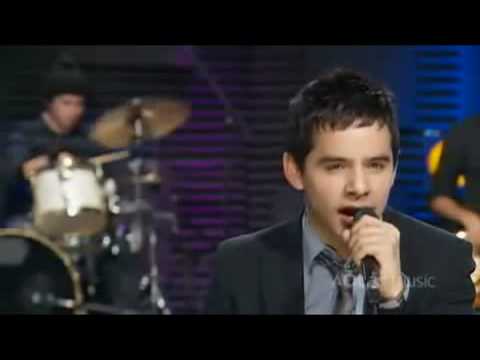 Written by Antonina Armato and Tim James
Released by Jive Records, November 11, 2008
Performed on AOL Live Sessions, late November 2008
Purchase the album, David Archuleta, on Amazon.
A Masterclass review of David Archuleta's new CD
by Rosanne Simunovic, MasterClassLady, Canadian Vocal Teacher & Blogger Extraordinaire
5 December 2008
Read more: MCL reviews
I love the lovely acoustic guitar introduction in this song, followed by David's heartfelt humming. This more subdued song provides wonderful contrast to "A Little Too Not Over You" and is wonderfully placed in the programming format of this CD. Could this be a future single at some point down the road? It should be!

This song has a beautiful message and a gorgeous melody and you can hear that David is in love with this song. His emotional commitment to this song is palpable and the expressiveness coming through his voice is very real, very genuine.

This is a song that would be perfect for a wedding as the first dance for the bride and groom. Oh yes, I can most definitely smell a huge hit here, can you? And the sustained note at the 2:43 mark, followed by the few seconds of silence, was artistically perfect. It adds an element of surprise and anticipation of what is to follow.

And what follows is more good Archuleta stuff. I am truly in love with this song – everything about it is perfect. And the lovely head voice that David effortlessly exhibits toward the end is one of the reasons I fell in love with his voice from the minute I heard him sing on American Idol.

Oh my, I need a break to digest this song. Gorgeous, just gorgeous!
Billboard Review
from Billboard Magazine, reprinted by Reuters
7 November 2008
Most teen Disney heroes have got nothing on David Archuleta. The 17-year-old "American Idol" contender has one of those once-in-a-decade pop voices: A silky tenor with a natural melancholy that makes him a heartbreaker by default. His charming debut exploits that very quality with some strokes of pop genius….
KathleenC, fan comment
from Metacritic.com
19 November 2008
For having such a short amount of time to put this CD together, David Archuleta did an amazing job! His voice is incredible and there is a great mix of song styles on this album! Whether it is a beautiful ballad like "You Can" or a deep song like "Desperate" to a funky song like "Your Eyes Don't Lie"…there is something for everyone!
isayholaa, fan comment
isayholaa on YouTube comments
1 year ago
i love this song, it is such a good song. it gives me the chills, his voice sounds like a chorus of angels. go david!!
EntertainerGeek, fan comment
by EntertainerGeek, Last.fm ShoutBox
November 2008
Love, love, love it. The acoustic guitars go nicely with everything else in the song. I'd love if someone sang this to me.
Read about "You Can" on Katie's "Song of the Week" column, written on 15 February 2010.
Listen to Katie's collection of Songs of the Week.
Last week's Song of the Week
David Archuleta, the Voice
Copy this short URL to share this post anywhere: http://www.dabuzzing.org/?p=17283

Tags: AOL Live Sessions · ballads · Billboard · Jive Records · MasterClassLady · You Can
Filed in: David Archuleta|music|performances|voice
This Post has earned 2 Buzzes.