Songs As we anticipate the October 5 release of David Archuleta's new album, The Other Side of Down, I have been reviewing a few of the 'oldies', but still golden. When David's eponymous debut album was released in November 2008, a few songs didn't make the CD, but were released instead as bonus tracks. The Song of the Week is the kind of song David will be most famous for: lyrical and meaningful tunes sung in his unique soulful and 'organic' style.
"Somebody Out There"
by David Archuleta
Can you Tap Dance to "Somebody Out There"?
For once I'm glad David Archuleta can't tap-dance, because instead of an impromptu tap to kill time during a technical malfunction, he gave the Memphis audience this stirring performance of "Somebody Out There." It seems that SOT was meant to be a bonus track in more ways than one.
Live at the Delta Fair & Music Festival, Memphis, TN
12 September 2010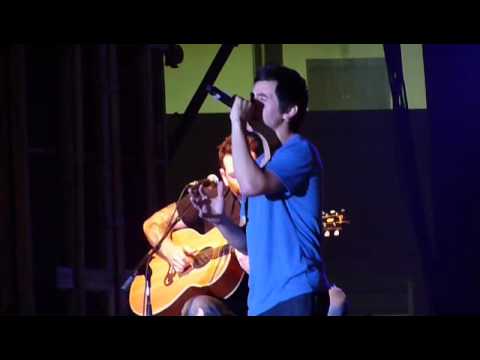 Video source: YouCanCallMeTina
Length: 5:40 minutes
"Somebody Out There" snapshot
Written by David Archuleta, Steve Diamond and Mike Krompass
Released as a bonus track, along with "Waiting for Yesterday," "Falling," and "Let Me Go," on the iTunes Deluxe Edition of David's self-titled debut album
Became a theme song for Rising Star Outreach
Download "Somebody Out There," on iTunes today.
Somebody Out There…is Clueless
by Rascal at The David Chronicles.com
12 November 2008
…there has been broad consensus across the fan community that "Somebody Out There" is easily one of the best releases from David's first major recording effort. It is in my top three. How, then, to account for the fact that one of the most satisfying songs has been subjected to the least amount of distribution? This track is currently unavailable for purchase anywhere. Not on a hard CD, not on a download. Can't buy it….
snarky janey, fan comment
from iTunes
The writing team of Archuleta-Krompass is a dynamic one. In a short time they had produced four compositions. 2 are now available on itunes, the third, just introduced this month on David's sold-out solo tour is a crowd favorite and the fourth is secretively stowed away. This is a sweet song, to the point with heartfelt simple lyrics showcased by David's silky smooth vocals. Buy it. you'll love it.
Vickie, fan comment
from Disney Dreaming
12 August 2009
Congratulations to a talented and gracious artist. My favorite songs are "Somebody Out There", "Waiting for Yesterday", "My Hands" and "Zero Gravity" . Honestly whatever David sings is a favorite. Go see him if you haven't had the privilege yet. He is AMAZING!!!
Read about "Somebody Out There" on Katie's "Song of the Week" column, written on 8 March 2010. You'll find a list of all of Katie's SOW: Katie's collection of Songs of the Week.
Last week's Song of the Week
David Archuleta, the Voice
Copy this short URL to share this post anywhere: http://www.dabuzzing.org/?p=17977

Tags: Delta Fair & Music Festival · iTunes Deluxe Edition · Memphis · Mike Krompass · Somebody Out There · Song of the Week · Steve Diamond
Filed in: career|minja|music|opinions|performances|voice
This Post has earned 2 Buzzes.