Songs David Archuleta has such a beautiful sound to his voice. It has a tone and quality that is soothing and pleasant to the ear. When he sings, he does it with so much emotion that he has the ability to connect with the listener. You feel the song with him. It is as if he has experienced heartache and deep love many times in his life and he understands. What makes that such a gift is that David is only a teenager and he has said in many interviews he has never had a girlfriend. He has never even had his first kiss. So in actuality, he has never experienced these deep emotions first hand. But from listening to him sing, you would never believe that.
Just this past week at the ALMA Awards David sang a song in Spanish called "Contigo en la Distancia". Translated into English, it means with you in the distance. It is a beautiful song about loving someone so much that they become a part of your soul and you can't bear to be without them. Fellow Honeybee pikepss wrote about this performance in her article; David Archuleta – Masterpiece Performance ALMA Awards. It was an absolutely breathtaking performance.
There is another song that I have heard David sing with that kind of beauty and emotion. The song is on David's self-titled debut album and it is one of my favorites. It is a sweet love song that David sings so convincingly that when I hear it, it is as if I can feel the longing in his voice. The song is very moving and whenever I have heard David perform it 'live' in concert, it gives me chills.
The Song of the Week is….
"To Be With You"
"To Be With You"was written for David by Emanuel Kiriakou and Kara DiGouardi and produced by Emanuel Kiriakou. It appears on David's self-titled debut album for JIVE records. It is a song about longing for love to come into your life and waiting for that special someone you have dreamed of. It has a lovely arrangement with a violin which adds to the beauty of the song.
Here is the CD version of the song"To Be With You":
Now here is a video of David performing "To Be With You" LIVE in concert in Idaho Falls last March. It is very close up, but I wanted you to be able to see and hear the emotion with which David sings. He has a very special gift! I am warning you here, because you may get the chills! ;):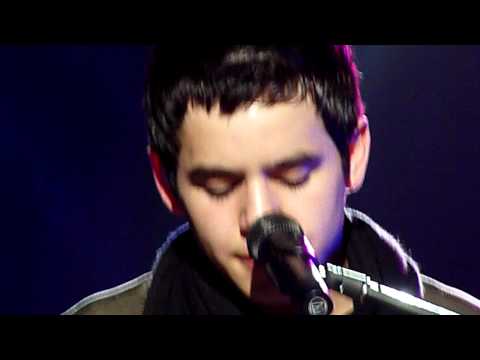 Wishing you all a happy Monday!
Take care,
Katie
David Archuleta, the Voice
Copy this short URL to share this post anywhere: http://www.dabuzzing.org/?p=5602

Tags: baf · bigarchiefan · Contigo en la Distancia · Song of the Week · To Be With You
Filed in: bigarchiefan|career|columnists|David Archuleta|music|opinions|performances|reviews|voice
This Post has earned 4 Buzzes.