Thinking, remembering, hearing all the wonderful songs David Archuleta has performed, recorded, and written, my mind goes up to the clouds again — yes! it's time for another tag cloud! This one is composed of many keywords found in the titles of many of David's songs.
I liked the way "Imagine" sits vertically and almost in the center of the graphic. At the bottom right, you'll also notice that the words "Voice" and "Work" are next to each other — that "Works for Me"! The bolder words are those that recur most often.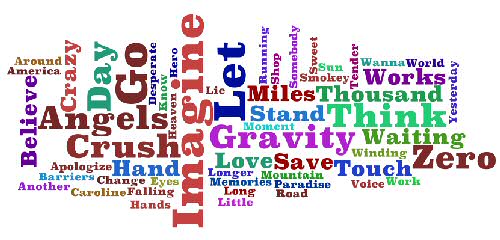 Copy this short URL to share this post anywhere: http://www.dabuzzing.org/?p=1428

Tags: David Archuleta · songs · tag cloud
Filed in: music|opinions
This Post has earned 1 Buzz.