David Archuleta brought holiday cheer to the Bay Area with two concerts in Santa Rosa and San Francisco. This tour follows the release of David's aptly-named debut Christmas album, Christmas from the Heart. He and his band, with opening act, Benton Paul, certainly brought a lot of holiday heart with them!
DA Glee Bees Quartet
Gosh! Oh me, oh my! What have I started? I knew how temperamental singers could be, but DA Glee Bees really take the cake. My sister and I had our hands full at the San Francisco concert. In front of the theatre, they made a spectacle of themselves, flying up and down Market Street buzzing about David Archuleta. One of them even insisted on inspecting the tour bus, as if he knows anything about mechanics—ha!
Once again, I'm featuring their reviews of David's holiday show, but I wanted you to know it wasn't easy! We were afraid to scold them too much for fear they would sting us…or worse, another concert goer.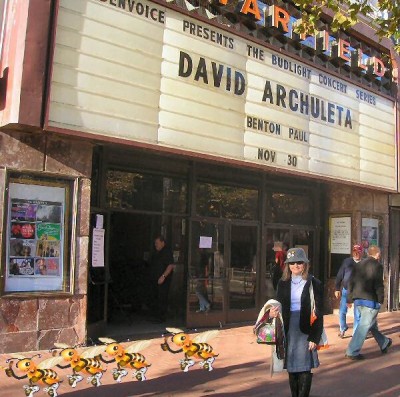 Counten on "My Hands"
Counten the Countertenor: David sings a beautiful a cappella ending to "My Hands" with harmonies from the band members. I have enjoyed this song since its release in November 2008. The lyrics are quirky. A line such as, "it's harder to hold on to your hands than the hands of time," makes me think too hard. If I can't hold the hands of time, maybe I'll drop my watch, throw the alarm clock in the fireplace and put the phone on the front lawn. With all time-pieces gone, it's just a matter of time before I get your attention and hold your hands forevermore.
Listen to "My Hands."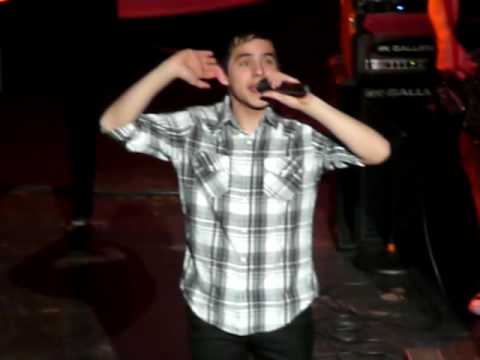 Tennyson on "Have Yourself a Merry Little Christmas"
Tennyson the Tenor (lead): The audience went wild when David Archuleta was joined on stage by his mother Lupe. Their duet of "Have Yourself a Merry Little Christmas" was a magical moment, certainly for the crowd, but I think also for mother and son. They harmonize so beautifully and Lupe even coaxed David into a little dance with her, although he didn't let that distract him from his main job of singing.
Listen to "Have Yourself a Merry Little Christmas" in San Francisco, California.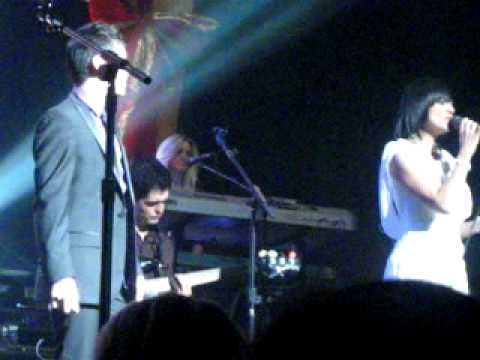 Here's another one too, but the audio has a distracting lisping sound. http://www.youtube.com/watch?v=UCSIMm27upg
Barrymore on "A Little too Not Over You"
Barrymore the Baritone: David Archuleta is a master class vocalist and he proves it on "A Little Too Not Over You." Here he shows how to sing when you are tired and need to save the voice for the big numbers to come, such as "Ave Maria." "ALTNOY" is David's second single release and music video. The Queen Bee wants me to tell you to vote for ALTNOY as Musiqtone's Music Video of the Year.
Listen to a partial recording of "ALTNOY"
Basset on "O Holy Night"
Basset the Bass: David Archuleta's favorite Christmas song is also my favorite. "O Holy Night" was the perfect encore performance for David's holiday show. He poured himself into a state of bliss as he sang this final song of the night.
Listen and watch jwipe's beautiful close-up video of "O Holy Night".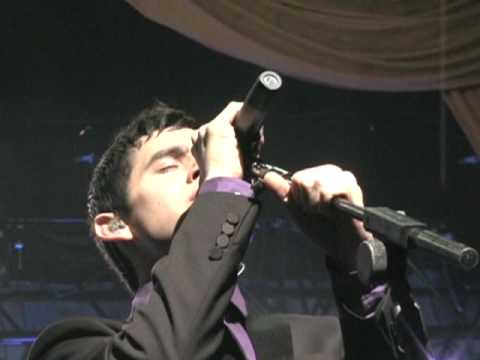 DA Glee Bees shout out "Bravo!"
in a sustained four-part harmony.

Now make a beeline to last week's "Type Bee".
Creating Sweet Buzz for David Archuleta
Copy this short URL to share this post anywhere: http://www.dabuzzing.org/?p=8359

Tags: Christmas concerts · DA Glee Bees · minja · San Francisco · Type Bee · Warfield Theatre
Filed in: David Archuleta
This Post has earned 1 Buzz.