David Archuleta ended a recent vlog from Eman's Los Angeles studio with a four-letter word I've heard a lot lately: ciao. I just returned from Italy, the Land of Ciao! Make that "chow"—pizza, pasta, prosciutto, Parmigiano-Reggiano, pasticceria. I thought David's "ciao" would be a nice segue to tell you about three great meals I had during my recent trip to Italy!
Buon giorno! I'd like to share with you my favorite restaurant experiences in Italy. The best culinary memory, though, involves cooking at home. One night I roasted a large Italian hen with rosemary potatoes. At the table my great-niece, who at age nine is turning up her nose at her plate, abruptly said, "Good chicken!" Her parents were shocked and explained that she never has anything good to say about food. She's at that age. She'll grow out of it and someday will appreciate the following excellent meals.
Capriccio Restaurant at the Montebello Splendid Hotel, Firenze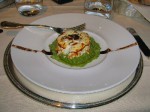 The menu read, "Tortino di caprino con purea di broccoletti, salsa agrodolce e buccia di limone"—translated, fresh goat's cheese pudding with mashed broccoli, sweet & sour sauce and lemon peel. Who could resist such a combination of flavors? I love a good surprise. And it was, like the hotel, splen-did! More aptly translated as a soufflé, not a pudding, its creamy texture perfectly complemented the rich, savory flavors.
Montebello is indeed Splen-did!
Le Botteghe di Donatello, Firenze


In the historic Niccolini palace where the great Donatello had his sculpture studio reside the best pizza makers I ever met! They cook in a wood-fired oven in the Neopolitan tradition. Our window seat had an impressive view of the imposing Duomo across the street. After salad for my sister and a hearty vegetable soup for me, we shared the best pizza I ever had! Its smoky aroma set the taste buds even before the first bite into the thin crust. A simple "Vegetariana" pizza so good, I wish I could order home delivery right now!
Le Botteghe di Donatello
English language version
Il Sole di Ranco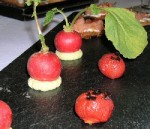 Our special celebratory lunch here overlooking the gleaming lago di Maggiore was a lesson in presentation. Between each course, the table was laid with delectable hor d'oeuvres to inspire the senses. Not to be found on the menu, we tasted quail eggs, foie gras, dehydrated tomatoes, radish on cream, and perch roe. Even as we waited for the dessert course, more delights were offered. 'Confectionery Amusement' included jellied fruits and cute bon bons. Chef Davide Brovelli creates a sophisticated and delightful cuisine.
As we were leaving, the young man at the front desk, great-grandson of the 19th century founder, said, "I am always here—I will be waiting for you to return." If he spoke English more fluently, perhaps he would have said, "I'll be here when you get back." But somehow I prefer the way he said it. His elegant expression was charming and captivating.
Il Sole di Ranco, a 2 star Michelin restaurant
Now a slice of my favorite birthday cake, St. Honore cake, and a cappuccino please, and I'm in heaven.
The buzz words are…
Buzz Words
ciao
Pronunciation: \ˈchau̇\
Function: interjection
Etymology: The word derives from the Venetian phrase sciào vostro or s-ciào su literally meaning "I am your slave". This greeting is analogous to the Latin Servus which is still used in a large section of Central/Eastern Europe. The expression was not a literal statement of fact, of course, but rather a perfunctory promise of good will among friends (along the lines "if you ever need my help, count on me"). The Venetian word for "slave", s-ciào ([ˈstʃao]) or s-ciàvo, is cognate of the Italian schiavo and derives from Latin sclavus.
chow
Pronunciation: \ˈchau̇\
Function: noun
Etymology: short for chowchow
Date: 1856
Buona notte!

Now make a beeline to the previous "Type Bee".
Creating Sweet Buzz for David Archuleta
Copy this short URL to share this post anywhere: http://www.dabuzzing.org/?p=14235

Tags: ciao · Firenze · Italy · minja · Type Bee
Filed in: minja|opinions
This Post has no Buzz yet.