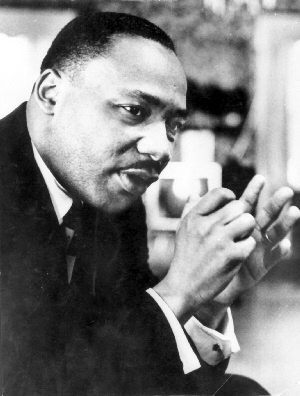 Tomorrow is MLK Day. I just read an article in the San Jose Mercury News that starts with these captivating words by Bruce Newman. "He was the American prince of peace, and yet on the day set aside to honor the memory of Martin Luther King Jr., the third-largest army in the world will rise up in his name. This great summoning is a miracle beyond the muster of any army in history…."
What army is he talking about, I wondered? And I discovered it's an army in which David Archuleta has already enlisted.
David Archuleta is tres chic! He is a teenager who is constantly 'giving back' and encouraging that spirit in others. He and young people like him will 'change the world'!
Read excerpts from Mr. Newman's inspiring article:
On today's National Day of Service, more than a million volunteers will answer the call….The only armies larger than this one-day wonder are the People's Liberation Army of China and the United States military, the latter an all-volunteer force that costs nearly $700 billion a year to maintain. MLK Day volunteers, by contrast, work for the sheer joy of it…

Last year, the National Day of Service fell on the eve of Barack Obama's inauguration, and the new president called upon his skills as a former community organizer to create a kind of "volunteer chic." The Corporation for National and Community Service estimated that more than a million volunteers joined forces that day, and the number of organizations working under the agency's umbrella jumped from 5,000 to about 15,000…

But as the poetry of Obama's grass-roots campaign gave way to the mossy prose of governance, there was some concern going into Monday's event that the volunteer spirit might decline in lockstep with the president's poll numbers…

Still, most local groups experienced a surge of volunteers again today, leaving only the bad weather to dampen enthusiasm for outdoor events in the Bay Area…

According to social scientists who study volunteerism, the rise of social networks such as Facebook has produced a corresponding rise in giving back from a group historically hard to motivate: teenagers…

"That is a very interesting and important part of the service increase," Goldsmith said. "Service generally started escalating quickly after 9/11. Then it settled down for many age groups, but never went back down for the kids who were in high school at the time. We believe something important is happening. It looks as if this could be the most significant rise in community service since the greatest generation of World War II."

Yoseline Borrayo, 14, and her friend Araceli Villa, 15, just wanted to volunteer as makeup artists for the fashion show at Saturday's "Stop the Violence" rally, an early observance of the day of service aimed at increasing the number of young volunteers willing to speak out against gangs and other forms of violence…

"We liked how the message was to get people involved and get kids off the streets," Borrayo said…After overcoming her shyness in front of an enthusiastic crowd at Evergreen College Saturday night, Borrayo was more than a fashion model. She was a role model, too. "I just wanted to help spread the word," she said of her new calling. And maybe change the world.
Remembering Martin Luther King, Jr. January 15, 1929-April 4, 1968
Source: Volunteer 'army' to answer the call on Martin Luther King Day – San Jose Mercury News.
Copy this short URL to share this post anywhere: http://www.dabuzzing.org/?p=9833

Tags: Martin Luther King · National Day of Service · Volunteer Army
Filed in: news|opinions
This Post has no Buzz yet.