pikepss Weekly on David Archuleta
A Welcome Hello to all Honeybees this October morning! Exciting days ahead for all as there are only 2 days left before we are blessed with a wonderful gift—Christmas From The Heart! Share the joy if you can and gift David's CD to a loved one or a close friend. There is no greater gift than music from the heart and this album has the most!
To our delight this week we had scattered concert dates, voice lessons, a misbooked flight to Nashville. Also exercising with a business card in shoe, vlogs with a crashing keyboard (that's not good) HaHa!, and we find out he likes Triscuits!! Wow! Life with Archie is fun!
Have a heartfelt week and remember to vote and blog about David's album so we can help him to #1 where he should always be. Enjoy and see you next Sunday!
Media
Reviews and Interviews
5 October
AOL Music and AOL Radio are doing something special about David Archuleta next week!
Fans of David
Russian Critics Listen to David's Album: Pleasant and Harmonious
Okay, this may qualify as "better late than never." Elena found a Russian critique of David's album.
I found out how to search for blogs in russian, so now i get all the information that I had no idea existed! David's album review is the only review that is positive on the list. and i can tell you from experience that critics in russia are brutal (think simon). it's very hard to please them. the school grading system is 4 goes for B, 5 goes for A.
Here is the translation.
"Pretty music, nice melody, light. Pleasant tone of the voice, harmonious arrangements. This is our short review. If we were in school, we would give him a confident 4. The following songs were reviewed: A Little Too Not Over You, Barriers, To Be With You, You Can, Your Eyes Don't Lie."
7 October
Examiner.com – Los Angeles
David Archuleta's fans organize a "Twitter Trending Party" to add buzz to his upcoming holiday album, Christmas From The Heart.
If there is one problem David Archuleta does not have, that is lack or shortage of fans. The American Idol runner up is adored by many, very enthusiastic fans (as was unscientifically proven in this site's popularity poll, which he won.) And now, those fans are doing everything they can to help him sell as many copies as possible of his upcoming album Christmas From The Heart, out on October 13th. The record is very popular on Amazon pre-orders, with spots in both the Bestsellers and the Holiday rankings. And now, in an attempt to make it even more popular, and give David Archuleta a boost in the social media category, his fans are getting together for a "Twitter Trending Party." The following tweet was recently posted on fan FSteven's twitter timeline: "#ArchuletaXmasCD Twitter Trending Party: Wed, 14 October @ 7am Singapore/Hongkong/Malaysia/Philippines, 8am Tokyo, 4:30am India."
What does all that mean, you ask? First, the words following the "#" are what is called a hashtag, keywords designed to make certain words and topics easier to find when digging through millions of tweets during a search. Second, trending is the act of getting a certain word or group of words to be featured as the most talked about topics on Twitter, a list that can be seen on user accounts and on the Twitter homepage. The higher up on the list a trend is, the more popular it is. Evidently, what the David Archuleta fans are trying to do is get as many people as possible to talk (well, tweet) about his album at the same time, in an attempt to get Christmas From The Heart on the trends list. That would increase its popularity, and ultimately the record sales.
Will it work? That will depend on David Archuleta's fans. And in the end, only October 13th, and Twitter, will tell.
She is right, we will do anything we can to get David's sales to number 1!
Twitters
DavidArchie & Friends
5 October
DavidArchie – P90X workout has me sweating like crazy Woo
DavidArchie – Phone interviews! Fun Stuff!
DavidArchie – The puffiness in my cheeks is really gone! Woot Woot! Just slightly yellow bruising haha.
DavidArchie – I say "Hi I'm lost I just need to turn around." guy says, "David Archuleta is lost?" should that really be surprising? lol.
6 October
DavidArchie – Curse frosted windows! I have to get on over to some P90x exercising! Reminds me of Christmas though haha. 1 week till the album!

DavidArchie – haircut time:)

DavidArchie – Yeeeeaah, it's party time in the USA Haha. Finally getting my stitches out of my mouth!

DavidArchie – Hey Maggie May – Rod Stewart is playing in the dentist office! I haven't heard this song in awhile.

DavidArchie – Wow I just had an amazing oatmeal cookie. So good. Had REAL ingredients.

DavidArchie – Getting x-rays and molds of my teeth. How exciting

DavidArchie – Wooh my teeth just got shocked when she touched my teeth. That felt weird. Nasty shoe-to-the-carpet shocking. lol

DavidArchie – RT@therocketsummer Pickup the new @relientk album today.

DavidArchie – Wow. I'm so weak P90x just about killed me today lol. It felt awesome.

DavidArchie – Time for some interviews

DavidArchie – I love triscuits. So Crunchy

DavidArchie – Bah! Curse my video blog for being to large of a file to send!

DavidArchie – too*. Sorry my phone doesn't like to cooperate sometimes. Anyone know how to compress files?

DavidArchie – I think it converted!!! Hopefully it will be up shortly!

DavidArchie – Cursed video. I'll just have to make another one lol

DavidArchie – New video blog! Check it out here: http://tinyurl.com/ya2th6f
8 October
DavidArchie – Ugh, it's too early.
DavidArchie – Hm, so it looks like the flight was accidentally booked a month later than it was supposed to lol. Time to work out?
DavidArchie – Got a good workout in this morning. Just gotta work with the unexpected events of the day haha.
DavidArchie – I had a business card in my shoe the entire time I was exercising. No wonder it felt uncomfortable.
DavidArchie – I just discovered that Brandi Carlile's new album is out. This makes me quite content.
DavidArchie – Oh my heck! The snuggie commercial is hilarious!
DavidArchie – It's funny how many people come up and say they know relatives of yours, when you've never heard of these cousins and aunts before.
DavidArchie – Made it to the plane all right this time!

juliewaldorf – http://twitpic.com/ksw8c – David Archuleta,Rick Springfield and I at the People magazine shoot.
juliewaldorf – http://twitpic.com/ksxf – David Archuleta and I… He's a 5star! Wonderful to work with.
Click on Julie Waldorf's twitpic links above to see great photos of David with her and Rick Springfield at the People Magazine photo shoot.
9 October
DavidArchie – Layover right now. Just eating a wrap from au bon pain. Good stuff.
DavidArchie – Hello Nashville! Made it safely, and had a nice time traveling.
DavidArchie – Practiced some singing and, believe it or not, guitar. 'Twas a grand ol' time.
DavidArchie – Watching Jeremy Lister right now. Allison Krauss just joined him on stage! Cool stuff!
DavidArchie – Jeremy Lister's set was pretty sweet! Watching KS Rhoads now. He has a cool little string section in the band.
10 October
DavidArchie – Starting a little later today, but still getting my workout for the day in right now! Halfway through
DavidArchie – My sister sent this to me. "David this is jazzy should i get a kitten for my birthday its for a good cause and its up to you" huh? Lol
DavidArchie – We now have 2 cats…. How random and unexpected.
DavidArchie – At the Grand Ole Opry! My first time here! Diamond Rio is about to perform right now.
DavidArchie – Happy 84th birthday to the Grand Ole Opry! Delilah from the Delilah radio show is here! Haha
Concerts
Scheduled Appearances
10/29 – Manchester, NH
10/30 – Providence, RI
11/1 – Atlantic City, NJ
12/4 – Rexburg, ID
12/11 – Waukegan, IL
12/18 – Stroudsburg, PA
More dates and venues:
Date: Nov. 24 and 25, 2009
Venue: The Abravanel Hall in Salt Lake City, UT
Tickets: Go on sale in a few weeks. Will keep you posted.
From David Berger at the Salt Lake City Tribune:
*Confirmed: David Archuleta will perform at Abravanel Hall on Nov. 24 and Nov. 25. Tickets go on sale in a few weeks
Fitzgerald Theater – St Paul Minnesota – December 9th – Tickets on sale October 21st.
Is anyone else getting just a little antsy about these tour dates?
8 October
The Salt Lake Tribune
Archuleta rocks Christmas from his heart
Music » The 18-year-old Murray native's holiday album — stacked with "reverent" classic carols and Kurt Bestor arrangements — will be released this week.
By David Burger
David Archuleta's favorite memory of past Christmases was gathering his family together, donning a Santa cap and caroling to neighbors in his Murray neighborhood.
This holiday might offer a different way for the singer to carol, thanks to the release of his first album, Christmas From the Heart, a follow-up to his 2008 self-titled debut that has sold nearly 1 million copies.
The shy, self-effacing teen has remained in the hearts of fans more than a year since he finished in second place on the 2008 season of Fox's "American Idol." That's why his record company, Jive, jumped at his request to record a Christmas album, which will be released Oct. 13. "It was a way to give heartfelt music to people," Archuleta said in a phone call from his Murray home.
And to show that he hasn't forgotten the home-grown talent that surrounded him as he was growing up, four of the five producers on the album are from Utah, including Kurt Bestor, the composer whose beloved annual Christmas programs have made him an institution.
"Everyone in Utah knows who he is and what he has done," Archuleta said of Bestor. "We were very privileged to work with him."
Bestor jumped at the chance to arrange and produce two of the songs on the new album, as well as co-produce and co-arrange a third with John Hancock.
"This kid is the real deal," Bestor said. What impressed the composer was that the soulful Archuleta didn't want an album that would just be the "flavor of the month," but still be relevant and meaningful 10 years from now, Bestor said.
Bestor arranged the traditional hymns "Angels We Have Heard on High" and "Ave Maria," and with Hancock, arranged "Pat-a-pan." On top of writing additional lyrics and music for "Pat-a-pan" and playing instruments on the songs, Bestor traveled to the Czech Republic to conduct The City of Prague Philharmonic Orchestra, which recorded the strings that accompany all three of his songs. He also conducted the orchestra on four other songs recorded for the album.
"There are very few opportunities with singers that take my music to a higher level," said Bestor, whose 21st annual Christmas concerts will be held at Abravanel Hall Dec. 10-12. "I was smiling a lot through the sessions."
Archuleta had changed in the year between recording his first album, which Bestor worked on briefly, and the new Christmas release. Before, the teen seemed bashful and reluctant to speak up. This time around, he was still polite but demanding of himself, evidenced by the five hours he invested in singing Bestor's arrangement of "Ave Maria." "He's not happy unless it's right," Bestor said.
Archuleta shrugged off a suggestion that he's a perfectionist. ""That song is not easy to sing," he said. "Kurt did great with it. He did so much with the song. I try my best to make them sound the best with what I've been given.
The influence of his devotion to The Church of Jesus Christ of Latter-day Saints is apparent when looking at the album's song list. Rather than novelty songs such as "Frosty the Snowman" or "Rudolph the Red-Nosed Reindeer," Archuleta chose songs he called reverent, such as "O Holy Night," "O Come All Ye Faithful" and "Silent Night."
While Archuleta will probably not show up outside your kitchen windows to sing carols this year, he's planning a winter tour where he will perform his Christmas songs to audiences. "I have to come to Utah," he said with excitement in his voice.
10 October
Just in! Oh! Joy! Christmas from the Heart songs on YouTube!!
For those who cannot wait till Tuesday when the album is released, three songs—the full versions—have been leaked. I won't embed them here, but you can hear them on YouTube unless you prefer to wait till you can hold the CD in your hands.
Please, PROMOTIONAL USE ONLY!
"Ave Maria" Thud! The best Ave Maria ever!!! Tears! Chills! Joy!
"Have Yourself a Merry Little Christmas" David Archuleta's duet with Charice Pempengco
"Memories of Christmas" Original holiday song written by David and Jeff Archuleta
Google Alerts
TRAX, Backstage
4 October
Salt Lake City Tribune
A matter of degree? » After her concert at the Energy Solutions Arena Tuesday night, Miley Cyrus was seen getting into a limo for a ride back to her hotel. Conversely, former American Idol runner-up David Archuleta was seen riding TRAX to the University of Utah on Wednesday afternoon.
5 October
The Gardners: Colbie Caillat and Howie Day..and…David Archuleta!
This has to win for the most random moment of the night. So, we're standing in line to meet Colbie and I hear a girl behind me say "OMG, that's David Archuleta!" and all I could think was "That girl is crazy. Why would David Archuleta be here? She must be mistaken". Then, I look where she's looking and I see, none other than, David Archuleta at my Colbie Caillat meet & greet! Haha! I told Howie "Oh, we are SO getting our picture with him!"
Unfortunately, the guy in the striped shirt was ushering David out as we were walking up to him. The guy said to David "Uh, you're wanted outside." I think he was afraid that David being there was taking the attention away from Colbie because all these little kids ran up to try to get pictures with him. So, this is the only picture I got of him. Bummer. Maybe next time, David! I wanted to tell him that he and I went to the same High School. We had so much fun at the concert. I'm really glad we both enjoyed it!
David still has puffy cheeks.
9 October
Archuleta Fanscene
Two More David Archuleta Tour Dates Confirmed!
Ah, those lucky, lucky Utah fans! They are getting TWO dates for David's Christmas show, at Abravanel Hall in Salt Lake City. (Okay, I'm not bitter at all. REALLY. LOL) The rumor floating around is that David is only doing 12 to 15 shows for this tour in total. I hope we get the whole schedule soon!
I'm very happy for David as it seems he loves performing at home more than anywhere else. The Utah shows will be on November 24th and 25th, with tickets on sale in a few weeks. The confirmation comes via Salt Lake Tribune writer David Burger's Twitter.
Fans
blogs, vids, VIPs
4 October
We have a BRAND NEW celeb advice column on mmm-mag.com. Each day at 8:00 PM/EST we'll post a reader question and have a different star answer it!! Today, we have David Archuleta talking about surviving rejection.
M Reader Raingurl asked:
I had a HUGE crush on this guy at school, but when I told him about it he just blew me off. I found out later from my friend that he doesn't like me back. Now I feel stupid. What do I do?
And David's answer is:
"I would say that's probably not the best guy for you. If they're gonna be jerky like that it just proves that there are guys out there who will treat you better. Look for someone who will treat you right. You don't need a guy who will make you feel any less than who you are."
Right on David! Raingurl, we've all been through times when our crushes haven't liked us back, but honestly, there's sooooo many hot guys out there, you'll find someone even BETTER soon!
5 October
Team Archie – Gifting
From Team Archie:
Hi everyone! This is –bianca the flailing webmaster here. I don't have our CFTH gifting method set up yet. I have been working hard on it and it will be "tres chic" but it's just not yet.
But I want YOU to be the first to know to sign up to be gifted!
Post in this thread and as soon as it is available, I will send you the URL to use to sign up to be gifted CFTH by Team Archie. You will be among the first to sign up using our new system!
Note–this thread is NOT for the actual request to be gifted. You do NOT have to leave any information here. Just a post saying, "Me! I want to know. I love Team Archie" or something like that. Since I'm the admin, I can get your email and I will send you the news as soon as I have it working!
7 October
Frustrated with his attempted first try vlog David finally gets the second one up and running. I hope that keyboard survived the crash. Love the haircut, Benton Paul cameo, and his excitement for the release of Christmas From The Heart! He really is a heartfelt young man! On to Nashville for writing sessions!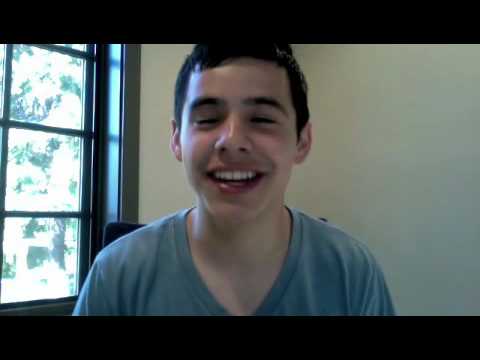 Human Interest
Rising Star Outreach
6 October
David Archuleta meets Padma Venkatraman
David Archuleta met Padma Venkatraman at a special Rising Star Outreach reception on October 1st, 2009 in Utah. Mrs. Venkatraman is currently touring the United States and is expected to receive the Humanitarian of the Year Award for 2009 from Enterprise Mentors – this esteemed honor was previously awarded to Mrs. Laura Bush.
Mrs. Venkatraman's tremendous impact on thousands of families affected by leprosy throughout India has brought international attention to Rising Star's cause.
David Archuleta attended the special reception in honor of Padma on October 1st, 2009 in Utah with Dr. Scott McGavin. Dr Scott McGavin, David's personal dentist, traveled to India in the summer of 2009 with a special dental team which provided much needed dental care for the children being served by Rising Star Outreach.
Becky Douglas, founder of Rising Star Outreach, along with Padma Venkatraman, spoke about Rising Star Outreach and the leprosy colonies of India. A special tribute video was played in which the children of Rising Star sang David Archuleta's song "Somebody Out There."
To date, David Archuleta fans have donated over $26,000 to Rising Star Outreach. David tweeted after the reception saying he saw a lot of good being done by Rising Star and he was proud to help out.
Photos are not available from this reception, but you can learn more by visiting:
Rising Star Outreach and Angels for a Cause.
8 October
Nashville vocal coach Brett Manning to coach David this weekend!
getting ready to coach David Archuleta all weekend long! – 11:22 AM Oct 8th from web
A little bit about his Singing Success vocalizing program.
Brett Manning Studio (BMS) voice lessons are diagnostic. In other words, the coach will diagnose your voice and its specific problems and give you a plan to succeed in technique and style. The Singing Success Program is still the best daily method for training your voice systematically. The program gives you a regular game plan every day so you will find the greatest consistency. Each of our Singing Success products fit a specific need and are designed to be combined with BMS lessons for the most effective vocal training in the world.
Peeps he has worked with. Dude, Keith Urban was also listed on his Web site. Brett has worked with artists from Capitol, Columbia, Atlantic, Interscope, Dreamworks, Lyric Street, MCA, Epic/Sony, KMG, Word, Embassy, Gotee Records, as well as countless independent record labels. He has worked with the casts of Broadway productions of Les Miserables and Jekyll and Hyde, as well as the Broadway tour of Elton John's Aida. His client list contains winners of the world's most prestigious vocal awards, including the Doves, the CMA Awards, and yes, the GRAMMYs. Despite having an incredible five octave range himself, Brett continues to claim "my students eventually out-sing me!"
Brett was also a judge on CMT's Can You Duet reality show! I remember him on there! He was pretty good and super intense, and he helped a lot of the contestants.
pikepss' Pick of the Week
Rick and David, two "teen idols"
There is a video of David Archuleta and Rick Springfield on People.com. It's called "Rick vs. David: Teen Idol Mania!" The tagline reads: "The former '80s heartthrob Rick and Idol's season 7 runner-up compare notes on fame, fans, and David's 'hot' mom."
This is for People's 35th Anniversary issue. They are using Rick and David to compare then and now teen idols. Awesome that they picked David out of all the young teen idols nowadays. This is a pretty big deal. Can't wait to see the spread!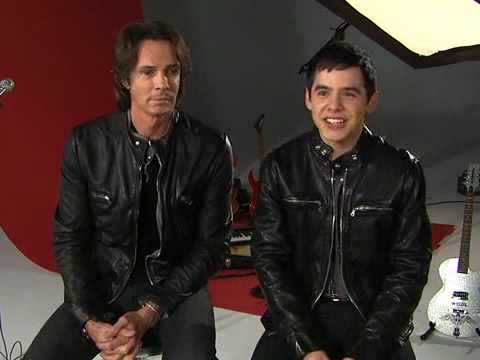 I just love the way he refers to his mom – "she's awesome" – so sweet. Mom is not the only one that is hot!!!
Did you miss last week's Buzz Wrap?
DA Weekly Buzz about David Archuleta!
Copy this short URL to share this post anywhere: http://www.dabuzzing.org/?p=6474

Tags: Brett Manning · Buzz Wrap · Julie Waldorf · Padma Venkatraman · People Magazine · pikepss · Rick Springfield · Rising Star Outreach · Team Archie · teen idols · Weekly Wrap
Filed in: career|columnists|David Archuleta|music|news|performances|photos|pikepss|reviews|voice
This Post has earned 2 Buzzes.