pikepss Weekly on David Archuleta
Welcome back Honeybees for the second Weekly Buzz on David Archuleta! I want to take this opportunity to thank you for all your wonderful and positive comments on last week's column! Your feedback was much appreciated!
Now, let's take another look at what David Archuleta has been doing this past week. Unless you live in Siberia or the Arctic Circle you heard the news. You say, What news! The News! THREE BIG WINS!!! We can all breathe in and out now! Pat ourselves on the back and say, we had no doubt because his fanatical fans watched his back! The Teen Choice Awards bring David the recognition he finally deserves in the music industry. We want to say from all his fans here in the United States and internationally, Congratulations on your TCA Sweep!!
Spanish – Enhorabuena en su TCA' concesiones de s!
Tagalog – Maligayang pagbati sa iyong tatlong panalo galing sa TCA pagkalooban sayo.
French – Swees TCA' de David Archuleta, categorie de musique de s! Felicitations!
Italian – Congratulazioni David sui vostri tre TCA' Premi di S!
German – Gluekwunsche David auf lhren drei TCA's- Preise!
Media
Reviews and Interviews
Express Milwaukee – David Archuleta – by Shepherd Express Staff
The most divisive contestant from the seventh season of "AI." David Archuleta is a Mormon teenage moppet with the apparent inability to speak in complete sentences, and the pop sensibilities of a middle-age man circa 1989. With his boyish looks though, Archuleta was a favorite of young girls and grandmas alike. Last year Archuleta released his self-titled debut, the awkward collection of soft adult-contemporary ballads his "AI" performances promised.
WELL WELL MR. OR MS. Shepherd Express Staff Member!!! Normally I don't respond to such negative statements about David's career but this particular writer hit a nerve with me. Many other people wrote comments such as, "this article is rubbish," "this person does not know David Archuleta," "he has fans of all ages," "you sound like a critic from yesteryear!"
My comment was as follows: I would hardly call this an article; it's more of a statement based on very little fact, no research and bad judgment. 'Awkward' is a word I would use to describe your limited knowledge of David Archuleta. Be more prepared on your next critique as time will tell his career will last longer than yours. (Sorry, but it ticked me off)
10 August – David Archuleta Wins 3 Teen Choice Awards – My IdolNews.com
David Archuleta was the only Idol finalist this year to sweep the Teen Music Awards this weekend. He walked away with Choice Music Breakout Artist, Choice Music Love Song for his single "Crush," and the award for Choice Music Tour for his tour with Demi Lovato.

David is currently working on a new Christmas album, set for release this November and on his second album. No word yet on when his second album will be released.
NEWS UPDATE: Amazon.com – David Archuleta's new album – Christmas from the Heart! Scheduled for Release on October 13, 2009 – The album pre-order has begun on Amazon and its moving up the charts very quickly. Go and pre-order today!
ACESHOWBIZ – David Archuleta won big at the 11th Annual Teen Choice Awards. The winner of "American Idol" season seven (they got it wrong, but he should have won, right Honeybees?) who didn't attend the event brought home three surfboards in music field, dominating the music winners list.
13 August – Idol Headlines – NY Post – Paula Abdul gets offer from Idol. Australian Idol. She has been offered a deal to join the show! The Australians are serious about Paula – they put their request in writing. RadarOnline.com has learned exclusively.
Posh Play for Idol Post?
E! NEWS has learned that Posh Spice just joined staffers from the hit Fox reality competition aboard an American Airlines flight bound for Boston, site of this week's round of American Idol auditions. Will she take the place of Paula Abdul? The rest of the judges—Simon, Randy and Kara—are already there.
DAVID'S BLOGS
11 August – David feels his struggle with his voice is a good learning experience. He appreciates what he is doing and feels blasting at every high note isn't the most important thing.
I need to remember that there's a connection and feeling in music that doesn't come by hitting each note technically perfect. I guess I just needed to lose my voice to remember that haha!…
Day off in Nashville, had a writing session with Joy Williams, one of the writers on Waiting For Yesterday!…The other talented writers were Matt Bronleewe and Andrew Frohm (sp? haha.)…I also did some recording for the Christmas Album…I really hope you guys like the Christmas stuff! We've really been working on trying to have the songs be heartfelt and have that spirit of Christmas in them.
Go and read David Archuleta's weblog on his official site. It's charming as usual.
Update 8/11/09 – The song Joy Williams is working on for David is rumored to be titled "Notice Me."
Twitters
DavidArchie & Friends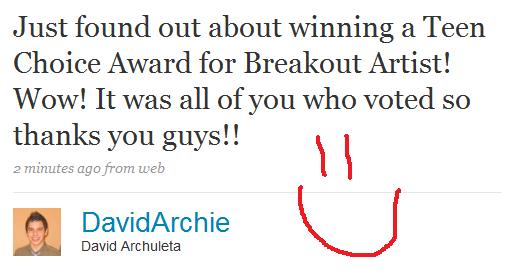 DavidArchie, 9 August
Just found out about winning a Teen Choice Award for Breakout Artist. Wow! It was all of you who voted so thanks guys!

Got Carly's number back. Woot Woot. Thanks for letting her know everyone lol.

Done recording for the day. Gonna try and get some more recording in tomorrow. But now I'm hungry!

In the studio booth right now. Haha….Woo hoo Christmas music!

Minnesota! Why are you always so awesome! I felt like there was tar in my throat lol. but I still had such a great time! Thanks!

So woke up without a voice today lol. But been on vocal rest and it's helping! Just have to take it a little easy today Haha.

My voice was almost gone by the end of the show but it lasted for the rest of it. Woo hoo!! Show was a lot of fun in Sioux Falls, SD.
DavidArchie, 10 August
Just wanted to say thanks again to all of you guys for voting! Crazy winning 3 TCAs! gonna go to beedddd. Good night!

Just steamed my shirt simply by boiling water in a kettle and using that. Sometimes you gotta work with what you got.
(OK on many levels I have a problem with David steaming his shirts, what's with that? No iron? No one around to do that for him? Besides it's with a kettle!!!! HaHa! David there has to be a million or so females around that could do that for you! I'll volunteer!!! He is just too cute for words!)
kbestor, 10 August
Laid down piano on Archuleta trax. Headed back to home studio to meet choreographers.
12 August
Joy Williams
Standing side stage to see@davidarchie, and honored that he sang my song tonight.
ladyantebellum
Just finished watching David Archuleta in Nashville. He's awesome! Crush is my jam!! – Me and my girl at the show.
DavidArchie
Wasn't exactly the best night performance-wise for me. Darn allergies and voice! Haha, But a lot of friends out at the show tonight!
DavidArchie, 13 August
I've decided that I really like Nashville. Loved the time we spent here. Can't wait to come back!

Meet me in St. Louiiis Louiis Meet me at the faiir Haha. That's where we are today!
(Why is it the simplest things David says that are so funny – another old song he knows – How old is he?????)
My ears have been popping all day. I think they should stop popping now.
(HaHa! – Just like the cats! You shouldn't be doing that!!! Gotta Love him!)
Have an ear-nose throat doctor checking me right now. Main problem is now just allergies haha. I figured.

It's Ashlee's last day on the road with me. I don't want her to leave! It's been way fun with her though!

P.S. I just found out that it's National Left-hand Day. Go Lefties! I'm a lefty……HAHA.
(So am I David!)
I survived!! My voice lasted to the end for tonight's show in St. Louis haha. It's feeling better though!

Trying to rebook Ashlee's flight……Haha. No one wants her to leave!
DavidArchie, 14 August
Woo! Tonight's crowd in Moline was so good. Can't believe how loud they were!
Concerts
Summer Tour
9 August – Sioux Falls, SD
David had lost his voice and was on vocal rest all day before the concert. He still killed Works For Me! David sounded great and is truly a professional. Concert was amazing and you would never have believed he had lost his voice that morning.
David's good friend Ashlee sang with him, Lean on Me! It was very cute and you can tell they are very good friends.
10 August – Milwaukee at the Rave – After a 24 hour complete vocal rest David gave fans another great performance! David and friend Ashlee sang Lean on Me at the Rave in Milwaukee.
12 August – Nashville, Tennessee – David sang beautifully, but he felt it wasn't one of his best performances. Little does he know even when he is not up to his personal standards he still is so much better than anyone else.
13 August – Taylor Swift attended Nashville show with buddies!
14 August – WOW is a new boy band who will be opening for David and Demi on August 20th and 21st. They are just starting to get noticed.
I LOVE ALL ACCESS: Despite his sore throat David Archuleta pulled off a fantastic show; you continue to impress – Great job, David!!!
Tony Orlando, singer-songwriter, attended the show and was totally singing along to Crush and taking a bunch of pictures.
Moline, Illinois -I-Wireless Center – Amazing performance! He totally rocked the house! Everyone was Rockin out to Zero Gravity and the screams were loud!
Google Alerts
10 August
Teen Choice Winner
Choice Music – Breakout Artist – David Archuleta
Love Song-Crush – David Archuleta
Tour – David Archuleta
David Archuleta Singapore will be celebrating their 1 year anniversary on August 25, 2009. Happy Birthday!
Fans
blogs, vids, VIPs
9 August
VIP Meet and Greet – David sang a verse of a bible song because he felt bad that he couldn't sing. Very sweet!
Took individual pictures and gave autographs since he couldn't sing.
10 August – Archuleta FanScene: Matt Describes his David Archuleta VIP Experience
Matt: "I've never lost sight of David's uncanny ability to touch lives in his own innocent, unknowing way." Very heartwarming! Worth reading!
11 August – examiner.com – Vote for your favorite AI runner-up: Clay Aiken, David Archuleta or Adam Lambert. At this moment David was ahead. Voting ends 11.59pm EST on Sunday, so VOTE NOW!
Latina Magazine – A Heartthrob in the Making: David Archuleta Scores
David Archuleta may not have won season seven of American Idol , but that hasn't affected his potential as a teen idol. The fresh-faced 18-year-old, who released his self-titled debut album late last year, got some love from his young fans at last night's 11th annual Teen Choice Awards in Los Angeles.
12 August- Archuleta Fanscene – What Disney song should David Archuleta sing?
Part of your World? – Little Mermaid, A Whole New World? – Aladdin, I won't say I'm in Love? – Hercules? (What about a new song for a Disney Movie? – David could then sing it at the Oscars when it is nominated! Just thinking ahead folks! But I really like the idea! – Don't you? HaHa!)
Human Interest
AI's Michael Orland, Fan Fanaticism, and Charice Pempengco
10 August
Michael Orland – Music Director of American Idol – Tweeted not Twitter
@DavidArchie – Hi David – need to talk to you when you get a chance. Can you e-mail me or call me? Thank!!!! E-mail (save your voice)
Mr. Orland reported to a magazine, "David came as a genius and left as a genius…."
(I like this man, he really knows his business. HaHa!)
Archuleta Fanscene: Fan Fanaticism by Deb
Interesting observation from fans about boundaries and proper behavior!
Idol fan interactions at the bus sites and meet and greets have gotten bold and aggressive and Groping, especially with Adam and Kris and attempted kissing Kris while posing for a picture. "Some Idols have been avoiding the pre/post show mayhem because of the craziness and some fans have been lashing out at Adam etc on Twitter about it." She goes on to say, "I was at the buses last year on a few occasions, and yes, sure it was loud and a bit crazy, but for the most part fans seemed to know the boundaries, especially with David Archuleta." Is it because David never really had to deal with those situations? "Perhaps some of these Idols made the mistake of allowing things like that at first…deeming it harmless, and then it escalated." She continues to comment that, "David made his boundaries quite clear. He was absolutely tireless when it came to autographs and fan interaction, but he dealt with fans in a way that reciprocated respect." He didn't respond to innuendo or crude comments, would not engage in anything he deemed inappropriate." Please go and read entire posting.
In response to her questioning whether David had to deal with those situations, yes I have personally observed David being asked to do things that were not within his boundaries and he handled them with poise and respect. He stated quite honestly on many interviews what he considers not appropriate. I recall the proper zone area on someone he would only autograph on and many times by hand gestures map it out. There were hugs from older women that lingered a little too long. The Kansas City TV news reported that one woman "couldn't keep her hands off David." David handled these incidences with poise and charm and with a nice "no, I can't" at times. David knows that 99% of his fans respect him and his morals and would not intentionally embarrass him. Many times he has stated many other artists tell him how nice and polite we are and how they really think his fans are great. He thinks so too! I believe fans represent the character of their idol and David's is above reproach!
11 August – Filipino International singing sensation Charice Pempengco has recorded on David's Christmas album! Duet? Can't wait for this album to come out in November!
pikepss' Pick of the Week
AI Top 10, 12 August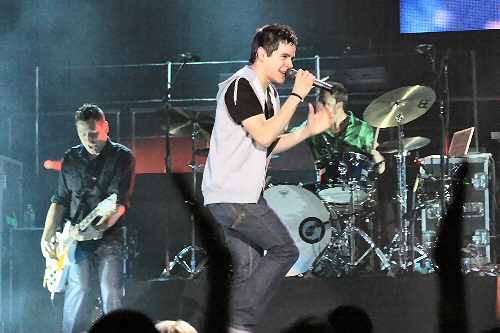 David Archuleta at Las Vegas concert, photo by Pam Pike, July 2009
Mercury News.com Oakland Tribune by Jim Harrington
Which "American Idol" alum is champ? We've got a top 10 list…So who are the real heavyweights in the post-"Idol" camp? Well, here's one ranking — a top 10 list that takes into account such things as record sales and radio play, as well as an artist's current spot in the industry and projections for further success.
10 – David Archuleta (Season 7) – In the "real world" battle of David vs David (runner-up Archuleta against champ Cook), the sales figures mirror the voting result. Cook's debut has gone platinum, Archuleta's has been certified gold. Yet, Archuleta showed with his smash single "Crush" that he might have more to offer in the long run.
9. Clay Aiken
8. Kellie Pickler
7. Adam Lambert
6. Fantasia
5. Jordan Sparks
4. Chris Daughtry
3. Jennifer Hudson
2. Kelly Clarkson
1. Carrie Underwood
Very interesting ranking and with the exception of one, all the rest have had more time out as a recording artist than David.
I don't necessarily agree with this ranking and it would be interesting to find out if this article was written before the TCA Awards. As much as he has commented on David having more to offer, Mr. Harrington's opinion may have changed since the announcement of David winning for Breakout Artist, Love Song (Crush) and Tour, and his ranking may have moved up some. What is even more interesting is that Cook does not show on this top 10, interesting but no surprise for me. We all would like to see David at #1, and he will be very soon, but to have him even ranked in the top 10 is very exciting and holds such promise that his music will be around a very long time.
DA Weekly Buzz about David Archuleta!
Copy this short URL to share this post anywhere: http://www.dabuzzing.org/?p=3598

Tags: Buzz Wrap · Charice Pempengco · concerts · Crush · Demi Lovato · Google Alerts · media fans · Michael Orland · Paula Abdul · pikepss · Posh Spice · Taylor Swift · Teen Choice Awards · Tony Orlando · Twitter · weekly buzz
Filed in: career|columnists|music|news|performances|pikepss|reviews|voice
This Post has earned 4 Buzzes.