pikepss Weekly on David Archuleta
Good morning to all Honeybees and Fans!
Ten days into the new year brings great news for David Archuleta. A good friend gets married, a popular golden teen idol makes comparisons, Christmas From The Heart makes the top ten on Billboard and #7 Nielsen's 2009 top sellers. His book is getting notice and there are sufficient polls to keep us busy.
Twitter has given us a David Archuleta background design, more reviews and David's "A Thousand Miles" is in the Top 9 Best Cover Songs of 2009. A possible concert appearance in February but still waiting for confirmation as the date announced may conflict with the Jordan Sparks event in Florida. More on that later!
Have a great week everyone and don't forget to vote, vote, vote!!!
Media
Reviews and Interviews
4 January
David is a Musician who gives back – he is #4!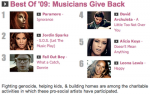 David's sincere desire to give back is noted at each and every concert.  His song Prayer to the Children always gives me chills!
Jason Castro Got Married! Congratulations! David attended the Wedding!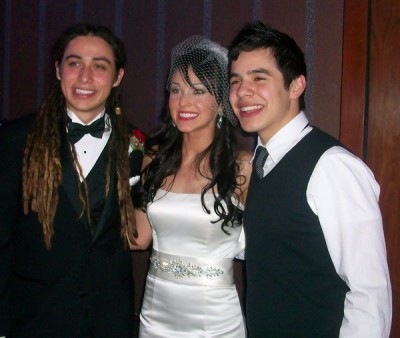 David signing autographs at Ihop after the wedding!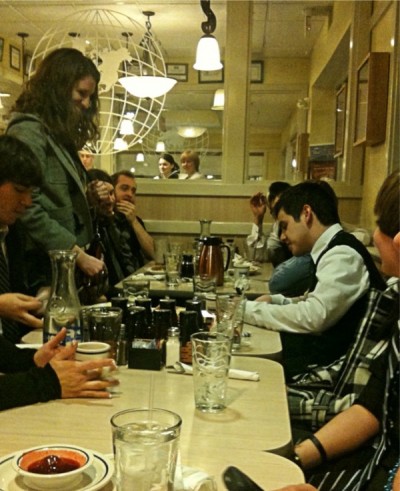 5 January
EW Home // TV // American Idol // 28 Top Tunes from 'Idol' Grads
28 Top Tunes from 'Idol' Grads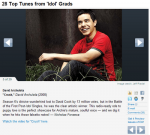 David Archuleta
"Crush," David Archuleta (2008)
Season 6's divisive wunderkind lost to David Cook by 13 million votes, but in the Battle of the First Post-Idol Singles, he was the clear artistic winner. This radio-ready ode to puppy love is the perfect showcase for Archie's mature, soulful voice — and we dig it when he hits those falsetto notes.
Season 7 not six!
6 January
Frankie Avalon in concert at Tropicana Express
Tuesday, January 5, 2010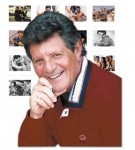 In the 1950s, Philadelphia was the town you wanted to be in if you were launching a musical career—not Los Angeles, New York or Nashville. Maybe it was the water or the gene pool, but cute Italian boys who could sing, could be discovered.
Frankie Avallone had all those bases covered.
A locally famous trumpet player, his "break" came during a gig he was playing to honor another "Philadelphitaliano"-Al Martino. A talent scout liked what he heard and booked Avallone on the Jackie Gleason's CBS TV show.
He soon hooked up with Peter De Angelis and Robert Marucci, two Italian-American songwriters and music publishers who founded Chancellor Records. Marucci and De Angelis wanted Avallone to sing "De De Dinah," their teen fluff song. Now known as Frankie Avalon, the singer pinched his nose while singing the song to show how he felt about it. This nasal version was the one Chancellor released in December 1957. Avalon made an appearance on Dick Clark's "American Bandstand," sang the song, and soon sold a million copies.
In 1957, he was no longer holding his nose. He released "Venus" and established himself as a teen idol. Three more million sellers followed, included "Bobby Sox To Stockings," "Just Ask Your Heart," and "Why."
But what probably cemented his career in the minds of the nation was his series of "beach movies" filmed in the early '60s along with former Mouseketeer Annette Funicello. These included "Beach Party," "Muscle Beach," "Beach Blanket Bingo," and "Bikini Beach."
Avalon continues to make nightclub and concert appearances in addition to developing his own line of health supplement products. Most recently, Avalon made a surprise visit to the popular reality show "American Idol."
We recently talked with Frankie Avalon; here's how it went…
Q. Talk about the show you're bringing to Laughlin.
A. I've been coming to Laughlin for years and years…it's a nice place. This is a new venue for me, so I'm looking forward to it. I'm a good fit for Laughlin, because the demographic are people who started with me many years ago and latched on through the decades.
It's a fun show. I do all the songs I'm expected to do like "Venus," "De De Dinah," "Bobbysocks to Stockings," and "Why,"-and for the newer generation, "Beauty School Dropout."
Q. You have gold records, you were a teen idol, you appeared in 40 films, and kids don't know who you are. Are you okay with that?
A. That's sensible to me. It's a different generation. I said to one of my grandkids, "Who's your favorite artists." He said one of the groups he liked was the Jonas Brothers. I asked him, "do you have their albums," and he looked at me and says, "What's an album?".
Q. Is there anyone out there these days who comes close to the teen idol status you achieved?
A. There are a few. Justin Timberland. He's extremely talented and I keep hoping he has a career that will last. I also like David Archuleta, I just saw him on a video the other day. He's doing a lot of good stuff.
Q. What was the first indication that you had hit that teen idol status? Where were you and what were you doing?
A. At the time we did things called record hops, where we'd go to places like record stores to promote the record. We'd lip sync to a record like we did on the Dick Clark show. I remember finishing a song and the kids were lined up to get autographs. I didn't even have a hit yet. I was just starting. These two gals came up and one of them fainted. The other girl grabbed her and she went down. It was like a domino effect. After that, every place I'd go, kids were screaming and it grew more and more. Pretty soon, I was getting fan mail, 12,000 pieces a week. Then when we'd show up for events, there would be nine policemen escorting us. And here I was just a kid who could play the trumpet thinking, "I could really get into this." It was amusing to me. It was great.
Q. How did you come to be on being on "American Idol?"
A. That was interesting. It just happened that the week's theme for the contestants was to perform one of their favorite No. 1 songs from the year they were born. The producers of the show found out Simon Cowell would turn 50 this year, so they decided to surprise him with me singing "Venus," the No. 1 song the year he was born, 1959. They kept me hidden and started out with the black and white montage of photos from the 50s. When I came out and saw the expression on his face, it was great. It was a lot of fun. It was one of those times when he didn't know what to say.
It's great that a well known singer who was a teen idol can pick out David Archuleta as someone who has the same appeal to fans as he has had. David is well on his way to a long and popular career such as Frankie Avalon.
9 January
Open Salon
Beyond 15 minutes of American Idol Fame
– by Jayelle Hartley
15 of the Show's alumni who may have careers to stay.
As American Idol enters its ninth season in January as the top rated juggernaut of Television, millions will tune in to see a new crop of young hopefuls vying for the coveted title. The show has launched the Superstar careers of Kelly Clarkson and Carrie Underwood. Increasingly however, contestants coming off the show are struggling to find their way from their 15 minutes of idol fame into a crowded field of pop/rock radio and idol-weary radio programmers.
As the novelty of the show gradually wears off and its power to generate record sales are cooling across the board, Idol alums are finding it more and more difficult to sustain momentum after their time in the American Idol spotlight is over. So what will it take to keep their careers going into the future? Diversification is key to extending a run on the show into a lasting career. Only a select few have achieved multi-platinum, but album sales alone cannot sustain a career over the long run. Alums must find ways to build on the popularity they gained on the show, keep old fans interested, and bring new ones in. Touring is providing the Lion's Share of income, while Broadway is cherry picking the stage proven performers. Film and TV offers are also in the works for many. Diversification is key and these alums must work hard to maintain momentum.
Which idol alum are most likely to achieve long-term success in the entertainment industry? Here is an alphabetical list of 15 idols who may have the best chance for extended careers in entertainment.
Clay Aiken, Kris Allen, David Archuleta, Kelly Clarkson, David Cook, Chris Daughtry, Fantasia, Taylor Hicks, Jennifer Hudson, Adam Lambert, Kellie Pickler, Jordan Sparks, Ruben Studdard, Carrie Underwood, Elliott Yamin.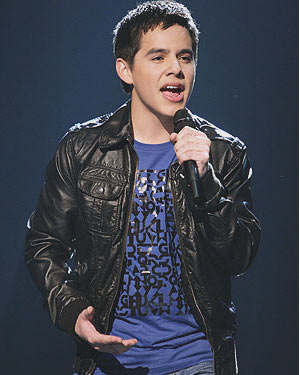 At age 12, Archuleta entered the world of TV talent competitions, winning the junior vocals division of "Star Search 2". After recovering from a bout of vocal chord paralysis, he took the plunge into the idol world at the tender age of 16. His pristine vocals soon won over a devoted teen audience, along with a good share of older fans as well. His self-titled debut album went Gold, and he scored a huge hit single with "Crush". Starting out as a tour opener for Demi Lovato, he recently launched his own successful tour of mid-size theaters in support of his brisk-selling holiday album "Christmas From The Heart". Archuleta is also a recipient of a Nickelodeon "Teen Choice Award" as well as an ALMA Award for "Rising Male Star". Time will tell if his teen audience will stick with "Archie" for the long-term, but with one of the better male voices ever to come out of idol, our bets are on his survival in the industry.
Two or three of these Idol picks would not necessarily be ones I would expect to have a long time career. A couple of them are very understated but as mentioned diversity is a key to survival in the industry.
APPEARANCES
9 January
Is there a possible concert in the making?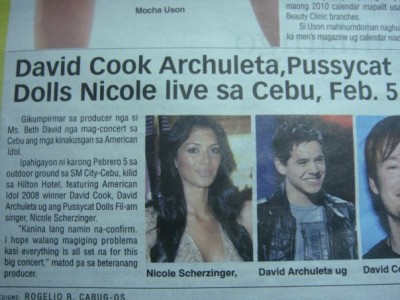 Charts and Sales
4 January
MTV Gimme 10 [Yearend 2009]
Air date: January 3, 2010 TW PP WC ARTIST TITLE
1 4 9 Beyoncé Single Ladies (Put A Ring On It)
2 1@1 7 Lady GaGa Poker Face
3 3@1 11 Taylor Swift Love Story
4 4@1 12 A.R. Rahman &
The Pussycat Dolls Jai Ho! (You Are My Destiny)
5 2@1 11 Black Eyed Peas I Gotta Feeling
6 2 7 Kings of Leon Use Somebody
7 2@1 8 David Archuleta A Little Too Not Over You
8 1@1 8 Craig David Insomnia
9 2 9 Kelly Clarkson My Life Would Suck Without You
10 2@1 11 Paramore Ignorance
Book Sale/Release Date
5 January
Chords of Strength: A Memoir of Soul, Song and the Power of Perseverance (Hardcover)
~ David Archuleta (Author)
› Visit Amazon's David Archuleta Page
List Price: $22.95
Price: $15.61 & eligible for FREE Super Saver Shipping on orders over $25.
You Save: $7.34 (32%)
Pre-order Price Guarantee.
This title will be released on May 4, 2010.
Pre-order now!
Ships from and sold by Amazon.com. Gift-wrap available.
7 January
From our own Honeybee (Mamma Bee Minja)
– from Google
"David Archuleta in Top Ten on Billboard Holiday Chart"
6 January 2010
by minja
Billboard tracks holiday album sales for several weeks during the holiday season. For the week of January 9, 2010, David Archuleta's Christmas from the Heart is at number 9. With only 11 weeks on the chart, that's remarkable. I hope that David's holiday album will have the longevity of Josh Groban's Noël. Released in October 2007, Noël continues to be popular, maintaining the high position this week of #4.
This spring, summer, and autumn should you find yourself humming "Riu Riu Chiu," "Pat-a-Pan," or "Melodies of Christmas," it might be time to make another purchase and keep David's debut album sales climbing. Remember, recording artists don't make a holiday album very often. If we fans of David continue to buy it, by Christmas 2010 Christmas from the Heart will be a holiday favorite with an even bigger audience.
SOURCE: Billboard Top Holiday Albums for 2009
9 January
The Nielsen Company's 2009 year-end music industry report is in. In the category of Top Ten Seasonal Albums, David's "Christmas from the Heart" is the 7th top seller!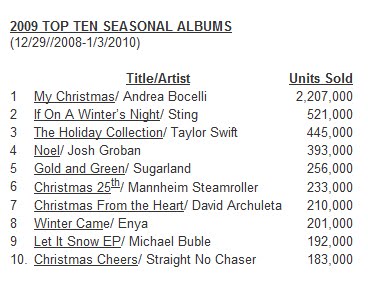 Twitters
DavidArchie & Friends
4 January
DavidArchie – Tenjo Hambre!
Haha! Some things never change, he is always hungry!
DavidArchie – This knot under my left shoulder has been buggin me forever!! It's been there since tour. It's quite irritating.
5 January
DavidArchie – I like watching the History channel. Educational haha.
DavidArchie – Ah, I forgot how refreshing running was. Feels good!
6 January
DavidArchie – Oh…I'm feeling pretty sore today. haha But it's a reminder of the good run I got in yesterday!
DavidArchie – Got my brother to go exercise with me today. Good times.
DavidArchie – Went and saw Cloudy with a Chance of Meatballs with the family. It was really funny.
7 January
DavidArchie – I love getting to be with the family! I've missed them haha.
DavidArchie – I didn't realize all the different proteins that can be put into a smoothie. Egg protein, soy, whey, milk protein, Interesting…
DavidArchie – Oh man, thank you for playing @thescript on the radio. I'm falling to pieces
8 January
DavidArchie – Ok, idk if there are a lot of locations, but if you have an Emerald City Smoothie place near you, you have to try one! Soo good!
DavidArchie – Whoo, I'm pooped out today lol. Got to take my sister out to eat earlier though which was fun. Been trying to come up with song ideas now!
9 January
DavidArchie – Oh boy, I did a little too much singing last night. My voice is a little rough today lol.
DavidArchie – Went to my little lister's basketball game. They didn't win, but it was a close game! Haha.
DavidArchie – Went to my brother's basketball game. They won! Hoorah. Fun getting to go watch and support mis hermanos.
DavidArchie – Hey guys, tomorow I'm heading out to Central America for the week for some charity work, and don't know how my phone service will e while I'm there. I'll try to keep you posted and will get a blod up in a couple of days! Sorry that I haven't made one in while, but I'm stoked!
DavidArchie – At the Reel Big Fish concert! Ryland rocking the drums. He's brothers with Drew who played drums on the Christmas tour haha.
DavidArchie – Take on meee, take me oonnn
Polls/Voting
Shorty Awards, Musiqtone, Disney, Sirius, Last FM, YouTube
6 January
From Snarky Archies
The Shorty Awards
The Shorty Awards honor the best people and organizations on Twitter. (Noo, it has nothing to do with short/tall people. lol.) David has been nominated in a few categories. I encourage you all to vote for him in the following: celebrity, food, health, humor, and music. There are a few more you can vote in also, but I feel these fit him more. In February, the nominees will be narrowed down to five finalists in each category. Winners will be determined by a combination of popular vote and by the members of the new Real-Time Academy of Short Form Arts & Sciences.
To vote, you simply enter @DavidArchie in the box at the top, type in why you have chosen him for this category, and click "Tweet your vote!". See my example below.
To learn more about The Shorty Awards, go HERE and to VOTE, go HERE. YAAY! Happy VOTING! 🙂





7 January
Request David's songs at Disney
Twitter: David has 298,174 (+3686) followers. Follow David on Twitter
Search for (and share) news of David at www.msn.com, www.google.com and/or your favorite search engine.
Watch David's videos on YouTube. David has 88,845 (+129) subscribers at his official youtube site and he is #60 on the list of musicians with the most subscribers.
David's official site has 31,858 subscribers.
http://davidarchuletanetwork.ning.com/
David's Myspace has 233,096 (+284) ms friends. http://www.myspace.com/davidarchuleta
Listen to David's songs on Last FM
Every twenty minutes, vote Best American Idol : Vote David Archuleta for Best America Idol
http://tweeter.faxo.com/Top_YouTube_Musician/2010/01?page=3
Best non-Winner AI @ ZAP2it: Zap2it
Entertainment weekly feature story, leave comment: EW comments
Nominated on Planeta – Planeta Awards 2009
Google Alerts
Sun Bowl, Nickelodeon, Billboard
5 January
Rubin named 2009 Sun Bowl Legend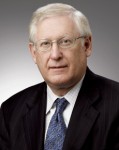 For years, his good works for the El Paso community have been legendary. Now he has the title, too. On Tuesday, the Sun Bowl Association announced that Gerald Rubin was named the 2009 Legend of the Sun Bowl. "If you look at what kind of impact that Jerry Rubin has had on this game and this association, you will see that his service both to the community and the Sun Bowl have earned him the honor of Legend of the Sun Bowl," said Frank Bates, Sun Bowl Association president. "He really stepped in and made an impact and for that we cannot thank him enough."
Rubin's generosity has gone beyond the game itself. For the last six years he helped implement the Helen of Troy Halftime Show, bringing in artists like Los Lonely Boys, Diamond Rio, Rihanna and this year, David Archuleta.
Helen of Troy has been El Paso's premier corporate citizen, donating significantly to more than 400 charities a year.
Thank you Mr. Rubin – Too bad you couldn't get CBS to televise halftime show!
6 January
PR Newswire (Press release)
New Nickelodeon Series Premieres With A BIG TIME RUSH of Comedy and Music On Monday, Jan. 18, at 8:30 P.M. (ET/PT)
Four Best Friends from Minnesota Trade in Hockey Practice for Vocal Lessons in New Nick Comedy that Chronicles the Making of a Music Group
Download image SANTA MONICA, Calif., Jan. 5 /PRNewswire/ — Four fun-loving best friends from Minnesota are given the opportunity of a lifetime when they get a chance to be part of the glamorous L.A. pop music scene in Big Time Rush, Nickelodeon's new live-action comedy series premiering on Martin Luther King, Jr. Day, Monday, Jan. 18, at 8:30 p.m. (ET/PT). The new series – produced in partnership with Sony Music – is from producer Scott Fellows, creator of the top-rated Nickelodeon comedy Ned's DeClassified School Survival Guide.
"Big Time Rush is about what happens the day after you win American Idol," said Marjorie Cohn, Executive Vice President, Original Programming and Development, Nickelodeon. "This series will chronicle the wild and hilarious journey that follows after these guys get that life-changing, first big break and we think our viewers will enjoy going along with them for the ride."
Almost 3.5 million viewers tuned in for a November sneak peek of the series and were introduced to Kendall (Kendall Schmidt, AI, Gilmore Girls), James (James Maslow, iCarly), Logan (Logan Henderson, Friday Night Lights) and Carlos (Carlos Pena, Ned's DeClassified School Survival Guide) – four hockey-loving teenaged best friends who move from Minneapolis to Hollywood after Kendall is discovered by eccentric record executive Gustavo Rocque (Stephen Kramer Glickman) during a nationwide casting call for a new boy band. The foursome travel with Kendall's mom (Challen Cates) and younger sister (Ciara Bravo) from the snowy Midwest to sunny Los Angeles, where they move into the Palm Woods, a swanky temporary housing development where entertainment companies house their budding new talent. But the boys soon learn that life in Hollywood is not all about hanging at the pool and attending late-night parties: they quickly realize they have a very short window to prove to themselves and their record label that they are serious about their new career choice.
In the premiere episode, titled "Big Time School of Rocque," the guys get a dose of reality when Gustavo tells them that they are required to go to school in addition to recording their new album. While they prefer to attend school at the more fun-friendly Palm Woods, Gustavo has other ideas and arranges to have their teacher located at the recording studio. After their awful first day at the "School of Rocque," Kendall, James, Carlos and Logan hatch a plan to take down Principal Gustavo so they may soon join their friends at the Palm Woods school.
Big Time Rush will feature original songs performed by the group under the guidance of Sony Music with music by some of today's most successful songwriters and producers, including Desmond Child (Katy Perry, Bon Jovi, Aerosmith), Matthew Gerrard (Kelly Clarkson, Avril Lavigne), Charlie Midnight (Hilary Duff, Britney Spears), Kevin Rudolph (Let It Rock) and Eman (David Archuleta). The Big Time Rush theme song had a strong debut on iTunes in November, and more original music will be made available to download throughout the season.
Maybe they should have consulted David Archuleta about attending school during AI, his first hand knowledge would have added to their script.
8 January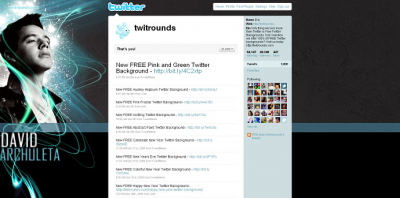 Easy Auto Install on twitter
Username:
Password:
Tweet New Background
Follow twitrounds
*We do NOT store any login information
Manual Install on twitter
1. Download: David Archuleta Twitter Background
2. Login, goto Settings->Design->Change Background Image
3. Click browse, select image, click save changes
4. Goto "Change Design Colors" and enter the following
5. background: 549aaa
6. text: 000000
7. links: 549aaa
8. sidebar: cddde0
9. sidebar border: cddde0
10. Saves changes. Done!
Background Description:
David Archuleta is the cutie from American Idol. He's got a great voice, he's talented and he's fun to watch. Here's an awesome David Archuleta Twitter background for the fans!
Fans
blogs, vids, VIPs
7 January
David Archuleta and we on Hoa Hoc Tro
Posted on January 6, 2010 by Huong
Yeah, that's David holding the collage of Vietnamese donors to Angels For A Cause. Great job, Dung (archieologist)!!!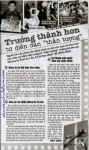 Human Interest
Visit with Grandma
4 January
by Just A Mom
That's my Grandma, and that's David Archuleta. Maybe you've heard of him? He was a runner-up on a little show called American Idol. He was in town for a concert at the college and wanted to do something nice in the community. He came to my grandma's home with just his pianist and sang requests from his audience.
There was no press, no manager, no agent. Just a good kid wanting to do something good in his free time.
I'm sure there are lots of people out there who, like me, wish with all their hearts to visit their loved ones – sing carols and share an evening, but who can't. I want to personally thank each and every person who went out of their way to help someone they didn't know during this past holiday season. Your small act stood in the place of many prayers and hopes of families far away.
pikepss' Pick of the Week
Best Covers of 2009
It's a great compliment when you have your songs praised by others. That's what every artist works for during their career but when they receive recognition singing someone else's songs, they have achieved a place in the sun. David has secured his place and the following cover demonstrates his exceptional talent with his version of "A Thousand Miles."
Best Cover Songs of 2009:
"Billie Jean" (Michael Jackson) — Coldplay
"Walkin' After Midnight" (Patsy Cline) — Kelly Clarkson
"Viva La Vida" (Coldplay) — Weezer
"The Way You Look Tonight" (Jerome Kern/Frank Sinatra) — Harry Connick, Jr.
"I Wanna Know What Love Is" (Foreigner) — Mariah Carey
"Madman Across the Water" (Elton John) — Daughtry
"A Thousand Miles" (Vanessa Carlton) — David Archuleta
"The Chain" (Fleetwood Mac) — Three Days Grace
"Wanna Be Startin' Something" (Michael Jackson) – Akon 23
Last week's Weekly Buzz is still a good read!
DA Weekly Buzz about David Archuleta!
Copy this short URL to share this post anywhere: http://www.dabuzzing.org/?p=9047

Tags: Buzz Wrap · Jason Castro weds · Nickelodeon · pikepss · Sun Bowl · Weekly Wrap
Filed in: career|columnists|David Archuleta|music|news|opinions|performances|photos|pikepss|reviews|voice
This Post has earned 2 Buzzes.