pikepss Weekly on David Archuleta
Good morning to all Honeybees and Fans!
Someone once said, "Stars are the pinholes in the curtain of Heaven." If that is true, then David Archuleta is the light to the gospel that inspires others to make a difference. He is the piped piper of Hamlin attracting people all over the globe to follow a path of love, peace and harmony.
In the last two years his achievements have been many, especially for one who is still a teenager. David has had the ability to inspire and motivate young people to share that love, peace and harmony. As we move into 2010, David's travels and events keep revealing he is one in a million, a special young man who keeps giving himself to those in need and securing a place in our hearts forever. God bless you always!
This week has much to offer as David Archuleta continues to be buzzed about in the news. I am especially fond of his video from Central America. Did anyone notice his jacket? That's the one he bought a few weeks ago at Walmart and decided he likes wearing the lining only! Haha! Very cute!
Twitters are down but attention is growing leaps and bounds as "Crush" is the most checked out CD in SLC library, is listed as one of the best songs for walking and two of his songs were on AI Hollywood list. Billboard mentions his album in their year-end decade and auctions were listed on ebay for charities.
Enjoy! Have a great week everyone!
Media
Reviews and Interviews
10 January
From Disney Dreaming
David Archuleta Charity Work In Central America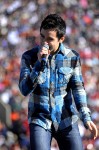 David Archuleta is headed to Central America to do some work for charity – he took to Twitter to tell fans the news: "Hey guys, tomorrow I'm heading out to Central America for the week for some charity work, and don't know how my phone service will be while I'm there. I'll try to keep you posted and will get a blog up in a couple of days! Sorry that I haven't made one in a while, but I'm stoked! I should have someway of tweeting you guys still, don't worry lol. If not I'll find a way! Even though I'm not all too interesting lol."
Oh David! We think you're interesting!
Image Via Flickr
12 January
From Snarky Archies
Montufar, Guatemala updates!
Hi, everyone! David is in Montufar, Guatemala today. He will be doing a conference, encouraging young entrepreneurs with small businesses and will have a FREE concert afterward. YAAY! D is all sorts of amazingness! Stay tuned here for the latest updates. 🙂
Updates:
36. Mauricio Salán: I'm one of the few left in the room with David Archuleta! And he asked that no one film the presentation…sorry guys!
35. EpicDemia: Ok. So time's up, guys. I will post my impressions, pics at www.epicdemia.com as soon as the concert ends and get home.
34. EpicDemia: ok i just took a picture with him, u can see it shortly at epicdemia.com
33. EpicDemia: He will sing a capella for us now. The song is "Contigo"
32. EpicDemia: He's turning to his mom for support. So funny!
31. EpicDemia: He has to say: "Un saludo a Mundo Joven" but he is having the hardest time saying it. it's hillarious!
30. Mauricio Salán: Taking pics with his mom right now! For the press, and also striking poses!
29. EpicDemia: He is wearing a black tie and white shirt
28. EpicDemia: A: At first I want like, Wow, Hannah Montana. But then I realized what a cool person she is, and it was fun.
27. EpicDemia: Q: How was it working with Miley Cyrus?
26. EpicDemia: …and makes people feel a good emotion. I want the youth to know that passion is the most important attribute an artist can have, and the desire to transmit their feelings
25. EpicDemia: I want to show the youth that they can enjoy music not focused on bad lyrics, but music that transmits a possitive message…
24. EpicDemia: …I decided this is what I wanted to do for a living. I like focusing on possitive things for people.
23. EpicDemia: I never thought I'd get to where I am. At first it was enough to just sing to myself, but when I realized the effect I had on people…
22. EpicDemia: The book is about experiences, it's another opportunity to share what I've learned. To make people understand why I am the way I am.
21. EpicDemia: David: I want to experience the social situation in Central America, because my mom's from here. I am very happy to be around people my age
20. Mauricio Salán: David IS working on a book! About his experiences and things that he has learned!
19. Mauricio Salán: I'm having an AWESOME time!!!
18. Mauricio Salán: David is HERE!!!
13 January
David Archuleta in Guatemala
– EpicDemia written by David Morales
pikepss' post about the David Morales EpicDemia story
14 January
Sturgis Journal – Source
From Snarky Archies
high notes from 'Idol' contestants
David's name is EVERYwhere.
The Teen Choice Award nominations were announced and David Archuleta (S7) racked up the most, including Breakout Artist of the Year.
Archuleta (S7) took home 3 Teen Choice Awards including Breakout Artist, Favorite Love Song for "Crush," and Favorite Music Tour.
Archuleta (S7) performed with The Black Eyed Peas, Demi Lovato, and Selena Gomez at the Alma Awards. He was also nominated for the Year In Music Rising Male Star Award.
Archuleta (S7) released, "Christmas From The Heart," in October as Blake Lewis (S6) released his sophomore album, "Heartbreak On Vinyl."
The year closed with eight "Idol" alums having scored among the year's top singles on Billboard's year-end charts – Clarkson, Underwood, Cook, Daughtry, Archuleta, Hudson, Pickler, and Sparks.
Billboard decade-end charts featured Clarkson, Underwood, Daughtry, Aiken (S2), Yamin, Sparks, Archuleta, Studdard, Hicks, Cook, Hudson, Fantasia, Kimberly Locke (S2), Josh Gracin (S2), and Mandisa.
David's Blog
January 13 from Guatemala
Hey there all! Hope the new year has been going well so far still. If it hasn't been quite what you've expected so far, remember it's still the beginning haha. I'm sure there are many different ways you can improve your start to the year. I've really enjoyed it so far!
So I've been in Central America for the week! It's been so great! I was in Guatemala for my first time during the beginning of the week, and I just landed in Honduras today which is where my mom is from! So I am amongst the people that make up the other half of my blood. After landing, we went straight to visit some of my mom's family and got to spend time with them. It was great! And we've been having baleadas to eat! Which is a native dish here that is sort of like a burrito haha. I don't remember if I mentioned this before but my mom is actually down here with me, and it's been awesome having her here.
If you were wondering why I'm down here, it is because I was invited to come down and see what an organization called Enterprise Mentors was all about. It's an organization that helps families who struggle with poverty become self-reliant and make a living. We've been meeting with several of the families and seeing how it's affected them. It's really neat and touching to see how different other people's lives can be from ours. We take so much for granted way too often in our lives, and it's amazing the way people live. It amazed me to see how happy they are when they see improvement in their work, and these people are hard workers! If you want to learn more about what I've been learning about you can go to www.enterprise-mentors.org. It's a neat cause that gives people that push and encouragement they need to start their own businesses, and become successful after coming from so little.
Aside from meeting with families and having other meetings, while in Guatemala we were able to go to Antigua which is a beautiful historical city. It was a lot of fun walking around and feeling like we went back into time. We also have been enjoying the food here, and being around the people. I wish we had more time to spend down here! But I've been loving it! My mom doesn't want to leave, and I don't either lol. But I guess that's all the more reason to come back! We still have quite a bit we're doing down here this week, and meeting with more people. And the little kids are so cute! haha. Sometimes we hand out lollipops and they come swarming around you.
Well we're headed out again, but I just wanted to drop a quick note and let you guys know what I've been up to! I'm really sorry that I haven't updated you guys with a blog lately, but it's been a little difficult coming across internet and time at the same time haha. But I'll be sure to let you know the rest of what goes on this week later on! I'll try and show some pictures too, even though I look nasty and need a haircut REALLY bad! But anyway, until next time. Hasta luego!
Song for the day: Mi Tierra – Gloria Estefan
This is a song my mom performs every now and then. She actually performed it at one of the events we had down here.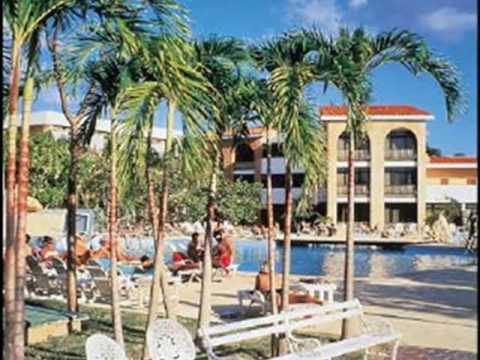 Book/Album Chart Sales
Chords of Strength
10 January
Chords of strength : a memoir of soul, song, and the power of perseverance
Author: David Archuleta; Monica Haim
Publisher: New York, N.Y. : New American Library, 2010.
Edition/Format: Book : Biography : English
Rating: based on 2 rating(s)0 with reviews – Be the first.
Details
Named Person: David Archuleta
Material Type: Biography
Document Type: Book
All Authors / Contributors: David Archuleta; Monica Haim
Find more information about: David Archuleta Monica Haim
ISBN: 9780451230188 0451230183
OCLC Number: 462902872
Description: p. cm.
Contents: Pure beginnings — Hit with inspiration — School of American idol — Bumps in the road — Hope rises — Be careful what you wish for — Stepping it up — Divine frequency — The joy in sound — Staying true — Dreaming on.
Responsibility: David Archuleta with Monica Haim.
14 January
From FOD
Most checked out music CD in Salt Lake County?
I'll give you two guesses and the first one doesn't count.
Ruby works for the Salt Lake County Library system and just received a list of most checked out music CDs of 2009. Thanks Ruby!! Check it out:
In case you've been wondering, here are the rock cds that circulated the most in 2009:
1. David Archuleta, David Archuleta (1318 circs)
2. Coldplay, Viva La Vida (1171)
3. David Cook, David Cook (963)
4. Pink, Funhouse (924)
5. Nickelback, Dark Horse (813)
6. Katy Perry, One of the Boys (807)
7. Miley Cyrus, Breakout (805)
8. Britney Spears, Circus (789)
9. The Killers, Day & Age (773)
10. Now That's What I Call Music 28 (763)
* * * * * *
Twitters
DavidArchie & Friends
9 January
DavidArchie – I should have someway of tweeting you guys still, don't worry lol. If not I'll find a way! Even though I'm not all too interesting lol.
Not too interesting! We hang on every word David!!
13 January
DavidArchie – Hello! I'm still alive! haha.
DavidArchie – I've been having a great time in Central America so far! I'll try and write a blog later when I have more time! Hope everyone is well:)
DavidArchie- Bummed that I'm missing the first few shows of the new season of American Idol! Keep me updated on how it's goin' though!
DavidArchie – Hey Everyone Check 0ut my new blog http://davidarchuletanetwork. ning.com/profiles/blogs/new-blog-2
14 January
DavidArchie – Wow, watching the news tis morning about the Haiti earthquake. Don't be afraid to help out in any way you can! Help make a difference!
15 January
DavidArchie – A rather unusual night tonight lol. But had a good night nonetheless! Happy to see my family that loves down here!
Google Alerts
Donny Osmond, Shorty Awards
12 January
The Utah People Post: "Osmond and Archie Boost Business for Local Audio Professionals"
Donny Osmond brought back more than the win from his recent performances on Dancing with the Stars – the attention from Osmond and David Archuleta's performances may help boost business for local audio professionals as well.
Speaking on Osmond and Archuleta's performances, University of Utah audio professor Mike Wisland said, "those shows bring attention to our state."
Audio professional Nate Hoffman of Blufire Studios said, "Utah is actually the most dense state that I know of for talent." In an interview, Wisland said, "When they do these shows they always stop off in Salt Lake because they know they'll get some good talent."
Wisland explained national attention encourages aspiring musicians and dancers.
You can read the entire article at The Utah People Post.
14 January
Shorty Awards – Keep Voting!
David Archuleta was nominated for a Shorty Award!
I'm David. I like music.
Website: http://www.DavidArchuleta.com
Twitter: http://twitter.com/DavidArchie
Hey, are you David Archuleta? Claim your page and fill out your profile! Log in → 390 votes in music
182 votes in humor
173 votes in celebrity
116 votes in food
89 votes in health
15 January
David Beyond Borders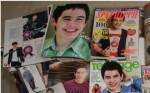 In partnership with Angels For A Cause, we are holding two auctions of David Archuleta's autographs and collector's items to raise funds for Lisa Lopes Foundation.
Foundation in David's honor – (1) a collection of 13 Asian magazines featuring David Archuleta including an autographed Singapore Teenage magazine with David on the cover and; (2) a David Archuleta autographed giant 'Christmas From The Heart' poster. 100% of the auction proceeds will be used to start a medical center in Honduras to provide free health services for the poor. The items will be shipped world-wide.
The auctions will start Sunday, January 17 at 11.59pm EST and end Sunday, January 24 at 11.59pm EST.
Look for the auctions.
Fans
blogs, vids, VIPs
11 January
Brooke White is one of David's biggest fans. She put this picture up after she ran into David at the airport! Thanks Brooke!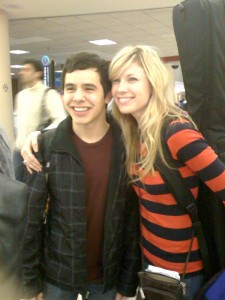 Ha! Kris Allen gets mistaken for David Archuleta (from OK magazine) And Kris, just so you know, that's a compliment!
Driving down the road in Los Angeles, during American Idol, this women pulls up to me and looks over. I was like, "Maybe she notices me!" And then she said "David Archuleta". I don't think I look like him. Whatever."
12 January
From FOD
Two of David's Song on AI 9 Song List for Hollywood Week
Christina has a great find (thanks, Christina!):
I found the song list contestants can choose from to sing during Hollywood week for the new season of American Idol and two of David's songs are listed! Full list is located here if anyone wants to check it out, although you may have to be a member of idol forums to see it.
316 Touch My Hand David Archuleta
317 You're The Voice David Archuleta
I love how they put David's name next to You're The Voice instead of the real artist who originally sang it haha. Clearly, David's version is far more superior
Just to clarify, the contestants who make it to Hollywood had to pick two songs to sing before the judges, so who knows if a contestant picked one of David's! Hopefully one of them did and it will be broadcast during Idol in the next few weeks!
Just wanted to share with you guys!
Christina
*****
13 January
Copy of newsletter sent out describing David Archuleta, Rising Star Outreach and Build A Bear appearance in December 2009.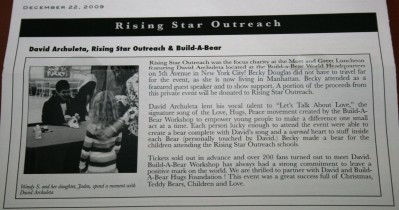 15 January
Fitness Magazine
The Best Songs for Walking
Kick up your heels to these energizing songs.
"Dreamin' of You" – Bob Dylan
"Come On Over" – Jessica Simpson
"Not Now but Soon" – Imogen Heap
"Lights Out" – Santigold
"Ooh Yeah" – Moby
"It's Amazing" – Jem
"Mercy" – Duffy
"Burnin' Up" – Jonas Brothers
"100 Yard Dash" – Raphael Saadiq
"Pocketful of Sunshine" – Natasha Bedingfield
"Crush" – David Archuleta
Now we all know this is the best walking or anything song!!!
"Shut Up and Let Me Go" – The Ting Tings
"Take You There" (feat. P. Diddy) – Donnie Klang
"We Break the Dawn" – Michelle Williams
"Keeps Gettin' Better" – Christina Aguilera
"Strange Overtones" – David Byrne and Brian Eno
"Love Is Noise" – The Verv
Human Interest
Simon Cowell, Rising Star Outreach, Haiti earthquake
11 January
Magic 107.7
Simon Cowell will leave "American Idol" in 2010
Monday, January 11, 2010
LOS ANGELES (Reuters) – "American Idol" judge Simon Cowell said on Monday he was leaving the top-rated Fox TV show at the end of his contract in May 2010. Cowell told TV reporters in Los Angeles that he would be launching his own show, The X Factor, a singing competition on News Corp's Fox in 2011. American Idol, whose 9th season opens on Tuesday, is the most-watched TV show the United States. "I am confident it will continue to be the No.1 show," Cowell said.
httpv://www.youtube.com/watch?v=D2wAMao08Ws&feature=player_embedded
13 January
Special auction starting tonight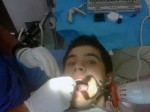 Dr Scott McGavin has donated his personal AFAC awareness bracelet for auction, with proceeds to be donated to Rising Star Outreach! Dr McGavin wore this bracelet to India! David Archuleta autographed this special bracelet. The bracelet can also been seen in this photograph of David at the dentist's office. Dr. McGavin was wearing it when removed David's wisdom teeth 🙂 If you would like to bring hope to the children being served by RSO, you can make a donation in honor of David Archuleta on his donation page at Rising Star Outreach.
14 January
Earthquake in Haiti
David has suggested not to be afraid to help in any way we can. Here are some sources to contact if you can help the earthquake victims in Haiti:
RedCross.org: In the US, text "Haiti" to 90999 to make a $10 donation which will be billed to your mobile phone bill. In Canada, text "Haiti" to 45678 to make the same donation. The Red Cross has just pledged $10 million to relief.
UNICEF:
Yele.com: YELE was started by musician and Haitian native, Wyclef Jean. There are several options for donation through this organization. You can text "Yele" to 501501, which will donate $5 through your cell phone bill.
Americares.org: Americares sends "medicines, medical supplies and aid to people in crisis around the world."
pikepss' Pick of the Week
Speaking Spanish
David in Nuestrodiario – Love the video they made of David speaking in Spanish and his American Idol Finale song, "In This Moment", one of my favorites! Check out his jacket, he is wearing the lining again!! HaHa!
Watch the 4 minute Nuestro Diario video of David singing and speaking Spanish.
Buzz back to last week's Weekly Buzz!
DA Weekly Buzz about David Archuleta!
Copy this short URL to share this post anywhere: http://www.dabuzzing.org/?p=9717

Tags: Brooke White · Buzz Wrap · Dr Scott McGavin · Kris Allen · Nuestro Diario · OK Magazine · pikepss · Rising Star Outreach · Simon Cowell · weekly buzz
Filed in: columnists|David Archuleta|music|news|performances|photos|pikepss|reviews
This Post has earned 2 Buzzes.