pikepss Weekly on David Archuleta
A very good morning to all Honeybees and Fans!
David Archuleta is always busy with charities but he seems to be extra busy lately. Recently returning from Guatemala and Honduras, he jumped wholeheartedly into the Haiti Telethon, banking phones to accept donations for the Haitian people. He never hesitates to go where he is asked or needed. As an ambassador to those in need there is no one better for the task. Thank you David and all the other celebrities who contributed to help rebuild the lives of those in Haiti.
This week we had David in several magazines, many, many polls to vote on, twitters and scheduled charity events with Jordin Sparks in Florida at the Pro Bowl. Press conferences were many and Holiday Tour reviews keep coming in and there is a cookbook in the making. Also, don't forget to sign David's group Valentine's Day card!
Have a great week everyone!
Media
Reviews and Interviews
17 January
DiariolLaPrensa
Press Conference – David Archuleta in Honduras
Such a sweet and lovely young man, he never stops amazing me with his depth of sincere interest and kindness to so many people.
Monday, January 18, 2010
David in an Israeli magazine
From Snarky Archies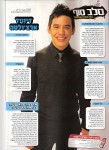 Update: translation from Batya. Thanks for doing this for us! Every week, this specific magazine picks a celebrity who made their week. Last week they actually had a David poster J… The big blue letters on the top far left say David Archuleta in Hebrew… under them in the first box they're talking about his vocal paralysis, wishing him a "Get Well."
It says:
"David suffered from partial vocal paralysis, but refused to go through surgery, since he was afraid it would affect is singing. Eventually, after constant vocal coaching, David was able to overcome the obstacle, and some even claim that the paralysis was what gave him his unique sound."
In the second box on the left they talk about some facts such as:
He started his acting career at 14 on iCarly and Hannah Montana [quite the mistake yes! Haha.] He was in the Guitar Hero Commercial that was shown on the American Idol Season 7 Finale. He's a lefty; he grew up as a Mormon, and his good luck charm is a rubber band that was given to him by his friends in order for him to remember that they are always there to support him.
The Last box on the left explains WHY they chose him for Celebrity of the week. They wrote:
"So why did he make our week? Look at that adorable face(!) How can you not love someone with such a cute puppy face?
Ok, so when he lost to American Idol winner David Cook, he only got runner up. So? Big deal. Does it mean that there will be less screaming girls at his concerts? Absolutely not. If you need proof, just look how fast his first single "Crush" [off his Debut album "David Archuleta" ] climbed the worldwide playlists. Not long ago, in honor of Christmas, David released a second album "Christmas From The Heart" so that Santa would have what to put under David's fans Christmas trees.
And if that's not enough, David also preformed [I think they meant, was touring with but whatever…] with McCfly and Demi Lovato…."
The first two boxes on the right mention some family matters, and also include his birthday, and his singing history.
The last box on the right, talks about who David would take to prom:
"When David was asked by 17 magazine who he would take to prom, he said Jordin Sparks is a real sweetheart, but there's a height difference between them.
19 January
Extra – Memorable Idols- Photo Galley
Young Archuleta routinely wowed the "Idol" judges with his vocal range, but lost the title to David Cook. He released his self-titled debut album in August 2008.
20 January
pikepss
Found this CD at Walmart – David Archuleta and the gang from Season 7 should have a CD out not this one!
Have no idea what American Idol is thinking, Season 7's tour was the highest selling of all season's and they give us this?  This will be going back to Walmart shortly!!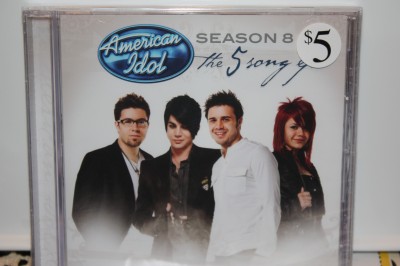 23 January
Haiti Telethon Backstage
And David saaaaang backstage!!!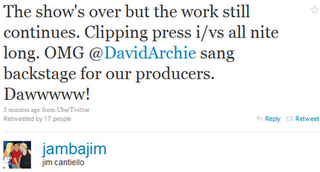 Jim Cantiello MTV News just loves David and so do we!  Can't wait to see his video on Monday!
Thanks Jim!
David's Blog
January 2010 blogs
23 January
Hope for Haiti – He is just wonderful!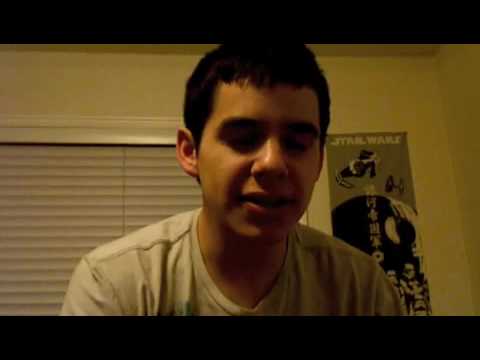 Twitters
DavidArchie & Friends
18 January
DavidArchie – Back in Utah! Snowy morning today haha. Happy Martin Luthr King Day!
DavidArchie – I sound like a frog. Been coughing up a storm. But I'm going to have lunch with my cousin!
DavidArchie – So I was talking to the ladies at a souvenir shop in the Honduras airport, and they ALL thought I was 13 or 14. Do I still really look 13??
Haha! No David you don't look 13 or 14!!
DavidArchie – I can't wait to get a haircut tomorrow! I've been wanting one so bad! I didn't have time last week, so I'm overdue for one!
OMG, another haircut! His hair grows faster than anyone's I know! I like it longer, it's cute!
19 January
DavidArchie – Mr. Blue Sky, please tell us why, you had to hade away for sooo long, where did we do wrong. Finally a sunny day here in Utah!
DavidArchie – http://twitic.com/yz1fi- Wow, never-ending train. Here for a bit.
DavidArchie – Oh, the train stopped. Gonna be here even longer than I thought lol.
DAVID DECIDED TO HAVE A TWITTER PARTY TODAY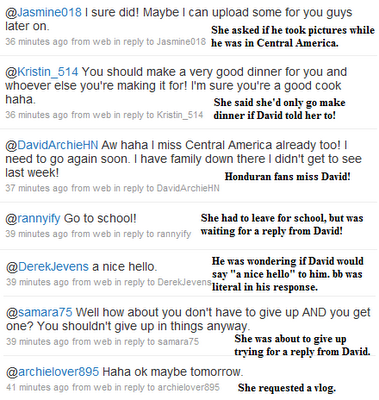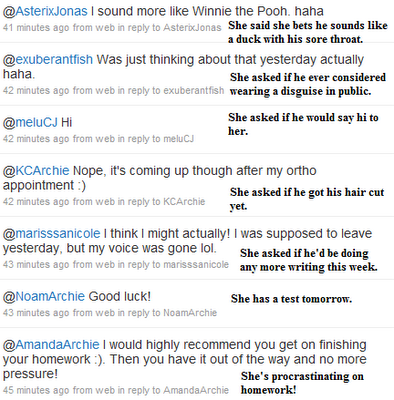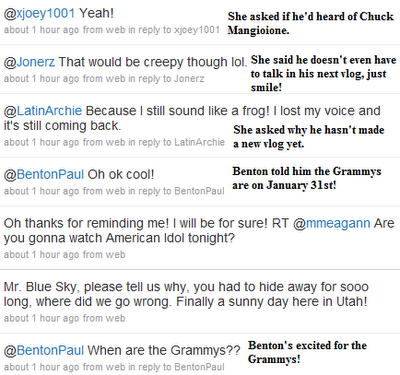 DavidArchie – Oh thanks for reminding me! I will be for sure! RT@mmeagann Are you gonna watch American Idol tonight?
DavidArchie – All right time to head to my orho appointment!
DavidArchie – Here's a song for the one who stole my heart, and ran so far that cupid couldn't catch her- awesome We the Kings song!
DavidArchie – In the chair at the haircut place getting a haircut! Ah, refreshing!
Only David Archuleta would call a haircut, refreshing!!! He is so adorable!!!
DavidArchie – American Idol time!
DavidArchie – Oh by the way, I got a quick workout in and now I'm topping it off with Blueberry Blast Emerald City Smoothie:)
DavidArchie – Oh man, not knowing what was going on, I feel their pain lol.
20 January
DavidArchie – http://twitpic.com/ywqk3 – What a nice ortho office. Lol G'night
DavidArchie – Hello! Going to try and fit some exercising in today around a meeting. Hoping to spend some time with my sister too.
DavidArchie – All right well I cut that short lol. But off to get a quick voice checkup.
DavidArchie – Got a bunch of Japanese things earlier today from the Japanese fans! Thanks so much you guys!
DavidArchie – Wow I'm tired! Good night!
21 January
DavidArchie – It's so awesome having friends who are great examples. I really blook up to so many of them for their attitudes and values.
DavidArchie – Doing some last minute packing lol.
DavidArchie – Sometimes I wish I could just wear the same thngs eveyday. Cartoons do it. It'd make things a lot easier.
DavidArchie – Headed to the airport. Watching my mom and sister jam in the care to a song on the radio.
DavidArchie – Man, I've never had just a simple hi said to me so many times before. People are in a really good mood today at the airport lol.
DavidArchie – Well that was a bumpy ride lol. I really enjoyed it though. Kept things exciting. Read a bit and wrote in my journal a bit too.
DavidArchie – Hey all, tomorrow I'll be answering phones taking pledges for Hope for Haiti. Tune in, and call in to help how you can!
DavidArchie – All right…..Trying some cottage cheese.
22 January
DavidArchie – Don't forget to watch the Hopefor Haiti Now telethon tonight at 8PM EST and please help donate! Learn more at www.hopeforhaitinow.org
DavidArchie – Here getting ready to answer phones! Amazing how many people came out here to help!
DavidArchie – What an awesome experience! Thanks everyone who donated! So cool seeing so many people there helping!
23 January
DavidArchie – Ah, a clear day today!
DavidArchie – Man I'm starving! What should I have for lunch?
DavidArchie – All right thanks for the food suggestions guys. I think I'm going to go exploring and see what catches my eye! I have some ideas now haha.
DAVID HAD A TWITTER FOOD PARTY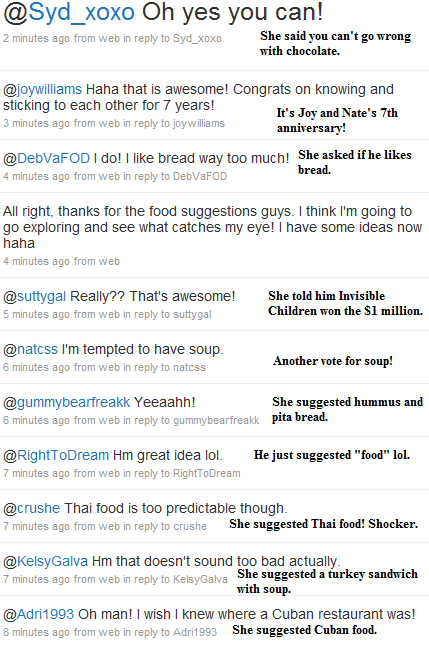 DavidArchie – Had Mexican food! A taco and a tamale haha. Was goood.
DavidArchie – A new video blog! Sorry it's s long….haha I'm going to practice shortening them!…..http://www.youtube.com/watch?v=tFo=im8yss
DavidArchie – Man I just uploaded it and it already has ratings?? You need to watch it first before you can have an opinion about it! lol
DavidArchie – Me too! I couldn't hear it when I was making it lol RT@Likewhoaxox OMG that clicking noise in @davidarchie's vlog is DRIVING ME INSANE
Book/Album Sales/Chart
Sales
17 January
Idolstages.com
Christmas tour stats
Salt Lake City, UT-Santa Rosa, CA-
SLC, Utah 11/24 2009 Tues
11/25 2009 Wed A17-David Archuleta/Benton Paul – Adm $28 – $38
Box Office – $175,992 Shows: 2 – Sold 4,914 of 5002 – 98%
Santa Rosa, Calif.
11/29/2009 Sun
A17- David Archuleta/Benton Paul- Adm $42 – $75
Box Office – $58,482 Shows: 1 – Sold l,368 of 1,500 – 91%
Idolstages.com – Reviews
by stagehand
DAVID ARCHULETA
12.19.2009 The Morning Call
David Archuleta's Christmas show brings wonderment — holidays and his
But this was an astonishing concert. "American Idol" runner-up David Archuleta sang so well in his holiday show – a little more than half of which was Christmas material – that he drew five standing ovations over his 17 songs in 90 minutes and often prompted spontaneous cheers and clapping mid-song.
11.28.2009 The Grand Rapids Press
David Archuleta fans moved to tears at Ann Arbor Symphony concert
The concert was filled with too many mentionable moments to list. He opened with a jaw-dropping rendition of "Angels We Have Heard on High" (Arr. Kurt Bestor), which brought many of the audience members to tears.
11.24.2009 Salt Lake Tribune
Murray teen shows growth during holiday concert
Illustrating a talent for building a solid, thematic set, Archuleta then performed two songs that served as a transition between his opening set and his closing set of Christmas tunes. The highlight was when he was accompanied only by an acoustic guitar, singing a rendition of Sting's "Fields of Gold" that changed the vocal melody to make the song his soulful own.
11.02.2009 Neon Limelight
David Archuleta And Demi Lovato Dazzle At Final Show Of Joint Tour In Atlantic City
Archie made the most of his impressive 50-minute set. He's a bit of a minimalist when it comes to showmanship — not a bad thing. He skips the flash and gimmicks many singers use to cover up their shortcomings and gets right to the meat of performing live — actually singing, and doing so damn well.
Google Alerts
Idol News
19 January
IdolChatter
Who is the greatest American Idol runner up. As of today David Archuleta is ahead with 44% of the votes.
Poll: Which No. 2 is really No. 1?
21 Recommend Attention Glamberts, Claymates and Arch Angels!
Last week, we ran a poll asking you to vote for the greatest American Idol champion of all time. (As of this post, Carrie Underwood leads handily, with a majority of the total vote.) Many of you suggested a similar poll for runners-up might prove even more entertaining. And I have to admit I'm fascinated to watch what I assume will turn out to be a three-man showdown between Clay Aiken, David Archuleta and Adam Lambert. Even if it turns out to be simply a referendum on who's got the most organized online fan base, you've got to admit that this ought to be fun to watch.
Have at it!
(Anybody want to guess who I'm voting for?)
---
USA Today – Reports from Season 9
Justin Williams cover of David Archuleta's Crush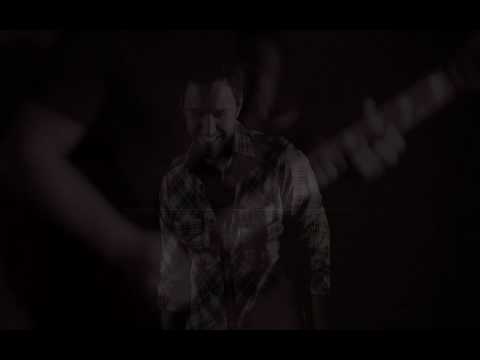 ---
American Idols – Then and Now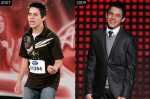 At 16, David Archuleta became one of the youngest contestants to ever compete on "Idol," and he definitely looked the part. His audition outfit was what any teenage boy would pick out for himself, but now the fan favorite dresses like a pop singer who's seen international
21 January
San Diego Reader
Stories
Free and easy
By Matt Potter | Published Wednesday, Jan. 20, 2010
The 22nd District Agricultural Association, which runs the Del Mar Fair, has been kind to local politicians, giving them free passes to various events, according to state disclosure forms. Del Mar city councilman Mark Filanc got two tickets worth $45 each to last summer's Melissa Etheridge concert, as did his council colleague Carl Hilliard and Encinitas mayor Maggie Houlihan. GOP state senator Roy Ashburn of Bakersfield got two $35 tickets to see David Archuleta. Buck Martin, director of recreation for the City of Chula Vista, got four of the same.
It look like big city officials want to see David too!!
22 January
GZO: Still waiting for my "Idol" obsession
By JAMIE GRAHAM / Lincoln Journal Star
Where is the voice? Four episodes into "American Idol" season nine, and I still haven't found my David Archuleta. (That's right, I'm an Archie. Always and forever.) Thirty-one more hopefuls were sent to Hollywood from the Orlando round. Not a one gave me that warm, fuzzy feeling of harmonious joy. *Sigh…
There were a few highlights. Once again, I'm choosing to skip over the nonsense and fluff.
Fans
blogs, vids, VIPs
17 January
From pikepss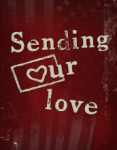 I signed David's Valentine's card yesterday. It has been emailed to many people but if you did not receive it, please Sign the Valentine card!
Great news, your message for David Archuleta has been added!
Forward this email if you want to invite more people.
18 January
Disney Dreaming Fanart Contest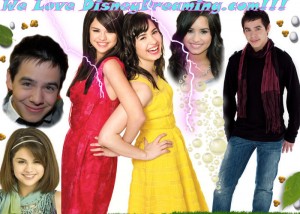 Item #4 – As of this date this art has 31% of the vote and is in the lead. This is the only fan art that has David in the picture. Do you think this one is ahead because of him. You bet!
19 January
Cosmo Magazine
Guy Watch – Putting the O in Idol
David Archuleta – Caption
This cutie didn't quite cross the Idol finish line, but he clearly enjoyed the buildup.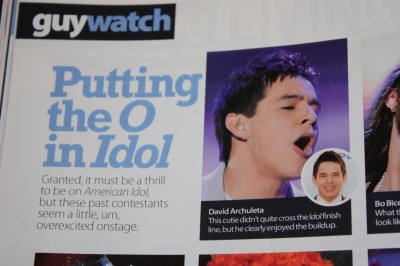 February issue page 92 – Cosmopolitan
20 January
From Archuleta Avenue
We all know that David loves to eat, right?
Well, I think it's safe to say that many of us fans love food just as much as David does! With this in mind, I came up with the idea to make a cookbook. Actually, this thought came to me during a tweet session between Frogcooke, Sheila and myself a while back…but, I am just now following through with it.
I have talked with both Frogcooke and Sheila and they have agreed to help with this project, so I am really excited about getting started! My plans are to make a cookbook of recipes sent in by the fans and then sell the cookbook to raise money for one of David's favorite charities. We will also present David with a cookbook of his very own!
So, in order to get started, I will need you guys to send me your favorite recipe. It can be whatever you want to send…appetizers, soups, salads, etc… Just please label it accordingly so that I will know where to put it in the book. Please be sure that all ingredients/measurements are included as well. You may also send a picture if you like. I will accept recipes until around the middle of March. Please send to archuletaavenue@aol.com.
Once all of the recipes have been submitted, we will work on putting the book together and hopefully have it ready to be sold by Mother's Day!
Please feel free to post this on other sites and if you have any questions, please let me know!
PLEASE NOTE:
* THIS PROJECT IS FOR ALL FANS
* PLEASE INCLUDE YOUR NAME AS YOU WANT IT LISTED IN THE BOOK
22 January
HOW MANY WEEKS HAS DAVID WON THIS CONTEST?  I don't think he has lost since it started!  Gotto Love This!!!
Friday January 22 2010 18:15 GMT
Your Charts: Music act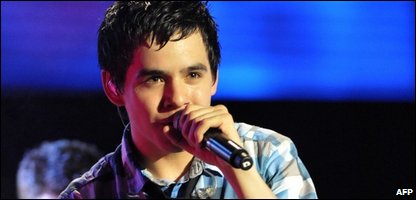 Last week's winner: David Archuleta
Last week's loser: Miley Cyrus
Because of technical problems, we can't add anyone new this week. To make up for it, next week, we will add two new entries!
See who's top of the chart YOU make.
Vote for your favourite music act from the list below – you can vote once a day!
Who's your fave music act?
Lady GaGa 14.29%
Cheryl Cole 16.26%
JLS 24.14%
David Archuleta 45.32%
203 Votes Cast
Results are indicative and may not reflect public opinion
Is your fave not on the list?
Human Interest
The Gift of Hearing
20 January
So the World May Hear
SHF and Jordin Sparks Tackle Children's Hearing Loss!
The Starkey Hearing Foundation is teaming up with American Idol and national recording artists, Jordin Sparks and David Archuleta, to deliver the gift of hearing to 100 children throughout the Miami area. The mission is scheduled for Wednesday, February 3rd from noon-4pm at the Eden Roc Hotel on Miami Beach. The mission will be followed by a special performance by American Idol Stars, Jordin Sparks and David Archuleta.
This mission would not be possible without the support of our sponsors and volunteers. Special thanks to the NFL Alumni, Sproutloud, Comcast, Call Source, the NRA, Delta Zeta, Nickelodeon, Sparks Charities, Clear Channel and the University of Miami's Medical School – ENT Department.
During the hearing mission, SHF is excited to welcome some of the friends of the foundation to join in the day's activities including: Jordin Sparks, David Archuleta, Lou Ferrigno, Larry Fitzgerald, Sam Moore, EJ Henderson, Bernard Berrian, Leslie Nielsen and more.
Press conference and celebrity introductions will be at 11:45am.
Please visit Jordin Sparks website for more on her annual "Super Bowl Experience".
pikepss' Pick of the Week
Haiti Telethon
David at the phone banks on the Haiti Telethon.  No matter what he is asked to do he does it with such excitement and true compassion.  If there ever was an Ambassador that was perfect for the job it is definitely spelled D-A-V-I-D   A-R-C-H-U-L-E-T-A!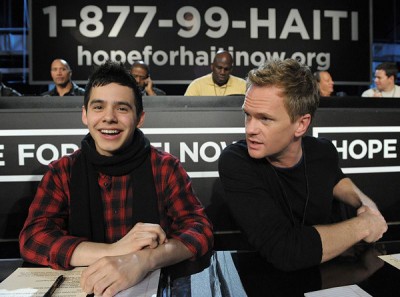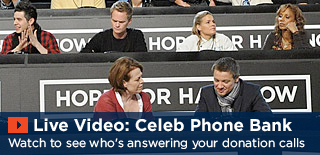 Is Alec Baldwin listening to David Archuleta or looking at the camera?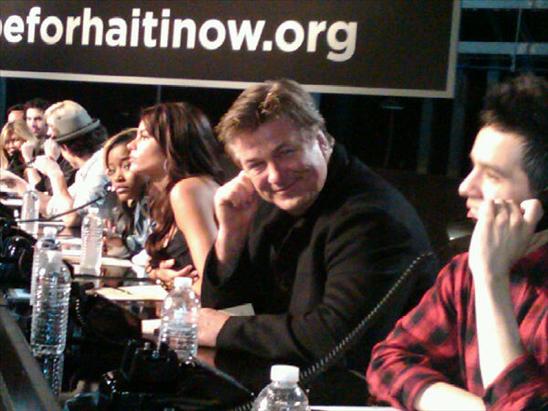 DA Weekly Buzz about David Archuleta!
Copy this short URL to share this post anywhere: http://www.dabuzzing.org/?p=9780

Tags: Buzz Wrap · Haiti Telethon · Honduras · pikepss · Spanish · Weekly Wrap
Filed in: career|columnists|David Archuleta|music|news|opinions|performances|photos|pikepss|reviews|voice
This Post has no Buzz yet.