Good Morning Honeybees and Fans!
"I get mixed up when my Aunt talks to her dog!"
David Archuleta's twitters have become the "Laugh In," "Saturday Night Live," and the "HBO Comedy Special" all rolled into one. They deserve an award! I look forward every day just to see what he has to say!
His recent interview suggests some time this spring a new single will be released and we will become hypotized all over again! MTV's Jim Cantiello still loves David and "Heaven" was voted one of the 10 Best Hollywood Week Idol performances and "Imagine" one of AI's greatest performances.
As David blogs about his songwriting sessions we are all reminded how much he enjoyed singing a duet with Jordin Sparks in Florida. We enjoyed it too! His charity work continues, and lucky teens get a great picture of David in the March issue of J-14 Magazine. We all know David is Hot, but Idol Chatter confirms it with a poll which David is leading. Whew! Such a busy week and he still finds time to watch the Olympics! Until next week!
Have a wonderful and loving Valentine's Day!

Media
Reviews and Interviews
9 February
PLANETA AWARDS 2009
From Planeta.Com
"Crush" wins BALLAD OF THE YEAR on Planeta Awards 2009
David Archuleta – Back in LA Writing with Matt Squire & Lindy Robbins
9 February 2010
by pikepss
David Archuleta is really pushing full steam ahead with his songwriting as he is again in Los Angeles to collaborate with Matt Squire and Lindy Robbins. Personally, I am very excited he is wasting no time getting his album finished. I can hardly wait until it's released!

Popeater
Well since David Archuleta is too young, I gonna go for George Clooney…I can handle the age difference with him. ha, ha.
Love this reply I found on Popeater's comments!
Which Celebrity Is Your Dream Valentine's Day Date?
Popeater
by Amber James
Everyone has celebrity crushes, and our loyal PopEater fans on Facebook and Twitter were not shy about revealing which stars they'd love to be with on Valentine's Day. The women's top picks included Johnny Depp, Gerard Butler, Robert Pattinson and (surprisingly) Donnie Wahlberg! Watch out boys. On the other hand, men were more skewed and picked everyone from Zooey Deschanel and Britney Spears to the 'Poker Face' singer herself, Lady Gaga. (Okay, even we would love to be a fly on the wall for that date — just to see what outrageous outfit the pop phenom would wear.) So, do you agree or disagree with these picks? Join the ongoing discussion on PopEater's Facebook.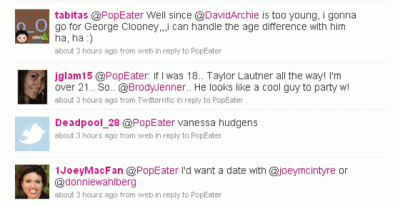 11 February
One of the best interviews with David. Derek asked many questions that would be interesting to David and gave him an opportunity to really become engrossed and comfortable!
Derek Sheldon's Telephone Interview with David
Part 1: David Talks About Songwriting For Sophomore Album
Part 2: David Talks About Future Collaborators & Songwriting Styles
Part 3: David Talks About Release Of New Music & Memoir
Part 4: David Answers A Few More Fan Questions
12 February
Poll: American Idol's Hottest Guy"
From Idol Chatter: Brian Mansfield
After I posted a poll earlier today asking which of eight American Idol women people found hottest, some readers asked that I run a similar poll about the men. I'm a fair person, so I'm happy to do that. But I'd pulled the eight choices in the women's poll from a Maxim photo gallery, and I didn't have a similar source for the guys. So I opened up the comments thread and the @usatodayidol Twitter feed for nominations. The eight male singers who got the most nominations are in the poll below.
So who's your favorite American I-Candy? Start voting!
(As of 2/12/10, 8:02 PM EST.)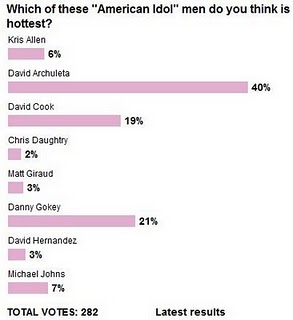 David's Blog
Blog, not short!
9 February
I love when David wants to keep things short!
Hey everyone!
So I've had a pretty awesome week! I was able to get some time to go down to Florida and help Jordin Sparks out with her charity called Jordin Sparks Experience. It was a really neat experience! What made it even better is that I had my mom come down with me. The event was in Miami Beach and I was born in Miami, so it my mom and I were so happy to go back haha. But it was so great because Jordin and I finally got to sing together!! We sang No Air, which is pretty difficult to sing haha. Jordin is such an incredible singer though! I can't believe I got to sing that song with her. At first when I found out she wanted me to sing that song with her I was thinkin', "Uh…" lol because it's such a hard song to sing and I thought I would look like an idiot trying to sing that song with someone who sings that good. It was a real privilege though getting to sing with someone that talented and who sings with that much emotion, and they're close to my age. But yeah it was a fun event and Jason DeRulo, Chrisette Michele, this amazing 9 year-old pianist Ethan Bortnick, and Sam Moore were there as well, and they were all great people.
Oh man so while I really enjoyed getting to go to the event, I felt like such a loser because my cheek was like a balloon! It was swollen, but there was nothing I could do to hide it. So I just had to deal with all the pictures and cameras and not let it get to me lol. At least I'll be able to tell where the pictures were taken, because if my cheek is swollen in any of them it means I was on my Florida trip in the beginning of February, 2010. While we were down there though we were able to go to the Miami Children's Hospital, and it was great getting to meet the kids there. The only thing that made me feel uncomfortable were all the cameras there lol. Not just for my cheek but just how we wanted to focus on getting to talk and meet with the kids. But Jordin was able to ask the cameras to leave once we went to visit the individual kids in rooms to put the focus on them, and it's cool to see how much Jordin cares about those kids.
While I was at the hospital, I was able to get checked on for my swelling haha. So I was able to get some antibiotics for the infection that I had. I think it had to do with my 12 year molars which are FINALLY coming in now that my wisdom teeth are finally out. But it's all good because it's almost back to normal! I can hardly see it anymore. Sometimes you wonder why things like that happen, but it helps you appreciate what you have more and not take it for granted.
Another thing we got to do while we were down there was meet with PeeWee Salinas. We became friends with him when we met him at Nuestra Navidad, and it was good hanging out with him. He's a Latino artist so if you aren't familiar with his stuff you can listen to "Quédate." I heard it on the radio while we were down in Miami which was cool haha. Something that PeeWee, my mom and I got to do was go to the Owl City concert! haha. It was a really fun one to watch and all the band and crew are super nice people. Lights opened up for Owl City and she is one of the friendliest people I've met. She is the one who reminded me that while my face was swollen, it will help me appreciate my normal face more lol. But she's really talented! She has an electronica vibe and you guys should check he rout.
All right, the last thing I did in Florida was visit family!! I got to spend time with mi abuelita, cousins, aunt and uncle and it was just so great. I love getting to see family and spend as much time as I can with them! It was even great driving around with them and going to Wal Mart lol. But I didn't want to leave, and my mom didn't either. It just gives us more reason to go back though. So I'm hoping to go back again soon. I'm proud to be born there haha.
This week ahead is back to writing! I had my first day with Lindy Robbins and Matt Squire yesterday and it's off to a great start! I just felt really comfortable with the song and felt like I wasn't worrying about trying to impress someone or be anything else. I'm excited for the day when everything's ready to get the album out for you guys to listen to the new stuff! But I better leave now because as you can see I can write until your eyes fall out. But thanks everyone for your continued enthusiasm about this next project! I will talk to you guys later!
Songs for the day:
February Air – Lights
I had to give 2 Chrisette songs because she's so amazing.
Best of Me – Chrisette Michele
Blame it On Me – Chrisette Michele


Chart Updates/Sales/Airplay/New Album
8 February
Idol Chatter – Idol Airplay
David is number 30 this week! Let's see if we can get him further up the chart!!
TW LW
30 29 David Archuleta, Crush (965)
Hispanic Business.com
American Idols Great Performers
With American Idol fully back in swing and the hit show expected to dominate network television for the next four months, it is a good time to reflect on American Idol's greatest performances. Each season has produced some amazing performances and 2010 is likely to do the same. Here's Idols' Top 13.
#3 – Imagine, David Archuleta, John Lennon would have been proud.
11 February
From FOD
From THE MAN Himself: New Single in the Spring!
Yesterday's wonderful interview of David by Derek Sheldon yielded some great insight from David about songwriting, where the music comes from, which comes first, the melody or the words and more. The more, in this case is NEW MUSIC! GAH! David let it be known that new music would come along in the spring. This led to hand-wringing and such about whether that was a new CD or a new single. Luckily, David came along on Twitter shortly after the interview was released to clarify: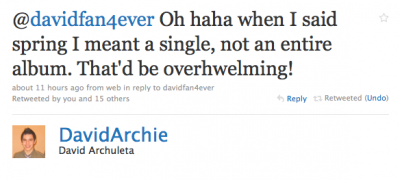 Twitters
DavidArchie & Friends
7 February
DavidArchie – Tired. It's way too early.
DavidArchie – Tired. It's way too early and cold.
DavidArchie – It's snowy in Denver.
DavidArchie – I love meeting nice people! It motivates me to want to be nice to somebody else haha. I'm going to be looking for someone…

8 February
DavidArchie – Landed in LA! Now going to write with Lindy Robbins and @Matt_Squire today. Good Vibes sent our way are much appreciated haha.
DavidArchie – Had a great writing day to start off the week! Feel really good about the song we worked on today.
DavidArchie – Headed to the 2nd writing session with Matt and Lindy! The weather is slowing us down a bit though…haha.
DavidArchie – How long does it take to get your account re-verified? lol. I had it verified but had to change the website info.
DavidArchie – All right just finished recording vocals to wrap up the day:). I'm hungry.
DavidArchie 0 Tivo didn't record all of American Idol tonight, but got to watch what recorded. Some really talented folks! I'm sooo tired though. G"night!

10 February
DavidArchie – Hello! Starting today off with a phone interview.
DavidArchie – K correction everyone, I'm not a fan of blizzards that you have to drive through or that you're stuck outside in lol. I like a little snow!
DavidArchie – Man I'm spacey today! But off to the writing session for the day.
DavidArchie – "Oldey Woldey" hahaha I'm glad to be working @LadyVMusic again!
DavidArchie – Had a good day of writing! Hoping my sister is having a good time watching @JasonCastro back home at his show!
DavidArchie – About to watch The Color Purple starring Fantasia! Really excited to see the show!
DavidArchie – What amazing performers! La Toya London was also in the show haha. Great great singers. Thanks again to my aunt for the surprise.

11 February
DavidArchie – I get mixed up when my aunt talks to her dog. She talks to him like a person, so I never know if she's tlking to me or him lol.
DavidArchie – Another day of writing music:)
DavidArchie – It's fun coming up with harmony background vocals.
DavidArchie – Finished recording another song!
DavidArchie – At the Harmonies for Haiti event at the House of Blues, gonna watch @BentonPaul!
DavidArchie – Bemtpm did a great job! It was fujn seeing him play again.

12 February
DavidArchie – Happy birthday to mi abuelita and to my grandpa today!!! Pretty bizarre how my mom's mom and dad's dad were born on the same day haha.
DavidArchie – I can't wait to watch the opening ceremonies to the Olympics tonight! Hope Tivo records it! But until then working in the studio:)
DavidArchie – If you're at the opening ceremonies right now…yhou are…fortunate lol. idk. I want to be there though.
DavidArchie – But that doesn't mean I don't want to be here with @Matt_Squire and the lovely @LadyVMusic lol. Glad to be with them working on a new song!
DavidArchie – Watching the Opening Ceremonies now!


Pictures
Happy Valentine's, J-14 Magazine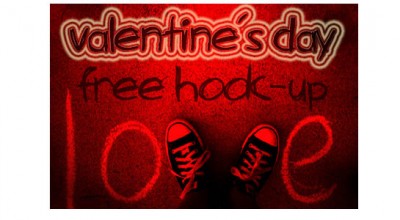 Happy Valentine's Day, David!! We Love You!
9 February
J-14 Magazine had David in their latest issue!
Does David really look like a Freshman in High School?
12 February
Harmonies for Haiti
Harmonies For Haiti, which connects youth with helping the relief efforts in Haiti, took place at the House of Blues on Sunset Blvd in Los Angeles. This concert—in which all donations go to the Red Cross—was organized by Chelsea Staub, an actress on Disney Channel's Jonas. Over $8,000 has been raised so far.
David's pal Benton Paul performed, and David was on hand to watch!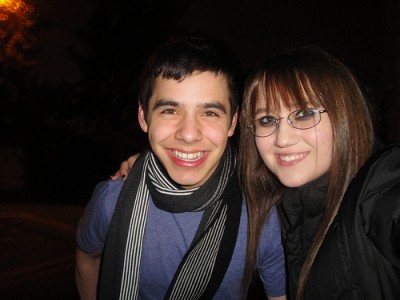 Google Alerts
"Heaven," MTV

"Heaven" Among Unplugged Ode on American Idol Last Night
10 February 2010
by pikepss
Jim Cantiello from MTV News is a great admirer of David Archuleta and his talent, so it doesn't surprise me that he always finds a way to mention him whenever he can. His review of American Idol last night is pretty much on the mark and describes the events in a humorous manner including the judges responses to many of the contestants. Jim we love you!
Jim Cantiello MTV Newsroom – "American Idol" Recap
Jim Cantiello on Hollywood Week
Highlights:
The big breakout performance, however, was Andrew Garcia's aforementioned "Straight Up," an unplugged ode to Paula Abdul that will go down with David Archuleta's "Heaven" and Matt Giraud's "Georgia On My Mind" as one of the most memorable Hollywood Week performances ever. No wonder Kara had an AndrewGasm. "That was genius! Genius! Paula would be screaming and yelling and clapping and dancing." Well yes, Kara, but she also does all that when one of her Chihuahuas uses a wee wee pad successfully.

Fans
blogs, vids, VIPs

Hypnotize Yourself with David Archuleta
Today, we will feature none other than the very charming David Archuleta!
Once again, the instructions are simple:
1. For the picture below, stare at the center red dot for 30 seconds.
2. Right after the staring at the red dot, immediately stare at a blank wall or a blank paper and blink TEN time
3. Enjoy!!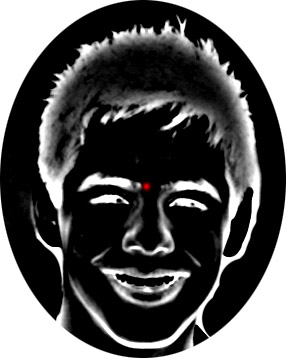 This is way too cool!

Human Interest
Haiti Relief
9 February
Business Week
Early Tax Deductions for Haiti Relief Passes Congress
by Margaret Collins
David Archuleta fans will be interested in the following info from Wheelchair Foundation.
Taxpayers will be able to deduct donations for Haiti earthquake relief on their 2009 returns instead of waiting until 2010, under a bill approved by Congress.
"This legislation is an additional incentive for Americans to contribute," Finance Committee Chairman Senator Max Baucus, a Democrat from Montana, said in a statement.
The Haiti Assistance Income Tax Incentive Act passed unanimously in the Senate today. The House unanimously adopted a similar bill yesterday. President Barack Obama will sign the measure into law, said White House spokesman Josh Earnest.
Entire Article in Business Week
10 February
From FOD
Angels for a Cause Update
Hi FOD,
Angels for a Cause tweeted some updates last night on the Planetohaiti campaign. Like the cupcakes for Jim, an airplane twitter symbolizes support for Haiti and that the fans are helping support @DavidArchie's cause.
@DavidArchie fans have donated $1446.00 to @planetohaiti—we know more has been given than our # but these are the 68 fans that emailed us @DavidArchie fans if u donated $ to @planetohaiti please change your icon to any plane or the @planetohaiti icon in support of this cause the site had posted the fundraiser continues through the end of February.
http://angelsforacause.ning.com/profiles/blogs/reach-out-with-david-archuleta
Catherine
Here is how you can help now!
1. Go to www.planetohaiti.org to give your contribution.
2. When prompted to respond to the question, "How did you hear about this fund drive?" please type in "David Archuleta."
3. You will be emailed a donation receipt confirmation from the WheelChair foundation**
4. Donations of $10.00 or more will receive one sky-blue Angels For A Cause awareness bracelet.
5. TO RECEIVE YOUR GIFT – YOU MUST- email your donation receipt that is emailed to you from the wheelchair foundation to Angels For A Cause at: angels4acause@yahoo.com.
6. The address on your donation receipt will be used for mailing the bracelet. Please allow at least 1 to 2 weeks for delivery.
Only donations made directly through Plane To Haiti will be eligible to receive the awareness bracelet.


pikepss' Pick of the Week
"Heaven," Top Best Hollywood Week
The 10 Best Hollywood Week "Idol" Performances
– by Janet Wieselman – NY Post
David's "Heaven" Is Named One of Ten Best Hollywood "Idol" Performances!
Simon Cowell didn't care much for David Cook, but when time came to critique David Archuleta's version of "Heaven," the man with a million words was at a loss for most of them. Much like the backup singer who cries throughout the 16-year-old's heartfelt performance.
From the first moment I saw him I knew he was from "Heaven" and sang with "Angels"!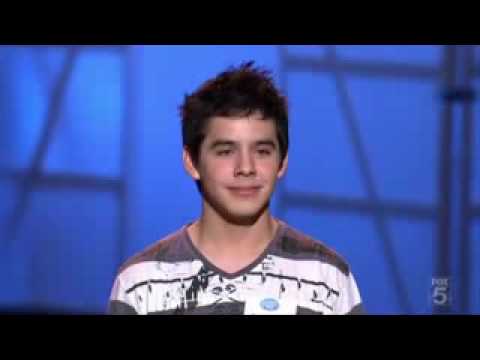 Ten Best Hollywood Week Idol Performances
Kelly Clarkson, "Save The Best For Last"
David Cook, "Everything I Do"
David Archuleta, "Heaven"
Frenchie Davis & Kimberly Locke, "Band of Gold"
Kris Allen, Matt Giraud, Justin Williams & India Morrison, "Want You Back"
Blake Lewis, Rudy Cardenas, Chris Sligh & Thomas Lowe, "How Deep Is Your Love"
Adam Lambert, "Believe"
Syesha Mercado, "Chain of Fools"
Carrie Underwood, "Independence Day"
Michael Johns, "Bohemian Rhapsody"

DA Weekly Buzz about David Archuleta!
Copy this short URL to share this post anywhere: http://www.dabuzzing.org/?p=11627

Tags: American Idol · Buzz Wrap · Derek Sheldon · Haiti Relief · pikepss · weekly buzz
Filed in: career|columnists|David Archuleta|music|news|opinions|performances|photos|pikepss|reviews|voice
This Post has no Buzz yet.