pikepss Weekly on David Archuleta
Good morning Honeybees!
With all the bustle of news this week, one important date stands out for all David Archuleta fans, his halftime appearance on April 9th @ 7:00 PM at the E Center for the Utah Blaze, Arena Football League. The other date we are all waiting for is June 1st, the release date of David's upcoming book Chords of Strength. David indicates in a recent interview he wants his fans to appreciate the hard work he puts into his music and hope they can see and feel his personality. Twitters are always present and his hair may still be an object of concern, but Mom likes it!
Have and safe and happy week!
Media
22 March
Disney Dreaming
David Archuleta spoke with USA Today about his fans, and how he would love for them to feel about him:
"So many people know who I am and say they're fans and don't know I have an album out, even. People are still fans, and it's interesting, because it's not even because of my music. I want people to say, 'I appreciate what David's trying to do, in that he tries his best to be who he is and keep doing what he's doing, and that shows in his music. I can see him and feel him in his music. I can see his personality, and I can see what he believes in and what's important to him.'"
Disney News: David Archuleta Talks About His Fans | Disney Dreaming
Read original USA Today interview in full. David gives out a song title and talks about two other songs on his next album!
23 March
American Idol Show – Tuesday 23rd – Ryan Seacrest
Haha! Ryan, you are very naughty!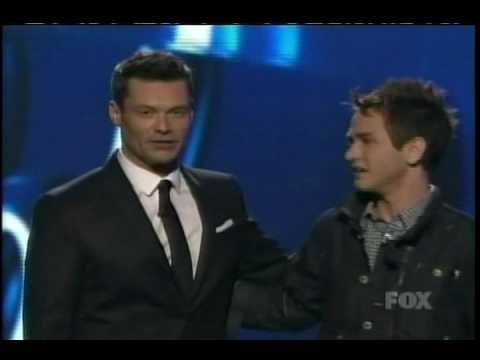 24 March
MTV News – Jim Cantiello
Jim suffers in silence as he explains his frustrations with Season 9 of American Idol! He misses David just like the rest of us!!!!
My favorite moment was when Ryan Seacrest called Aaron "David Archuleta." The name is Countryleta, Seacrest, and you're not allowed to call him that until he stops singing like a wheezing goat! Don't you dare soil the name of ArchuAwesome!
Pictures
21 March
M Magazine has an old-fashioned fortune catcher with David offering a fortune in the April issue!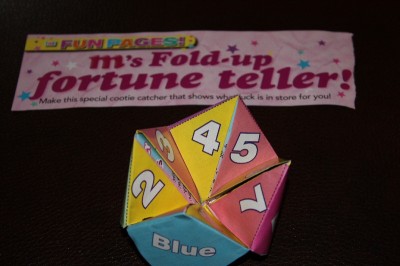 24 March
David and M&Ms! Yumm!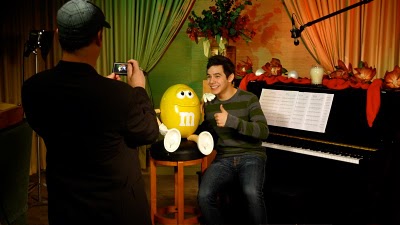 Twitters
22 March
DavidArchie – Man I can't fall asleep!
DavidArchie – It's a beautiful morning. On my way to a meeting to start the day.
DavidArchie – Wow, this is the longest security checkpoint line I've ever been in.
DavidArchie – Back in Salt Lake for a bit!
DavidArchie – It's a rainy day here in Utah. I like the rain.
DavidArchie – @EmanuelKiriakou I can't wait to hear how the one we wrote comes out when you're done working on it!
DavidArchie – Rain turned into hail. Quite a bit tonight.
DavidArchie – Woah now it's snowing like crazy all of a sudden. But had a great time with my family tonight!
DavidArchie – Ah, the sun is back out today!
DavidArchie – Working really quick here in Utah in a quick meeting before I head back to LA.
DavidArchie – Wow, my mom finally likes my hair, but I didn't even do anything lol.
DavidArchie – I mean today. Anyway, I'm eating some good chicken that she cooked marinated in orange juice or something.
DavidArchie – Phew! Barely made my flight! Wentto the wrong airline lol.
DavidArchie – Back in LA! And LA driving lol. My aunt and I almost got smooshed and became pancakes lol. Luckily she'a a defensive driver.
DavidArchie – Ran into David Hernandez. Haven't seen him forever!
DavidArchie – Hanging out with @OfficialCharice and her brother. Having a good time! We've never really gotten to just hang out before.
24 March
DavidArchie – I think I might need a new phone. A lot of my incoming call are just going straight to voicemall lol.
DavidArchie – Sorry I meant voicemail*
DavidArchie – "Have great hopes & dare to go all out for them. Have great dreams & dare to live them. Have tremendous expectations & believe in them."
DavidArchie – Hm, I'm not sure what happened guys but I didn't delete any of my tweets lol. Maybe I did on accident without realizing.
DavidArchie – So my cousin found out that it takes 555 licks to get to the tootsie roll center of a tootsie pop. Just in case you were wondering.
DavidArchie – Watching American Idol now.
DavidArchie – Hooray for Siobhan! I thought her friend in the audience had a bloody nose for a minute.
DavidArchie – Joe Jonas and @ddlovato now performing. Fun to see Demi performing again. Reminds me of tour last summer!
DavidArchie – Congratulations to the top 10. Tour is an amazing and unforgettable experience to have.
25 March
DavidArchie – Have some meetings this morning to start off the day. How are all of you doin?
DavidArchie – Had a call about plans for my book "Chords of Strength" when it's released! Can't wait for all of you guys to get to read it!
DavidArchie – It comes out on June 1st by the way!
DavidArchie – Enjoyed the meetings this morning! Now off to finish up some recording on a song at Eman's
DavidArchie – RT @EmanuelKiriakiou: Just finished some vocals with @davidarchie…,we're actually tweaking the song that someone guessed the title for!!
DavidArchie – Happy birthday to @jasoncastro and to my aunt Reina!! Hope you had an awesome day!
DavidArchie – Got to hang out with @LadyVMusic and had some hot chocolate! Fun times. Went to H&M too.
26 March
DavidArchie – The ocean looks beautiful today. It'd be cool to learn how to surf.
DavidArchie – So my friend took me to get a surprise trim lol. Not really a haircut, just a trim/texturize thing. Such a nice day outside!
DavidArchie – I'm beginning to lose the ability to remember names. Idk why it's happening lol. Even people I see often I can't remember names.
DavidArchie – So I messed up my back and hips again while running,so had a visit with the chiropractor. He's funny! He's from Indonesia haha.
27 March
DavidArchie – "..there is no one alive who is youer than you."
DavidArchie – Hangin out with my cousin and his dad! In a big blue termite truck.
DavidArchie – Had a really great time tonight hanging with my cousin and his family. A really laid back family, it was nice.
Appearances
21 March
Univision – The making of Somos el Mundo
It's only 5 seconds of David….but we'll take it!!!!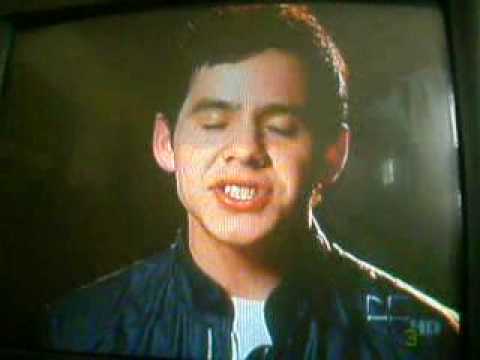 New video with David at 1:28, 2:22, 3:46 and at 4:11 you can hear him singing in the background when Shakira is being interviewed.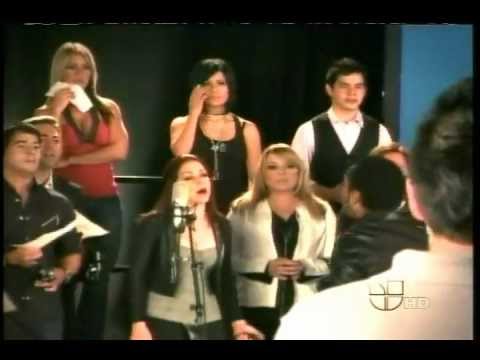 23 March
David Archuleta to Perform at Season-Opener
March 23, 2010 – Arena Football League (AFL) Utah Blaze
SALT LAKE CITY – The Utah Blaze are proud to announce that former season seven "American Idol" contestant, David Archuleta, a Murray, Utah native, will provide the half-time entertainment for the Blaze's season-opener versus the Spokane Shock on Friday, April 9th at 7pm at the E Center.
Chart/Book Sales
Chords of Strength
Announced release date: June 1st, 2010
Google Alerts
25 March
Idol Watch: All Over But the Singing?
Posted by James Poniewozik Thursday, March 25, 2010 at 7:19 am
Miley Cyrus performs on the final-11 elimination night of American Idol.
So Paige is going home. 100% unsurprising, not much to say; she's been shaky for weeks and had the worst performance Tuesday night.
Thus begins the long dull middle section of American Idol, in which a number of people we already know have no shot at winning are eliminated in some order, and I struggle to find things to say about it.
David Archuleta – Masterclass Lady Gets It Right!!
25 March 2010
by pikepss
Masterclass Lady knows her business and definitely knows David Archuleta! Here's an excerpt from her blog today:
A Masterclass Plea To the American Idol Judges: Please – No More Comparisons!
"Personally, I have had my fill of pointless comparisons of this year's crop of singers to those who have previously competed on American Idol. I know I have stated that Seasons 5 and 7 were exceptional seasons and difficult to capture on a yearly basis, but, except for one instance (Siobhan/Adam), I have attempted to stay away from comparing the Season 9 singers to those that came before them.
"What's the point? The majority of the time, these comparisons fall flat and put extra pressure on the Season 9 singers.
"The most ludicrous comparison has been the suggestion that Aaron Kelly is a replication of Season 7 Top 2 finalist, David Archuleta. Look, I think Aaron is a very musical and hard-working young musician, possessing great potential in his future performing career.
"But, David Archuleta came to the Season 7 competition equipped with skills that were very advanced and extremely refined, plus he knew how to select songs that captured his unique and creative performing style. I have never seen a young singer so prepared and so confident for the huge opportunity presented to him by American Idol…."
Read the entire wonderful article and leave a comment for Masterclass Lady!
Fans
21 March
from Archuleta Fanscene
Very cute idea! Answers are on second crossword picture…so don't scroll down if you don't want the answers!!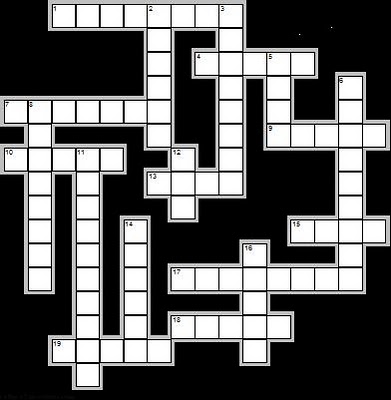 Sunday Crossword: David Archuleta's Christmas From The Heart
Answers are either songs or words from the song titles in David Archuleta's Christmas from the Heart album.
Across
1. Me
4. Not day
7. Sound a drum makes, in French
9. The center of emotion
10. Full of cheer
13. Yuletide
15. Hearth, domicile
17. Songs
18. Young person
19. Number one
Down
2. Quiet
3. True to one's word
5. Altitude
6. Tis the season
8. Hail Mary
11. "Nightingale singing" in Spanish
12. Happiness
14. Celestial beings
16. Planet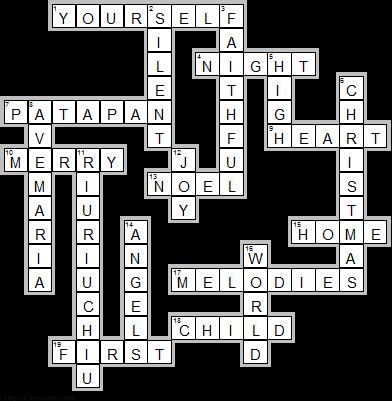 pikepss' Pick of the Week
Smile, it's the KCA's!
American Idol made David Archuleta famous, but at the '09 KCA's his smile made him look totally huggable.
It's '10 and he still looks totally huggable.
DA Weekly Buzz about David Archuleta!
Copy this short URL to share this post anywhere: http://www.dabuzzing.org/?p=14148

Tags: Buzz Wrap · pikepss · Weekly Wrap
Filed in: career|columnists|David Archuleta|music|news|opinions|performances|photos|pikepss|reviews|voice
This Post has no Buzz yet.