Keeping up with the über-talented, awe-inspiring, world-travelling David Archuleta can be a full-time job. Even the most (D)avid fans among us don't always have time to follow David. Here are some of last week's top stories about the awesome David Archuleta.
DA week that was in the life of David Archuleta
Follow links above to the relevant section.
Media Headlines
News, Reviews, and Interviews
Top 9 Week: Theme and Guest Performers
by American Idol
Monday, 5 April 2010
"You're in for an exciting week as the Season 9 Top 9 take on songs by John Lennon and Paul McCartney of The Beatles. Tune in on Tuesday at 8/7c for the Top 9's live performances only on FOX. The Season 7 Top 12 tackled this theme back in 2008….
"Season 7 runner-up David Archuleta will reprise his emotional performance of John Lennon's "Imagine." See ten photos of David singing "Imagine" on his Season 7 Top 12 performance." NOTE: 😉 to preserve this webpage, you might prefer to right-mouse click on the ten photos link and select the option "Open link in a new tab/window."
Idolsnow Tweeter Guessing Game
by Fred Bronson of @idolsnow, former Billboard guru, (and Honorary Honeybee, I'm happy to say!)
Monday, 5 April 2010
Hours before American Idol officially announced David's guest appearance, Idolsnow triggered a Twitter frenzy by asking fans to guess who the mystery guest was. Dropping several hints, @idolsnow got more than 344 new followers in less than 24 hours.
Some of the hints were:
He's been watching American Idol since the first season
He's been interviewed by Fred Bronson
He has at least 2 vowels in his last name (and maybe more)
He has either a first or last name that has an "A" as the first or second letter (or both!)
Idolsnow's backstage interview with David Archuleta is available for download for your iPhone or iTouch. You can download the interview at iTunes or Idolsnow. David gives details about his book, next CD & "Imagine."
On-Air with Ryan Seacrest 102.7 KIIS FM
by Ryan Seacrest
Thursday, 8 April 2010
Listen to Seacrest's on-air interview with David Archuleta. David talks candidly about his family—for David, home is where the heart is.
David's World
Blogs, Tweets, Appearances
Blogs and Vlogs
8 April 2010
Soon after appearing on American Idol David posted a blog. Read the entire blog to learn his mother's birth date. (Watch David on YouTube getting football crowd to sing "Happy Birthday" to his mom.)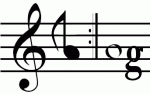 "Helloooo everyone. I wanted to check in really quick and let you know about my time yesterday back at the American Idol studios. I had such a great time!! I have to admit being on that stage again shook me and my nerves up pretty good. I wasn't sure what was going on with my mind…."
If you haven't already, join the Official David Archuleta Website and sign up to receive newsletter updates of his appearances, music, photos, blogs, and more.
Appearances – Recent & Future
Triumphant Guest Appearance on American Idol to sing John Lennon's "Imagine."
Credit: iTunesHits
David on Utah television.
Making a wish come true for a little six-year-old boy from the Make a Wish Foundation, David gave little Jonah tickets to the Blaze game and they rode to a soccer practice together in the limo. David tweeted, "Taking my buddy Jonah from Make A Wish to meet the Real Salt Lake Soccer team! He's all geared up! I'll send a picture." (Click photo to enlarge. David already taught him to give the thumbs up sign.) Watch YouTube video of David Archuleta and actor Vincent D'Onofrio of Law & Order with 6-year-old Jonah
7 April, guest performer on American Idol, The Beatles results show, Los Angeles
9 April, guest appearance on Salt Lake City TV show, Good Things Utah! See vid!
9 April, special halftime performance of "Crush", and other songs, UT Blaze football game, E Center, Salt Lake City
15 April, IRS — just kidding!
David's appearance on "Good Things Utah" was broadcast live from a South Jordan restaurant before his UT Blaze halftime performance. You can view the YouTube videos below. If your time is limited, start with Part 3, because it's the only one about David and his music. Parts 1 and 2 have some funny and awkward moments.
YouTube video, Part 3: DAVID, music, new single, his memoir
YouTube video, Part 2: airline to charge fee for washroom! David says the new policy will draw people closer.
YouTube video, Part 1: vasectomies!! David simulates a pregnant woman's belly.
Also, further down this page is the revised list of Book Signing Tour dates. (Hit back button to return here.)
The David Sandwich at an LA Restaurant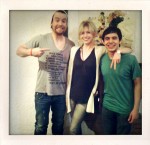 He tweeted, she tweeted, he tweeted, well, they all tweeted about having a dinner reunion together in Los Angeles Thursday night, 8 April. David Archuleta, Brooke White, and David Cook together again! Cook's brother Andrew was also present. That's the lovely Brooke White 'sandwiched' between the two Davids. I wonder if the restaurant will add a 'David sandwich on white' to the menu. haha! Follow them all on Twitter: @davidarchie, @realbrookewhite, @thedavidcook, @ACookOfficial. SOURCE: posted on Twitter by Brooke White
Twitter
5 April
DavidArchie – Easter weekend was grrrrreat by the way! What a great holiday and great to remember the things it reflects on. How was your Easter weekend?
DavidArchie – Woo hoo! 🙂 RT @AmericanIdol Announcing this week's guest performers: @davidarchie, @rihanna, and @jasonderulo! http://bit.ly/czYiwl
6 April
DavidArchie – Tsuki's out of the dryer by the way. Haha. She also tries to get into the sink when I'm brushing my teeth or washing my hands.
DavidArchie – Back in LA. Nice to have sunny weather again. Practicing my Spanish with the driver! Haha. He's really cool.
DavidArchie – Matt was way cool! Five for Fighting is on now. There's a reason for the world, you and iiiii
7 April
DavidArchie – It's like a family reunion here [American Idol]! Seeing all the people who work here is great haha.
DavidArchie – Time is coming closer to perform on American Idol tonight! Really excited! Show is about to start, at 6:01 PM Apr 7th
DavidArchie – Had such an awesome time tonight! Hope you guys enjoyed watching the show!
8 April
DavidArchie – Have a new blog up! http://www.davidarchuleta.com/news/blog-david-4810
DavidArchie – Had a productive writing session. Getting a ride from @JimmyHarry who I worked with and @JessieMalakouti haha.
DavidArchie – Having dinner with @TheDavidCook @ACookOfficial and @RealBrookeWhite . Good tiiiimes.
9 April
DavidArchie – One thing that's neat about getting up early is seeing the sunrise. Always really cool. But back in Utah!
DavidArchie – For those of you in Utah by the way… Haha, Good Things Utah starts at 10 AM on ABC 🙂
David Archie – Taking my buddy Jonah from Make A Wish to meet the Real Salt Lake Soccer team! He's all geared up! I'll send a picture
DavidArchie – http://twitpic.com/1ebyh1 – Me and Jonah in the limo! [THUMBS UP!]
DavidArchie – There are still tickets at Ticketmaster or at the door for those of you in the Salt Lake area! I'll be singing. Come support!
DavidArchie – Happy birthday to my mom!!!! One year older and wiser too 🙂
10 April
DavidArchie – Had a fun time at the game! Great being with the family. Surprised my mom with the crowd singing happy birthday and a cake lol.
DavidArchie – Uh oh… Looks like I'm in trouble. Does almond or soy milk count? haha RT @OMGFacts: It is illegal to not drink milk in Utah. #omgfacts
DavidArchie – Haha that's great! Thanks Brazil fans!! RT @ArchieInBrazil PLEASE watch our video to you! 😀
Something tells me David Archuleta might be headed to Rio—and long before the Olympics Summer Games in 2016!
More wacky laws still on the books in Utah
Follow David Archuleta on Twitter.
Book Signing Tour
1 June – Bookends – Ridgewood, NJ (7PM)
2 June – Borders – Manhattan, NY (7PM)
3 June – Barnes & Noble at Smith Haven Mall- Lake Grove, NY (7:30PM)
5 June – Barnes & Noble at Mall of America – Bloomington, MN (2PM)
7 June – Deseret Books – Salt Lake City, UT (12PM-2PM)
8 June – Deseret Books – Orem, UT (6PM)
Chords of Strength is available at Amazon.com on 1 June 2010. Pre-order your copy for $15.48 today. If the price drops again by release date, you'll receive the lower price.
Fandom
Blogs, Stories, Charities
DA Fan Creativity Award goes to JODD, The Journal of Obsessive David Disorder
All David Archuleta fans must review this 'journal's' research from the Institute of Archieology. It will explain how listening to David Archuleta music alters brain chemistry.
Design/layout artistry: Beebee text: TOfan, from Snow Angels
AFS's "Grand" list of the many rave reviews of David's AI "Imagine" performance
David Archuleta's triumphant return to American Idol on 7 April produced a flurry of rave reviews too numerous to name here. Luckily, Archuleta Fanscene has done the job for us with this excellent list of reviews!
Did you miss last week's Weekly Wrap? If you've fallen far behind, you should seriously search the Archhives! It's not too late to reclaim your status as a David Archuleta fanatic fan!
DA Weekly Buzz about David Archuleta!
Copy this short URL to share this post anywhere: http://www.dabuzzing.org/?p=15026

Tags: American Idol · Beatles · Buzz Wrap · Imagine · Snow Angels · Utah Blaze · Weekly Wrap
Filed in: career|columnists|David Archuleta|music|news|performances|reviews
This Post has no Buzz yet.