DA week that was in the life of David Archuleta
Follow links above to the relevant sections below.
Keeping up with the über-talented, awe-inspiring, world-travelling David Archuleta can be a full-time job. Even the most (D)avid fans among us don't always have time to follow David. Here are some of last week's top stories about the awesome David Archuleta.
Media Headlines
News, Reviews, and Interviews
New David Archuleta Album, Other Side Of Down, on sale Sept. 14
by Castina
16 July 2010
David Archuleta, the 19-year-old heartthrob named the "Best American Idol Ever" in a Billboard readers poll, has revealed the title and release date for his hotly-anticipated sophomore set. Other Side of Down debuts Sept. 14….
Read more: Pop Crunch
David Archuleta's 'Other Side of Down' due Sept. 14
by Brian Mansfield, Idol Chatter
16 July 2010
…Pre-orders for Other Side of Down will begin July 20 at David's website. People who pre-order the album will get "Something 'Bout Love" as an instant download, and a "very special fan edition" of the album will be available for pre-order, as well.
Declan Whitebloom has been tapped to direct the music video for "Something 'Bout Love," which was co-written by Archuleta, Sam Hollander, Dave Katz and Chris DeStefano and produced by S*M* & Sluggo. The single's radio impact date is slated for August 2nd.
SOURCE: Idol Chatter, USA Today
David Archuleta's new single wins "Who's on Top" Radio Contests!
from Archuleta FanScene
16 July 2010
David's "Something 'bout Love" won against New Boyz's "Break My Bank" on 95.9 KISS FM in Wisconsin. In Florida, David's "Something 'Bout Love" beat out "Gimme Dat" by Ciara on 105.3 KISS FM.
SOURCE: Archuleta FanScene
"Something 'bout Love" nominated on Hit Predictor
from Hit Predictor blog
16 July 2010
David Archuleta "Something 'Bout Love" is a new single from the highly-anticipated sophomore album of the former American Idol contestant, and has a distinctly different sound than his 2008 self-titled debut album, as it mixes his usual pop sound with a dance vibe….
SOURCE: Hit Predictor
Danny Nappi Clothing
by Alexis Hill, The Electric Buzz
16 July 2010
Danny Nappi Clothing is not something that just happened to happen overnight, in fact it wasn't even a dream much before it was a reality. This intuitive design company happened more by chance then by choice, not to say that Mr. Nappi himself hasn't worked hard for it, he has…. Many of Danny's pieces have been featured in fashion week, yet one of his biggest accomplishments is something more local. Danny had the honor of designing David Archuleta's clothing for his tour….
Read more: The Electric Buzz – Utah's Electronic High School
We've written about the Nappi Appian Way of fashion here on DA Buzzing!
David's World
Blogs, Tweets, Appearances
Blogs and Vlogs
"Something 'Bout Love" Release Date, Artwork, Album Pre Order!
from DavidArchuleta.com
8 July 2010
…On July 20th…you will be able to pre-order David's brand new, upcoming album! When you pre-order you'll be able to receive "Something 'Bout Love" as an instant download, but that's not all. Also on the 20th, you'll be able to pre-order a very special fan edition of David's new album! We'll give you all the details on what it is soon!
Announcing David Archuleta's New Album "Other Side Of Down" and Release Date!
from DavidArchuleta.com
15 July 2010
The good news just keeps on coming people. This morning we are proud to announce the official album title AND release date of David Archuleta's new album. The album will be called Other Side of Down and it will be available in stores and online on September 14th!
Join the Official David Archuleta Website and sign up to receive newsletter updates of his appearances, music, photos, blogs, and more.
Appearances – Recent & Future
David sings at the Tejano Music Awards.
on YouTube
11 July 2010
"No me queda mas," 3:45 minutes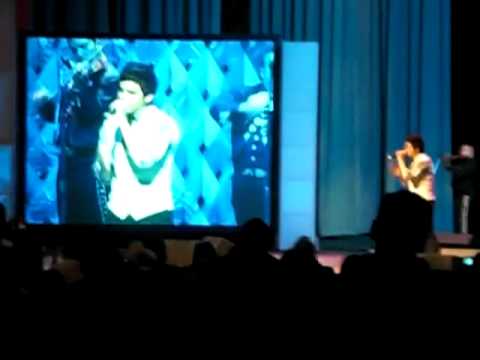 "Como la flor," 4:01 minutes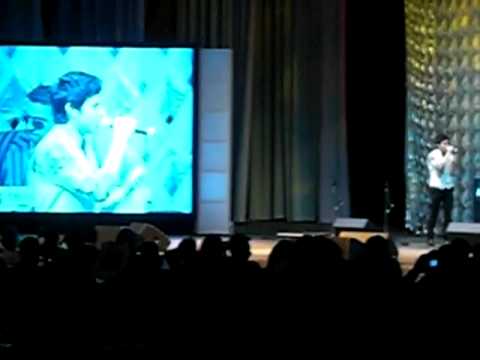 Thanks to takingchances211 for both videos.
Quick-glance Appearances Schedule:
11 July, Tejano Awards Party, San Antonio, Texas: David will sing Selena's "Como La Flor."
16 July, production for the "Something 'bout Love" music video, Los Angeles.
20 July, album pre-release with single download.
Chords of Strength, David Archuleta's Best Selling Memoir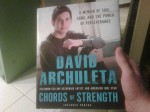 David has had several book-signing events in July. We'll let you know when more dates are scheduled. If you don't have a copy of Chords of Strength yet, buy today!
Amazon: $15.61 today
Penguin Books: Hardcover $22.95; eBook $10.99
Barnes & Noble: $16.52 online
Borders: Hardcover $22.95
DavidArchie on Twitter
Monday, 12 July
> Had an incredible time yesterday at the Tejano Music Awards! Great singing with Pete Astudillo, and having Joe and Nina accompany!
> Selena y Los Dino's music lives on and continues to touch people's lives. Blessings to the Quintanilla family for all they do.
> Ah, so nice looking at all the little animals in Petco.
Tuesday, 13 July
> Back in Utah for the day. At the orth office and @theRealJordin is playing on the radio.
> Well hi and bye Utah. Off to Cali now.
Wednesday, 14 July
> "Though we cannot change the direction of the wind, we may adjust our sails to always reach our destination."
> Locked out of the car. Exciting stuff lol.
> For those of you wondering, we managed to get into the car. A very nice person passing by going to eat happened to be a car mechanic lol.
Thursday, 15 July
> So the album title and release date have officially been announced! "Other Side of Down" will be out Sep. 14th! http://bit.ly/atz1Hr
> @emily4Archie I'll explain sometime soon haha. There's a few different reasons for the title 🙂 [reply to: @DavidArchie hah yeah we know:) haha I'm sooooo excited for this album! interesting title…how did you pick it??]
Friday, 16 July
> Eating unhealthy isn't the greatest thing to pair up with a workout. Ugh lol.
> Filming the video for "Something 'Bout Love" right now! Man it's hot outside.
Saturday, 17 July
> Families sure are weird, but they're awesome haha.
> Back in Utah once again for a little bit.
Follow David Archuleta on Twitter. He has nearly 408,000 followers, but who's counting? —I am!!! During the past thirteen weeks, David has averaged 4,080 new followers each week.
Fandom
Blogs, Stories, Charities
Blogs
Random David Archuleta Quote July 10, 2010
from Disney Dreaming
11 July 2010
Oh David. Here we go again with another great quote from our favorite American Idol superstar, David Archuleta:
So I guess I look enough like me today but not enough to actually be me. People think I kind of look like David Archuleta lol.
SOURCE: Disney Dreaming
Stories
Voting on the Teen Choice Awards
from: Teen Choice Awards
12 July 2010
The final wave of nominees has been announced for TEEN CHOICE 2010 airing Monday, Aug. 9 (8:00-10:00 PM ET/PT) on FOX. After the final wave of TEEN CHOICE 2010 nominees, "The Twilight Saga: Eclipse" and "The Twilight Saga: New Moon" lead the pack overall with a combined 17 nominations, while GLEE and Miley Cyrus each earned 13 nods and Taylor Lautner garnered 11.
Vote for David Archuleta in the Choice American Idol Alum and the Most Fanatic Fans categories! David will make an appearance on the show.
Who would you rather date: Justin Bieber or David Archuleta?
from Hollywood Gossip blog
16 July 2010
…there's one thing Justin Bieber and David Archuleta have in common: an adoring fan base of teenage girls. Both these artists have been in the news this week—Bieber for breaking a YouTube record previously held by Lady Gaga and Archuleta for announcing the release date for his new album—and it got us thinking: Could you choose between these young stud muffins?
David Archuleta won 69 percent of the vote!
Source: Hollywood Gossip
Did you miss last week's Weekly Wrap? If you've fallen far behind, you should seriously search the Archhives! It's not too late to reclaim your status as a David Archuleta fanatic fan!
DA Weekly Buzz about David Archuleta!
Copy this short URL to share this post anywhere: http://www.dabuzzing.org/?p=16975

Tags: Album · Buzz Wrap · Disney Dreaming · Hollywood Gossip · music video · Something 'bout Love · Weekly Wrap
Filed in: career|David Archuleta|music|news|opinions|performances|reviews
This Post has no Buzz yet.