DA week that was in the life of David Archuleta
Follow links above to the relevant sections below.
Keeping up with the über-talented, awe-inspiring, world-travelling David Archuleta can be a full-time job. Even the most (D)avid fans among us don't always have time to follow David. Here are some of last week's top stories about the awesome David Archuleta.
Media Headlines
News, Reviews, and Interviews
Jerry Lewis Telethon performers list: OneRepublic, David Archuleta, Barry Manilow
from Examiner.com
5 September 2010
The Jerry Lewis Telethon to benefit the MDA launched its 45th annual celebration Sunday night with more than 24 hours of live performances scheduled to appear including recording artists OneRepublic, Barry Manilow and American Idol runner up David Archuleta.
David Archuleta "The Other Side Of Down" Tracklisting
from Bring DA Beat Back
7 September 2010
David Archuleta's sophomore album The Other Side Of Down (October 5th) is less than a month away & the latest info to surface about the album is its tracklisting. See what made the cut:
1. The Other Side Of Down
2. Something 'Bout Love
3. Elevator
4. Stomping The Roses
5. Who I Am
6. Falling Stars
7. Parachutes & Airplanes
8. Look Around
9. Good Place
10. Complain
11. Things Are Gonna Get Better
12. My Kind Of Perfect
I've already made up my mind: I want a video for "Stomping The Roses" & I wanna see him actually do it–because I don't think he has that kind of anger inside of him! All kidding aside, I'm certainly looking forward to October 5th!
David Archuleta at the Delta Fair & Music Festival
from David Daily
11 September 2010
Alexis Grace ( finalist from American Idol, season 8 ) tweeted that she will be the opening act for David this Sunday, September 12th at the Delta Fair & Music Festival in Memphis, TN.
David Archuleta Stands up to Cancer
from Showbiz Spy
11 September 2010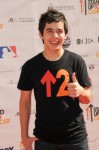 "…the cute one from season seven of American Idol — attended the 2010 Stand Up to Cancer benefit in Culver City, CA, Friday night." While many were disappointed that David did not sing, he was there to introduce Pastel and congratulate the Crush Kids' Cancer team for their donations.
David's World
Blogs, Tweets, Appearances
Blogs and Vlogs
David previews The Other Side of Down
from DavidArchuleta.com
9 September 2010
With the album release date approaching, David wanted to give his fans some previews of "The Other Side of Down", so he shot a guided tour of the album on a recent tour through central park. Each video will have snippets of the songs from the album, with David explaining the meaning and motivation behind each track. These videos are only available right here on Davidarchuleta.com. The first one is right here, stay tuned for more!!
Already posted on DA Buzzing: watch the Central Park video or at David's official website.
David responds to his phone messages
from DavidArchuleta.com
10 September 2010
You called, and he answered! Recently David took some time (while at David Archuleta headquarters, of course) to check and respond to the great messages you all leave on his mobile hotline (801-386-8196 if you don't know it) so check out part one of his responses right now, and stay tuned for part 2! Call David Archuleta's Mobile Hotline anytime at 801-386-8196
Join the Official David Archuleta Website and sign up to receive newsletter updates of his appearances, music, photos, blogs, and more.
Appearances – Recent & Future
Quick-glance Appearances Schedule:
September
1 September, in Nashville to tape the Christmas special, "Orla Fallon Celtic Christmas," which will air on PBS in December.
5 September, singing a new song, "Things Are Gonna Get Better," in the 10 PM PST hour of the Jerry Lewis Muscular Dystrophy Telethon, Las Vegas
12 September, Delta Fair & Music Festival, 7:45 PM, Memphis, TN
24 September, WLAN FM97 Birthday Barndance, with Shontelle Layne
26 September, New Albany Classic Invitational Grand Prix & Family Day, New Albany, Ohio.
October
2 October, joins Natasha Bedingfield at the ArtPrize Concert Series, Rosa Parks Circle, Grand Rapids, MI
8 October, Mentors International 2010 Annual Gala, Salt Lake City, Utah.
10 October, Skate for the Heart, to be aired in January.
11 October, WDJQ (Q92) Stripped Down Concert Series
Source for some of the appearances info: ArchuletaFanScene.com
Chords of Strength, David Archuleta's Best Selling Memoir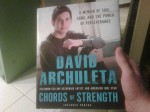 David has had several book-signing events in July. We'll let you know when more dates are scheduled. If you don't have a copy of Chords of Strength yet, buy today!
Amazon: $14.05 today
Penguin Books: Hardcover $22.95; eBook $10.99
Barnes & Noble: $16.52 online
Borders: Hardcover $22.95
DavidArchie on Twitter
Monday, 6 September
> Been having a great time at the Jerry Lewis telethon! Fun seeing Nigel Lythgoe last night. You can still tune in on PBS.
> Hope everyone's been having a great Labor Day weekend!
Tuesday, 7 September
> > "Always try a little harder, even when you think you've done all you can. Push yourself, because the next step may be right there."
> The Other Side of Down is now available for pre-order on iTunes!! Go to iTunes to pre-order!
> Doing some phone interviews!
Wednesday, 8 September
> The days just fly by.
Thursday, 9 September
> Listening to the sisters and their heated discussion after last night's episode of Master Chef = Priceless. I love home.
> Well had a nice time at home. Back to California now. Going to be helping out a little at Stand Up 2 Cancer tomorrow!
Friday, 10 September
> Had HONDURAN food for dinner last night!! Soo good.
> If you #StandUp2Cancer, watch tonight and join me and @SU2C at 8 PM ET/PT, 7 PM CT on all major networks or at www.su2c.org
> Stand Up 2 Cancer show was amazing! Thanks to all those who helped and called in to donate! It's not too late to help. SU2C.org
Saturday, 11 September
> Heard God Bless the USA this morning on the radio. What a great song, and for today honoring those who lost & gave their lives.
Follow David Archuleta on Twitter. He has nearly 464,000 followers, but who's counting? —I am!!! During the past 20 weeks, David has averaged 5450 new followers each week.
Fandom
Blogs, Stories, Charities
Stories
Pastel at Stand Up 2 Cancer
from: Fans of David
11 September 2010
As many of you now know, I had the pleasure and honour of attending the Stand Up 2 Cancer performance at the Sony Studios in LA yesterday, representing ALL OF YOU in the Crush Kids' Cancer David Archuleta Angels Team. It was an exciting but very emotional experience. Having lost my heroic husband Lawrence last year at the age of 51 to colon cancer, the day took on an entirely different meaning for me than an encounter with David Archuleta and his team, although that was an awesome and generous experience as well. The significance of Standing Up yesterday, after a cross country trip for me and my daughter, was even more poignant. It was truly an honour to be there.
Did you miss last week's Weekly Wrap? If you've fallen far behind, you should seriously search the Archhives! It's not too late to reclaim your status as a David Archuleta fanatic fan!
DA Weekly Buzz about David Archuleta!
Copy this short URL to share this post anywhere: http://www.dabuzzing.org/?p=17778

Tags: Crush Kids' Cancer · Delta Fair and Music Festival · Memphis · Stand Up to Cancer · The Other Side of Down · Twitter · Weekly Wrap
Filed in: career|David Archuleta|music|news|performances|Queen Bee
This Post has earned 1 Buzz.