DA week that was in the life of David Archuleta
Follow links above to the relevant sections below.
Keeping up with the über-talented, awe-inspiring, world-travelling David Archuleta can be a full-time job. Even the most (D)avid fans among us don't always have time to follow David. Here are some of last week's top stories about the awesome David Archuleta.
Media Headlines
News, Reviews, and Interviews
David Archuleta on Goom Radio
5 October 2010
I love this radio interview with David. It's pure Archuleta.
SOURCE: Goom Radio
Length: 11 minutes
Archuleta Acceptable
by Ian Carlson, Hullabaloo
8 October 2010
When I write a review, I'm generally forced to aim my focus: I base my review either on my personal appreciation of the album, or on whether the record accomplishes the ostensible goals. Because of that conundrum, David Archuleta's second studio album, The Other Side Of Down, poses a bit of a problem. My personal tastes don't exactly align with Archuleta's musical style. His background as a contestant on American Idol and the frequency with which he writes and produces songs through "group effort" make me uneasy. I am always skeptical of artists who are fabricated by some corporate entity or who don't control their own music. Yet I find myself tapping my foot or nodding my head as I listen to this album, though it's less authentic than The Gap, and I would bet that the board of directors at Jive Records proofread the lyrics….
More Album Reviews
from DA Buzzing
5 October 2010
Read three reviews: The Good, The Bad, and The Ugh. David has said he doesn't read reviews, either good or bad. Artists have to preserve their integrity and autonomy by listening to the sound of their own drum.
David's World
Blogs, Tweets, Appearances
Blogs and Vlogs
AOL Listening Party
on Music AOL
27 September 2010
All twelve tracks are available to hear on AOL!
"The Other Side of David" Fan Fiction Contest
from DavidArchuleta.com
7 October 2010
Hey David fans, just wanted to let you know that we've just launched a new contest called "The Other Side of David" Fan Fiction contest, where you, the David Archuleta fans of the world, can submit a 250-word essay or a voicemail (call 801.386.8196) telling a story about David, why you love his music, or any other creative ideas you have.
There will be 6 finalists (3 voicemails and 3 written entries), and David will pick a winner to get a customized David Archuleta iPad, so be as creative as possible! For more info and to submit your entry, visit "The Other Side of David" Official Contest Page.
Join the Official David Archuleta Website and sign up to receive newsletter updates of his appearances, music, photos, blogs, and more.
Appearances – Recent & Future
David on Live with Regis and Kelly + Wendy Williams
from DavidArchuleta.com
5 October 2010
Make sure to get up early this Wednesday and Thursday. To celebrate the release of "The Other Side of Down" this week, David will be appearing on Live! With Regis and Kelly tomorrow and Wendy Williams this Thursday to talk about the album and whats in store for him in the future. Make sure to check your local listings, tune in (or set your DVR) and enjoy!….
David on Z100 Radio in NYC
5 October 2010
This live version of "Elevator" is amazing. David really lets it out! Gosh! Those runs and riffs are stunning! Listen to that little growl. This is the best I've heard him sing "Elevator." I hope he'll do a music video for this song and sing it just like this!
Source: Archuleta Centre
Length: 3:31 minutes
Live Chat With David Tonight!
from DavidArchuleta.com
6 October 2010
David fans, David will be doing a live Ustream chat tonight at 9 PM EST. It will be embedded on David's Facebook Page so make sure to stop by and talk to David about "The Other Side of Down", upcoming live shows, or anything else on your mind.
Also, if you have David's iPhone app, you'll be able to see the Ustream right there on your mobile device. See you tonight!
It's time to update David's bio. During this chat he gave us some of his new favorites. Fav Color: Green; Fav Ice Cream: Fresh Fruit Sorbet; Fav Season: Autumn…..
David Archuleta shares stage with his mother for Mentors' Annual Gala fundraiser
by R. Scott Lloyd for the Deseret News
8 October 2010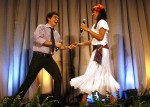 Last January, "American Idol" superstar David Archuleta and his mother, Lupe, went to her native Honduras and to Guatemala, hosted by Utah-based Mentors International. There, they say firsthand how the organization helps provide loans and training to help families in home-based businesses work their way out of poverty. On Friday night, mother and son gave to the effort themselves by providing a free performance at Mentors' Annual Gala fundraiser at the Salt Lake Marriott, before a crowd of several hundred donors and potential donors. It was the organization's 20th anniversary, and the two Archuletas were up for the occasion in a performance that featured fast-paced Latin music and heartfelt ballads evoking the optimism that drives Mentors….
David Archuleta will sing at Skate for the Heart event.
by Guy D'Astoflo Vindy.com
9 October 2010
The Covelli Centre is hoping for a last-minute ticket- sales flurry to pack the house for Sunday's Skate for the Heart event. The show, which features a dozen world-class ice skaters as well as vocal group Straight No Chaser and singers Ruben Studdard and David Archuleta, will be broadcast nationally by NBC on Jan. 16 at 4 p.m.
Quick-glance Appearances Schedule:
October
2 October, joins Natasha Bedingfield at the ArtPrize Concert Series, Rosa Parks Circle, Grand Rapids, MI
6 October, appears on Regis and Kelly, ABC-TV.
8 October, Mentors International 2010 Annual Gala, Salt Lake City, Utah.
10 October, Skate for the Heart, to be aired in January.
11 October, WDJQ (Q92) Stripped Down Concert Series
19 October 19, Q92.9 FM Fall Q-Ball, Pittsburgh, PA
23 October 23, Eunice Kennedy Shrive Challenge for Special Olympics, Washington DC.
December
David Archuleta will be the youngest guest performer at the Choir's Christmas concerts. The free tickets will be available only by random selection. Register online at lds.org/events through October 18 or by phone at 801-570-0080 or 1-866-LDS-TIKS, Monday through Friday, 10 a.m. to 5 p.m.
Source for some of the appearances info: ArchuletaFanScene.com
Chords of Strength, David Archuleta's Best Selling Memoir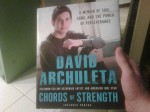 David has had several book-signing events in July. We'll let you know when more dates are scheduled. If you don't have a copy of Chords of Strength yet, buy today!
Amazon: $15.61 today
Penguin Books: Hardcover $22.95; eBook $10.99
Barnes & Noble: $16.52 online
Borders: Hardcover $22.95
DavidArchie on Twitter
Monday, 4 October
> Just 1 more day until The Other Side of Down is officially released!!
> At the Jive label offices starting promo week! Interviews and such.
> Finished up with Associated Press. Next stop MTV offices.
> @Shontelle_Layne Happy birthday Shontelle! Hope your day has been great!
> Today I saw my new mobile app! If you'd like to download my official app for iPhone and Android check out http://bit.ly/ArchieApp
Tuesday, 5 October
> My album The Other Side of Down is officially in stores TODAY!! Woo hoo!
> You can tune in tonight at 6pm ET for my live Q&A on @billboarddotcom! Tweet your questions w/ #bblivechat. http://bit.ly/bOCEP6
> Headed to Z100 to do a live chat on Z100.com! You can come join the chat around 4 PM EST
> Had an awesome time with @Z100NewYork! Good seeing the fans outside too! Haha
> Gonna do a live Q&A with Billboard.com in just a bit! You can join in at 6 PM EST http://bit.ly/bOCEP6
> Here's the link to the album if you want to check it out! —> http://itunes.apple.com/us/album/the-other-side-of-down/id389907901
> Thanks so much for all your support and comments guys! It's been a great album release day! Gonna go celebrate with some dinner now!
> @matt_squire Hey thanks Matt! Some awesome groovin' tracks we got! [Reply to: david archuleta's new cd just came out. pick yourself up a copy now!!!!! i co-wrote "look around" and "parachutes and airplanes."]
> @EmanuelKiriakou Woo hoo! [Reply to: Buy today! @davidarchie "The Other Side Of Down". I have 2 songs, "Falling Stars" and "Complain", on it.]
> @therocketsummer Haha thanks Bryce! stompin' the roses [Reply to: If you like great voices and good people, pick up my buddy David Archuleta's new album that came out today…. http://fb.me/Bery7Xqe]
> @thedavidcook Appreciate the shout out my friend! We need to hear some new stuff from you now! [Reply to: That archie kid, @DavidArchie, has a new album out today. Go check it out on iTunes!!!]
> @BentonPaul Thanks man! Hope you have a safe drive to LA! [Reply to: congrats to my bro @DavidArchie for the new album release! i'll be listening on my way to LA]
> Had some good Brazillian food for dinner. Tomorrow morning is live with @Regis_and_Kelly! Good night and thanks again all!
Wednesday, 6 October
> Warming up my voice in the car. Driver says "sounds like an alien spaceship." Haha I guess it kinda does.
> Getting ready for Regis and Kelly! Starts at 9 AM EST if you wanna watch.
> Had a really fun time at @Regis_and_Kelly! First time singing Elevator on TV. Off to ABC Radio now.
> Thursday I'll be appearing on @wendyshow! If you'd like to tune in you can check your local listings at www.wendyshow.com
> All right, yet another chat! haha. UStream Chat tonight 9pm Est/6pm Pst www.facebook.com/davidarchuleta if you'd like to join!
> Just dropped by at @MusicChoice. had issues doing promo drops lol but had a lot of fun! Cool interview with @SWRV_TV
> Doing a UStream Chat in about 10 minutes! If you'd like to join you can go to www.facebook.com/DavidArchuleta 🙂
> Had a great time talking to all of you on the UStream chat! Thanks so much for joining! Until next time 🙂
> Bah, unfortunately due to schedule issues I won't be doing the Today Show tomorrow. Sorry for the changes.
> Just wanted to especially let the fans in New York know who might have planned on attending, but hope to see you at @WendyShow!
Thursday, 7 October
> At the Wendy Wiliams show! About to start soon.
> If you haven't yet, you should check out 2 other great releases from this week! 1st one is Jason Mraz's new EP – Life is Good
> The other one you should check out is the new Bruno Mars album – Doo Wops and Hooligans. Both amazingly talented artists.
Friday, 8 October
> Internet is down all day, but at least it's one less distraction to focus on other things.
Saturday, 9 October
> I just wanted to remember John Lennon on his 70th birthday today and express my thanks to him. What an amazing legacy he has left.
> I love Autumn. The trees are amazing this time of year.
> In Ohio for the Skate for the Heart taping tomorrow.
> At dinner there was a homecoming group & a girl turned & said "You look exactly like David Archuleta! You must get that a lot huh"
> She later turned again & said "you're cool too though, you don't have to be David Archuleta to be cool." Lol well thanks.
Follow David Archuleta on Twitter. He has more than 491,000 followers, but who's counting? —I am!!! During the past 24 weeks, David has averaged 5667 new followers each week.
Fandom
Blogs, Stories, Charities
Stories
Glee Star Charice Promotes David Archuleta.
by Alison Nadaud, from Examiner.com
In a recent interview with Billboard.com, David Archuleta had some extremely kind words to share about Charice Pempengco. Calling her an "amazingly talented gal" and "a real sweetheart," David revealed that he would jump at the chance to work with the "Glee" star in the future. Well, it seems that the admiration is mutual….
NOTE: Fans speculate that David might make a guest appearance on Glee this season.
Musiqtone's Video of the Week
from Musiqtone The Count
Great news! This week when his new album was released, David Archuleta's music video for "Something 'Bout Love" is at number 1 on Musiqtone. The new voting cycle ends 13 October 2010 at 10 am ET. Vote for David Archuleta's "Something 'bout Love."
David Archuleta wore waxed jeans to Regis & Kelly
from Denim Blog
7 October 2010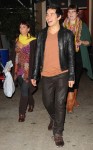 David Archuleta was greeting some of his fans in New York after making an appearance on Live with Regis and Kelly. He was wearing the trend of the moment, a pair of waxed jeans. He opted for a pair in a brown color. I actually kind of like these, but the color palette of his outfit kind of makes me think of Halloween. I think he should have stuck to probably a white tee.
I think this is a trend where you have to keep everything else pretty muted when pairing it with a leather jacket… Russel Brand was another man who was spotted wearing the trend. Out of these two men, who do you think wore it better?
I think David's color choice was perfect for autumn, which is also his favorite season.
Blogs
Watch David Archuleta on TV's "Ariel & Zoey"!
from ArchuletaFanScene.com
29 September 2010
David's episode of "Ariel & Zoey (Eli, too)" will run nationwide the week of October 4th. We have updated our website – www.arielandzoey.com – with channel listings and times. Choose your location from the "Where to Watch" drop-down menu under "AZE2 TV". David's episode will run four times in year one! We'll get you those dates when we complete the line-up. The NBC stations carrying the show run episodes one week later. So David's episode will run the week of Oct 11 on the NBC channels… If this changes, we will let you know!
Did you miss last week's Weekly Wrap? If you've fallen far behind, you should seriously search the Archhives! It's not too late to reclaim your status as a David Archuleta fanatic fan!
DA Weekly Buzz about David Archuleta!
Copy this short URL to share this post anywhere: http://www.dabuzzing.org/?p=18119

Tags: John Lennon · Lupe Archuleta · Mentors International · Mormon Tabernacle Choir · Musiqtone · Regis and Kelly · Skate for the Heart · The Other Side of Down · Twitter · weekly buzz
Filed in: career|columnists|music|news|performances|Queen Bee|reviews
This Post has earned 1 Buzz.