DA week that was in the life of David Archuleta
Follow links above to the relevant sections below.
Keeping up with the über-talented, awe-inspiring, world-travelling David Archuleta can be a full-time job. Even the most (D)avid fans among us don't always have time to follow David. Here are some of last week's top stories about the awesome David Archuleta.
Late again! Weekly Wrap is usually published by 8 PM on Saturday night. However, I am in the middle of an important project. Sorry for the delay.
Media Headlines
News, Reviews, and Interviews
David Archuleta sings, Queen Rania inspires at U.N. Girl Up events in L.A.
from LA Times Blog
Queen Rania al Abdullah of Jordan would be the bigger celeb in most parts of the world, but this is Hollywood, so we're going to lead with David Archuleta when it comes to the Girl Up events held Thursday and Friday in L.A. Archuleta debuted his single "Complain" at a reception Thursday night (see the video below), where Nigel Barker of "America's Next Top Model" encouraged fathers, brothers, uncles, and grandfathers to support girls as well….
Video not complete
Interview with Access Hollywood
from Access Hollywood
8 November 2010
At the Dream Foundation's 9th Annual Celebration of Dreams, David Archuleta chats with Access about the hustle and bustle of promoting his new album, "The Other Side of Down." Also, what are his plans for Thanksgiving?
David Archuleta coming back soon
from Philstar.com
9 November 2010
MANILA, Philippines – Breaking News: American Idol graduate David Archuleta is coming back soon to promote his new album, The Other Side of Down (released by Sony Music). No, he won't be doing a concert as he did last year with American Idol champion David Cook. All he'll do is sing a few selections from the album at a venue to be announced soon together with the date of his visit.
David's World
Blogs, Tweets, Appearances
Blogs and Vlogs
Read David's Amazingly In-Depth Interview With PopEater Now!
on David Archuleta .com
12 November 2010
David recently sat down with PopEater, to talk about, well…everything. The interview covered everything from David's relationship status, his new music, his plans for the holidays, and his upcoming birthday.
Read this brilliant interview with PopEater. I already knew David Archuleta is a brilliant musician, but this insightful interview convinces me he is brilliant, period.
Join the Official David Archuleta Website and sign up to receive newsletter updates of his appearances, music, photos, blogs, and more.
Appearances – Recent & Future
Charice at The Grove LA on November 21 with David Archuleta and Jesse McCartney
from MOG
13 November 2010
Los Angeles – Charice is bringing in more Yuletide Cheer with yet another appearance at a Christmas Tree lighting event, this time at the annual Christmas Tree Lighting at The Grove LA, a popular celebrity hotspot, on Sunday, November 21 at 7:30 pm. She will appear with friend and American Idol runner-up David Archuleta and pop/R&B singer Jesse McCartney who co-wrote the hit song "Bleeding Love" for Leona Lewis and has a new album coming out on Dec 28….
Quick-glance Appearances Schedule:
November
3 November, performs acoustic set for Y101 Unplugged at Sierra Vista Mall, Clovis, California
14 November, showcase performance in Singapore! More info
15-16 November, promo & performance in Manila, Philippines
21 November, Christmas Tree Lighting at The Grove, Los Angeles
UPDATE: David's manager Melinda Bell tweets that David will not travel to Indonesia or Malaysia.
December
David Archuleta will be the youngest guest performer at the Choir's Christmas concerts. The free tickets will be available only by random selection. Register online at lds.org/events through October 18 or by phone at 801-570-0080 or 1-866-LDS-TIKS, Monday through Friday, 10 a.m. to 5 p.m.
Source for some of the appearances info: ArchuletaFanScene.com
DavidArchie on Twitter
Monday, 8 November
> Just had a fun interview with @AOLmusic! A nice day in California! I heard it's snowing in Utah.
> Just had another fun interview! this time with @YoungHollywood.
Tuesday, 9 November
> Don't be afraid to ask questions when you don't understand something. "Ask and ye shall receive… Seek and ye shall find."
> Didn't have room in the last tweet to fit this in but "knock and it shall be opened unto you" too 🙂
> I'm so not a morning singer… person… kind of guy lol
Wednesday, 10 November
> So last day in California! Heading to Singapore and Philippines this week!
> Just had a really good Brazillian organic granola acai bowl. Has kind of a long name.
> 15 hour flight tonight. No phone or computer for a whole day. Time to just do some thinking, pondering, and reading
Thursday, 11 November
> Happy Veteran's Day! Thanks to all those who have served our country.
> Layover in Hong Kong right now. Next stop Singapore.
> Hey if you'd like to join my street team, you can earn prizes for completing simple tasks! It's free to join! http://bit.ly/c8RqV7
> Landed safely! Hello Singapore!
Friday, 12 November
> Good morning! Just had a great breakfast to start off the day.
> I think it'd be so cool to ride in a blimp.
Saturday, 13 November
> Had a long but good day of interviews. Ready to get some sleep now.
David Archuleta has more than 517,400 Twitter followers!! Reaching for a cool mil! Follow DavidArchie on Twitter. During the past 29 weeks, David has averaged 5,600 new followers each week.
Fandom
Blogs, Stories, Charities
Stories
Cellcast for David Archuleta's showcase in Singapore
from Archuleta FanScene
10 November 2010
I missed it, but David Beyond Borders hosted a cellcast of David Archuleta's showcase performance in Singapore on Sunday November 14.
Time: Nov 14, 5.30pm local Singapore time (Nov 14, 4.30am EST / 1.30am PST)
Charities
David Archuleta fans unite to raise money for the Children's Miracle Network
from Angels for a Cause
24 October 2010
"It's in the Bag" Fundraiser!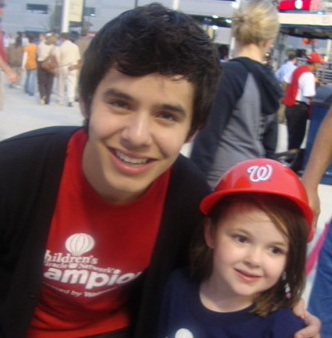 Children's Miracle Network has grown dramatically since its founding in 1983 from a televised fundraiser in a small studio to one of North America's leading children's charities. Founded by Marie Osmond and her family, John Schneider, Mick Shannon, and Joe Lake, CMN has raised more than $3.4 billion since 2008—most of it donated a dollar or two at a time. Children's Miracle Network is guided by two simple goals:
1. Help as many children as possible by raising funds for children's hospitals.
2. Keep funds in the community in which they were raised to help local children.
Attention David Archuleta fans: your donation will help raise money for this worthy cause and you might win a cool David Archuleta-styled denim handbag. Visit Angels for a Cause to see all the artistic bags. With a donation of at least $10.00, your name will be placed in the drawing. The It's in the Bag contest ends November 23.
Good luck!
Blogs
David Archuleta can only go 'The Other Side of Down' in latest album
by Karen Datangel at Baby You'll Be Famous
8 November 2010
If you can keep track of all your American Idol seasons, you'll remember that the fresh-faced David Archuleta came in second place to rocker David Cook in the show's seventh season in 2008. But other than his sticky-sweet youthful looks and charm, Archuleta won over audiences and a loyal fanbase with his soaring renditions of inspirational tunes such as "Imagine" and "Angels." Two years later, following a stellar debut and a holiday release, the 19-year-old Utahn shows even more growth as an artist with a new studio album, The Other Side of Down.
In The Other Side of Down, Archuleta stays true to his clean-cut image…
Did you miss last week's Weekly Wrap? If you've fallen far behind, you should seriously search the Archhives! It's not too late to reclaim your status as a David Archuleta fanatic fan!
DA Weekly Buzz about David Archuleta!
Copy this short URL to share this post anywhere: http://www.dabuzzing.org/?p=18471

Tags: Access Hollywood · Asia · LA Times · Philippines · Singapore · Twitter · Weekly Wrap
Filed in: career|music|news|performances|Queen Bee
This Post has earned 1 Buzz.