DA week that was in the life of David Archuleta
Follow links above to the relevant sections below.
Keeping up with the über-talented, awe-inspiring, world-travelling David Archuleta can be a full-time job. Even the most (D)avid fans among us don't always have time to follow David. Here are some of last week's top stories about the awesome David Archuleta.
Media Headlines
News, Reviews, and Interviews
David Archuleta Releases Feel-Good "Something 'Bout Love" Video
by Bill Lamb, Top 40 Blog, About.com
5 August 2010
So far David Archuleta's "Something 'Bout Love," the first single from his upcoming The Other Side of Down album, is an overlooked pop gem. It just debuted this past week at #4 on the Bubbling Under the Hot 100 chart. The music video to accompany the song was released today, and the spirit of the clip matches the song perfectly. David Archuleta appears and sings as love is working its magic through the crowd around him. The success of "Something 'Bout Love" and The Other Side of Down will likely play a role in determining whether or not David Archuleta has staying power as a mainstream pop artist. Watch "Something 'Bout Love" below.
Source: Top 40 Blog
New Video: David Archuleta Looks So (Oh Oh Oh) Mature In "Something 'Bout Love"
by T.J., Neon Limelight
5 August 2010
If ever there was a video that displayed such high levels of a-freaking-dorableness, it's the video for David Archuleta's dancey new single, "Something 'Bout Love." And that would be a much more mature state of adorableness than we're used to seeing from Archie….
Read more: Neon Limelight blog
David Archuleta releases "Something 'bout Love" Video
by Jason Lipshutz, N.Y., on Viral Video Vault, Billboard.com
A daily dose of the must-see music clips spreading across the Web
6 August 2010
David Archuleta has released the video to "Something 'Bout Love," the first single off his upcoming third album "Other Side of Down." The clip finds the 'Idol' runner-up walking around a city before stumbling upon a gorgeously lit apartment party. "Hang on, hang in, for the ride of your life," Archuleta croons with clenched fists. The slow-motion shots nicely capture the romantic vibe of the track, and Archuleta makes for a compelling pop presence.
Source: Billboard
David's World
Blogs, Tweets, Appearances
Blogs and Vlogs
Join the Official David Archuleta Website and sign up to receive newsletter updates of his appearances, music, photos, blogs, and more.
"Something 'bout Love" World Premiere!
from DavidArchuleta.com
5 August 2010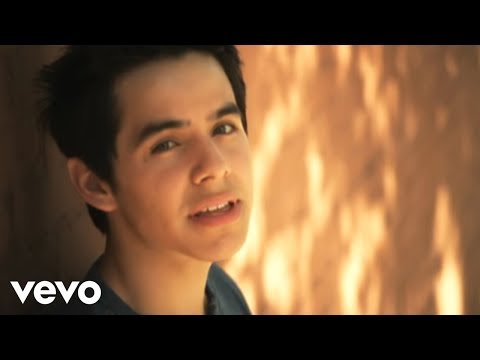 "Something 'bout Love" is the first single from David's upcoming sophomore pop album, Other Side of Down, which is due to be released on 5 October. Get the single now when you pre-order the album.
Appearances – Recent & Future
David goes Gifting in Hollywood
from Celebrity Gossip
4 August 2010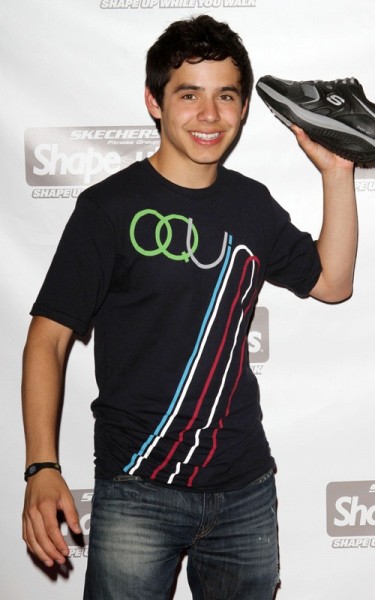 Quick-glance Appearances Schedule:
22 July, sang National Anthem, EA Sports Madden NFL 11 Pigskin Pro-Am, Malibu, CA
27 July, appears on "The Balancing Act," a Lifetime TV show
9 August, presenter on Teen Choice Awards, Los Angeles; nominated in two categories
27 August, will perform at "Ticket to Ride" concert, Six Flags New England, Agawam, MA
Chords of Strength, David's NYT best-selling memoir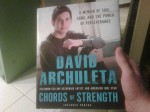 Do you have a copy of Chords of Strength? Amazon: $15.61 today
Penguin Books: Hardcover $22.95; eBook $10.99
Barnes & Noble: $16.52 online
Borders: Hardcover $22.95
DavidArchie on Twitter
Monday, 2 August
> I want to ride a bicycle.
> Time to do an interview.
Tuesday, 3 August
> Doing some final touches on another song today.
> "There are like common denominators in life that everyone seems to relate to. It's why so many people relate to the same songs."
Wednesday, 4 August
> Interview this morning 🙂
> Hey guys, the video for "Something 'Bout Love" will be premiering tomorrow on Vevo! Excited for you guys to see it!
> HanneDenmark Oh ok thanks for letting me know that! Sorry about that haha [reply to: VEVO isn't available in Denmark and other countries – so we are relying on your OFFICIAL site – and are EXCITED to see it]
> Eat a Blizzard and SAVE A LIFE on August 5th! More on #miracletreatday at Miracle Treat Day
Thursday, 5 August
> "Something 'Bout Love" music video is out TODAY!! You can watch it here now!! SBL Music Video
> @pastelpastel Thank you! I will make sure to take a look there too! [reply to: Hope u have a bit of time to scroll through tweets, comments on the vevo site and your site. Kudos! Soak it in sir!]
> @Maureen_abms Ah thanks for making note of that! Worked really to incorporate some positive vibes into it! 🙂 [reply to: I'm so proud to be your fan! Everything you do has a positive message! Your video is another example of that! THANK YOU!]
> @archielover895 Ah you noticed 🙂 lol [reply to: was that text in the video supposed to be from Joy Williams? Congratulations david! we love it!!]
> @Zully_FOD Yep he does! It was fun having him in there. [Daniel looks so good! he plays basketball right?]
> Thanks for the positive feedback you guys on the video!! If you haven't seen it yet you can go here and check it out! SBL Music Video
> @jordanmorrissey Yeah! Sara Bareilles is amazing [reply to: great video!! PS- have you heard "king of anything"??? it's awesome!!]
Friday, 6 August
> "The speed that you move may depend on your fate or talent, but……the distance you cover is decided entirely by YOU and your PERSEVERANCE!"
> Ah a bowl of cereal…. Perfect for anytime of the day.
Saturday, 7 August
> Meetings today. Glad the sun is out to have meetings outside 🙂
Follow David Archuleta on Twitter. He has almost 423,000 followers, but who's counting? —I am!!! During the past fifteen weeks, David has averaged 4,533 new followers each week. Amazing!
Fandom
Blogs, Stories, Charities
Stories
Voting on the Teen Choice Awards 2010 has ended.
from: Teen Choice Awards
7 August 2010
TEEN CHOICE 2010 airs Monday, Aug. 9 (8:00-10:00 PM ET/PT) on FOX. We hope David Archuleta wins a surfboard in the Choice American Idol Alum and the Most Fanatic Fans categories! David will be appearing on the show as a presenter.
David Archuleta's Chords of Strength, Chapter 9, "The Joy in Sound," Summary and Commentary
by Goldstar for Archuleta Fanscene
6 August 2010
"The Joy in Sound" is a perfect title for this chapter since that phrase exemplifies David's feelings about music and connecting to his audience. Although this chapter is not about his family or faith, it's still very personal, heartfelt, and honest. In other words, very David.
For someone so young, he has brilliant enlightenment into what music and performing should be about. Music, when done correctly, is a special gift of sharing. Music connects people and creates emotional attachments ….
Read the rest: AFS commentary
David Archuleta ABC Book for Fans, R is for . . .
by bianca, Bears Afloat
6 August 2010
Here's another wonderful ABC Book by Bianca. Thanks for making it available to download, Bianca! You can grab the graphic in its full size for printing.
"Rambling! It was a hot competition between "random" and "rambling" but I just couldn't resist the "Ramblin' Man" blog. So here it is, in all its glory! Yes, I transcribed the whole thing. I had to cover some of it, but if you can't remember what he said, it's time to view it again! (Small echo of "Something 'Bout Love" there, LOL.)"
Did you miss last week's Weekly Wrap? If you've fallen far behind, you should seriously search the Archhives! It's not too late to reclaim your status as a David Archuleta fanatic fan!
DA Weekly Buzz about David Archuleta!
Copy this short URL to share this post anywhere: http://www.dabuzzing.org/?p=17135

Tags: ABC Book · Chords of Strength · Other Side of Down · Something 'bout Love · Twitter · Weekly Wrap
Filed in: career|David Archuleta|music|news|performances
This Post has earned 1 Buzz.