DA week that was in the life of David Archuleta
Follow links above to the relevant sections below.
Keeping up with the über-talented, awe-inspiring, world-travelling David Archuleta can be a full-time job. Even the most (D)avid fans among us don't always have time to follow David. Here are some of last week's top stories about the awesome David Archuleta.
Weekly Wrap is usually published by 8 PM on Saturday night. However, I was not at home yesterday. Sorry for the delay.
Media Headlines
News, Reviews, and Interviews
David Archuleta interviewed on Good Day LA
from Good Day LA
5 November 2010
Special thanks to totoroarchie for the video
Length: 6:05
Cambio Connect Live Chat with David
from Cambio Connect
5 November 2010
For more than thirty minutes, David answers many and various questions sent by fans via Twitter. He sends his thoughts and prayers to the people of Indonesia who are suffering Nature's fury. He says he'd love to make a music video of "Elevator." Says he's rehearsing in LA for the upcoming performances. Asked if he would like to do a voice for an animated character, he says yes, then launches into "Sing," the Sesame Street song. (by Louis Prima, EMI Music) Talks about food — surprise, surprise. He gets another marriage proposal. Of course!
Silly me, I thought it was funny that David is sitting between the cushions. At one point he wraps one hand around the other arm. I do that too!
David's World
Blogs, Tweets, Appearances
Blogs and Vlogs
Announcing the Winner of the Fan Fiction Contest!
on David Archuleta .com
5 November 2010
After much deliberation, David and everyone here at davidarchuleta.com are proud to announce the winner of "The Other Side of David" fan fiction contest. After so many great submissions, its come down to story number 2 – "Stuck in an Elevator" as the winner. Congratulations to WRITEROFUTAH, you've won a custom David Archuleta iPad, and thank you so much to everyone who entered with your amazing words.
The Finalists were:
1. Things Get Better
2. Stuck in an Elevator
3. David Archuleta and Chocolate
4. Hotline audio finalist 1
5. Hotline audio finalist 2
6. Hotline audio finalist 3
Go to David Archuleta.com to listen to the three audio finalists and to read the three written ones.
Join the Official David Archuleta Website and sign up to receive newsletter updates of his appearances, music, photos, blogs, and more.
Appearances – Recent & Future
David Archuleta sings "Complain" at the Girl Up kick-off event
4 November, Los Angeles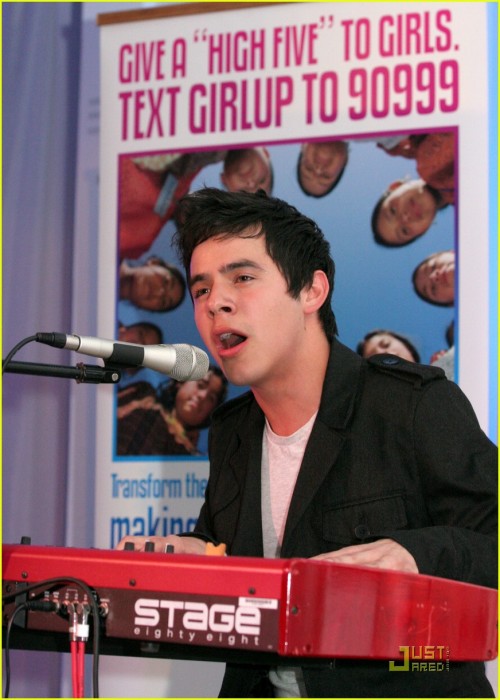 Learn more about Girl Up, a movement from the United Nations Foundation.
Quick-glance Appearances Schedule:
November
3 November, performs acoustic set for Y101 Unplugged at Sierra Vista Mall, Clovis, California
14 November, showcase performance in Singapore! More info
15-16 November, promo & performance in Manila, Philippines
UPDATE: David's manager Melinda Bell tweets that David will not travel to Indonesia or Malaysia.
December
David Archuleta will be the youngest guest performer at the Choir's Christmas concerts. The free tickets will be available only by random selection. Register online at lds.org/events through October 18 or by phone at 801-570-0080 or 1-866-LDS-TIKS, Monday through Friday, 10 a.m. to 5 p.m.
Source for some of the appearances info: ArchuletaFanScene.com
DavidArchie on Twitter
Monday, 1 November
> Man a perfect day outside. Went and took the dog on a walk.
> Just had some cashew raspberry ice cream made of cashew cream. Really good!
Tuesday, 2 November
> So some kid who apparently likes my sister gave her a cutting board as a gift. He made it in woodshop. How interesting… haha.
> Tomorrow I'll be performing at the Sierra Vista Mall in Fresno at 6 PM for Y101 Unplugged!! Anyone gonna be able to come??
> @@trishaluvsu Awesome possum! And you should be able to get in. Reply to: we will be there!!! we're all so excited!!!! i hope we get in
> Having a good time at the @LadyAntebellum concert with my sisters. They're sounding great!
Wednesday, 3 November
> In Fresno, California! Doing a Y101 unplugged performance at the Sierra Vista Mall at 6 PM if you wanna come!
> The performance tonight is free by the way haha. So feel free to bring whoever!
> So the show tonight actually starts at 5:45… Haha. Just arrived at the Sierra Vista Mall!
> Had a really awesome time tonight! Really sorry I couldn't get to everyone to sign stuff but thanks to everyone who came!!
Thursday, 4 November
>I am doing a live chat on @cambioconnect tomorrow, November 5th 7PM ET/4PM PT! Cambio Connect Live Chat
> Just finished a really fun and great interview at Westwood One!
> Unsalted tortilla chips! I'm so happy right now!
Friday, 5 November
> At Good Day LA doing an interview in just a few! Doobie Brothers are here and they just performed Black Water!
> Having a live chat with @Cambioconnect in a couple of hours! 4 PM PST. But first, lunch at a Pupuseria
> The chat starts in about 20 minutes! You can tweet your questions to #cambiochat
> Going live now with the chat! http://aol.it/9QPhC0
Saturday, 6 November
> Ah, nothing like some good Stevie Wonder music to start the day.
> In Santa Barbara today. Wow it's a beautiful day! Not too hot but warm and sunny.
Sunday, 7 November Rare Sunday Tweets! Although the date stamp on the first tweet might be a mistake.
> Attended a really great event for the Dream Foundation tonight. [Sat night?] Kimberly Locke and Orianthi were also there.
> Looking forward to the extra hour to sleep in tonight with the clock moving an hour back!
David Archuleta has more than 512,400 Twitter followers!! Reaching for a cool mil! Follow DavidArchie on Twitter. During the past 28 weeks, David has averaged 5,624 new followers each week.
Fandom
Blogs, Stories, Charities
Stories
Why Katheryn Champions David Archuleta
by Katheryn, Archuleta FanScene
7 November 2010
Besides immediately recognizing David as a precocious talent on American Idol, what also drew me into the world of David Archuleta fandom was my personal revulsion at the derision directed at him by many in the entertainment media. I guess most of those writers had been so hardened by years of working in the industry they couldn't believe a person of David's character actually exists. Thankfully, most such attacks have ceased, except by the lowest elements in the media. However, I find that the entertainment media in general tends to ignore people of good character, no matter how talented….
Thanks to ArchieFanDoc for publishing this must-read for David Archuleta fans everywhere! It's an inspiration from our very own and original Honeybee, Katheryn. Please read the entire story.
Charities
David Archuleta fans unite to raise money for the Children's Miracle Network
from Angels for a Cause
24 October 2010
"It's in the Bag" Fundraiser!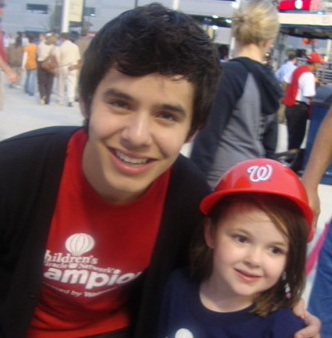 Children's Miracle Network has grown dramatically since its founding in 1983 from a televised fundraiser in a small studio to one of North America's leading children's charities. Founded by Marie Osmond and her family, John Schneider, Mick Shannon, and Joe Lake, CMN has raised more than $3.4 billion since 2008—most of it donated a dollar or two at a time. Children's Miracle Network is guided by two simple goals:
1. Help as many children as possible by raising funds for children's hospitals.
2. Keep funds in the community in which they were raised to help local children.
Attention David Archuleta fans: your donation will help raise money for this worthy cause and you might win a cool David Archuleta-styled denim handbag. Visit Angels for a Cause to see all the artistic bags. With a donation of at least $10.00, your name will be placed in the drawing. The It's in the Bag contest ends November 23.
Good luck!
Dream Foundation appearance
at the Bacara Resort and Spa, Santa Barbara, California
6 November 2010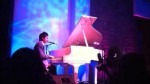 Sitting at a beautiful white piano last night, David sang at a fund-raising event for the Dream Foundation. What did he sing? Did he dance with someone named Caitlin!? All unknown at this point, but fans want to know! Founded in 1994, the Dream Foundation is the first organization with the goal of making a dream come true for adults suffering life-limiting illness.
Did you miss last week's Weekly Wrap? If you've fallen far behind, you should seriously search the Archhives! It's not too late to reclaim your status as a David Archuleta fanatic fan!
DA Weekly Buzz about David Archuleta!
Copy this short URL to share this post anywhere: http://www.dabuzzing.org/?p=18406

Tags: Cambio Connect · David Archuleta iPad · Dream Foundation · Girls Up · Good Day LA · Twitter · Weekly Wrap
Filed in: career|columnists|David Archuleta|music|news|performances|Queen Bee
This Post has earned 2 Buzzes.