The audience at the Warfield Theatre in San Francisco erupted with a standing O when David Archuleta introduced his mom Lupe. I feared an earthquake—the surprise duet was ground-shaking! Lupe was gorgeous in a white gown and jewels, and she and David harmonized beautifully.
At the VIP earlier we had been watching David and his band during the sound check through a window behind the bar in the lobby. Then, we were told there would be a delay and someone taped a curtain over the window to block the view. We heard they were making changes to the night's performance. I thought it might have to do with that particular stage; it never occurred to me that it was LUPE!! I had seen videos of her duets with David in Salt Lake City at the start of the holiday tour, but assumed she wouldn't be traveling with them.
During the first part of David's performance, he told us he has family there, mentioning only his aunt and uncle. Only after the duet with Lupe did he say that his immediate family—brother and sisters— was there too. What a coy boy!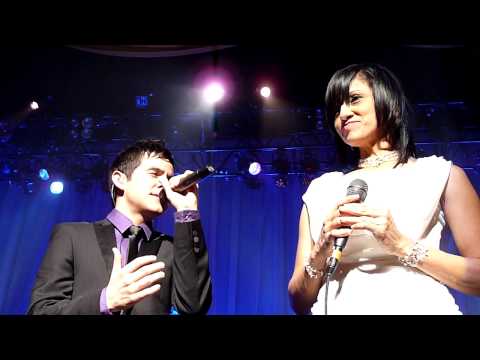 David and Lupe Archuleta duet, "Have Yourself a Merry Little Christmas," November 30, 2009 at the Warfield Theatre, San Francisco
Courtesy of Gengen
Copy this short URL to share this post anywhere: http://www.dabuzzing.org/?p=8239

Tags: Christmas tour · duet · Lupe Archuleta
Filed in: David Archuleta|music|performances
This Post has no Buzz yet.