This is Music Beat. Exploring the music world into which David Archuleta is immersed. Featuring Music Biz, Buzz Board, the Way-Back Machine, and more. Enjoy!
Buzz Board
"Crazy" Lyrics

David Archuleta sings "Crazy" by Gnarls Barkley like crazy, man! What if you could display the lyrics while you listen to him sing? TypeStar, a Processing sketch created by Scott Garner, is like a karaoke machine that renders lyrics in real time according to a number of preset visualization schemes. Processing is an open source programming language and environment for people who want to program images, animation, and interactions. Synchronizing video, music and lyrics is a cool way to hear and see music digitally. The kinetic animation adds an exciting visual element to music.
In this video example, Mr. Garner displays the lyrics of "Crazy." Play time is 3:18 minutes.
TypeStar from Scott Garner on Vimeo.
Read more about Processing
Name that Tune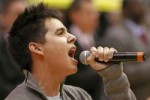 You heard a song on the car radio and couldn't stop to write it down. Now the tune is stuck in your head, but you don't remember the title or the singer. What to do? How can you find lost lyrics? Well, if you know a little music, or can play some of the notes by ear, you can "let your fingers do the walking" and find that tune. Here are a few online tools to help you "name that tune"!
Musipedia: A Melody Search Engine: You can play a snippet on a piano keyboard. Choose a Flash or JavaScript keyboard. You can even whistle the tune in a microphone!
Dodososo might help. It catalogs the beginnings, choruses, hooks, themes and harmonies of hundreds of songs. You can search for a tune by typing the first four notes in the key of C.
Midomi: Using a microphone, hum or sing for about 10 seconds and Midomi will display search results.
Way-back Machine
Pure Wonder
Stevland Hardaway Judkins, born on May 13, 1950, is an American singer-songwriter, multi-instrumentalist and record producer. His mother later changed his name to Stevland Hardaway Morris, which remains his legal name. Although blind from birth, he had learned to play many musical instruments by an early age. He signed with Motown's Tamla Records at the age of eleven. Motown producer Clarence Paul gave Morris his trademark name—"Little Stevie Wonder"—after stating, "we can't keep calling him the eighth wonder of the world."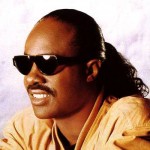 Stevie Wonder has recorded more than thirty U.S. top ten hits and won twenty-two Grammy Awards, the most ever won by a male solo artist. On his 1970 album Signed, Sealed, and Delivered, Wonder covered The Beatles' song, "We Can Work It Out." Released as a single in 1971, it reached #13 on the Billboard Hot 100 and earned Wonder his second Grammy Award nomination in 1972, for Best Male R&B Vocal Performance.
Here is Stevie Wonder performing "We Can Work It Out" at the 32nd Grammy Awards February 22, 1990.
David Archuleta has said that Stevie Wonder is one of his greatest musical influences. On March 11, 2008 David sang The Beatles' tune, "We Can Work It Out," on American Idol. He was criticized not only for flubbing the lyrics, but for using Stevie Wonder's version of the song.
Part of the problem was that David used Stevie Wonder's ummmerrmmmmsomething instead of the Beatles'. And say what you will about Archadorable, but a teenager from Utah should not be grabbing arrangements from Stevie Wonblahblah. Ever.

SOURCE: MTV's Jim Cantiello
Happy Birthday, Stevie Wonder!
---
And the Music Beat goes on…but you may have missed MB last week.
Music Beat Buzz
Copy this short URL to share this post anywhere: http://www.dabuzzing.org/?p=15969

Tags: Crazy · Gnarls Barkley · karaoke · minja · Music Beat · Stevie Wonder · TypeStar · We Can Work It Out
Filed in: columnists|David Archuleta|minja|music|news
This Post has earned 2 Buzzes.