Songs The last time I wrote, I was sharing the song "Apologize" with all of you and discussing how much I was looking forward to seeing David perform in Providence, RI on August 23. My how things can change in less than a week's time! As many of you know by now, the last three shows of David's tour with Demi Lovato have been cancelled and rescheduled for the end of October and early November. To say I am very disappointed would put it mildly. Unfortunately, I will not be able to go to the rescheduled show. So, I am out of luck seeing David perform again very soon. My only hope is to wait patiently for his next solo tour, which may be the end of this year.
As I thought about all this and how much I love to see David perform, the song "Touch My Hand" came to mind. It is such a perfect concert song. The way David comes out on the stage, full of energy and so happy to be performing for his audience. The way he reaches out to his fans, touching and shaking as many hands in the crowd as he can, connecting with them. It is really something very special and in my opinion, not many performers are able to make that emotional connection with their audience as easily as David Archuleta does.
I had the good fortune of being in the front row for David's concert in Northampton, MA last March. At that show, he 'touched' my hand! Well, it was more like a gentle but very heart-felt squeeze and it was something I will never forget! 😉
I know it isn't the same as being there, but until we can see and hear David again, I thought this song was appropriate. So for all of David's fans, and especially those of us who had tickets for the shows that were so abruptly cancelled…
The Song of the Week is "Touch My Hand"!
"Touch My Hand" was written and produced by Wayne Wilkins, Steve Kipner and Steve McEwan for David's self-titled debut album which was released in November 2008. The story goes that the songwriters were inspired by footage of David from his concerts during the American Idol Top 10 tour. At these shows, David would often reach his hand out to the fans who were close to the stage. The way he interacted with his fans during these moments left such an impression on the songwriters that the song "Touch My Hand" was born. It is an upbeat song about the way a connection is made between the singer and a fan in the audience. David Archuleta often opens his concert performances with this song to the delight of his fans, especially those up close enough to the stage to get a little handshake! 😉 In late spring 2009 the music video of "Touch My Hand" was released. Much of the video shows real concert footage during his solo tour in early spring. The video vividly captures David's interaction with his fans. For your viewing pleasure…
"Touch My Hand," AOL Live Music Sessions
First up, the AOL Sessions of November 5, 2008. This was the first time we fans saw David perform with his newly formed band. "Touch My Hand" was one of five songs they performed in anticipation of the debut album.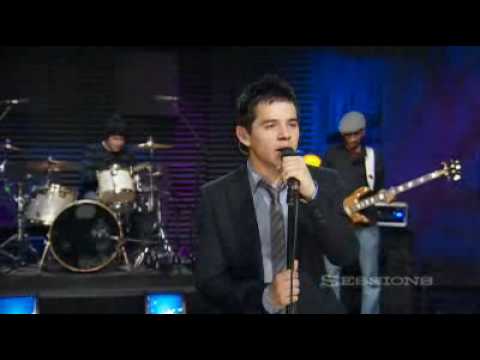 David's music video of "Touch My Hand"
Next is the Official Music Video. Much of the footage is from the live performance at the House of Blues in Chicago during David's solo tour in spring of this year.
Watch the Official Video of "Touch My Hand" on You Tube.
Previous Songs of the Week:
"Crush"
"Waiting on the World to Change"
"Apologize"
David Archuleta, the Voice
Copy this short URL to share this post anywhere: http://www.dabuzzing.org/?p=4276

Tags: baf · bigarchiefan · Chicago · House of Blues · music video · Touch My Hand
Filed in: bigarchiefan|career|columnists|David Archuleta|music|news|opinions|performances|reviews|voice
This Post has earned 3 Buzzes.