SongsYesterday Spain won its first ever World Cup Soccer championship title. This is a very exciting moment in history for Spain, and for all those who feel a kinship to that country. Also today, David Archuleta is in San Antonio, Texas, at the Tejano Music Awards to honor the late singer, Selena. So in honor of these two events, I decided the song this week would have to be in Spanish!
The Song of the Week is…
"Contigo en la Distancia"
"Contigo en la Distancia" was written and composed by César Portillo de la Luz in 1946. Luz is a singer and guitar player from Havana, Cuba. In the 1940s he helped to start a new musical genre known as "feeling." When they listened to the new jazz musicians of the day, they would say, "What feeling!" Sensitivity overpowered the technicalities of the music. Heavily influenced by American jazz, "feeling" abandons the melody's normal quietness, omitting modulations while harmoniously enhancing the links of tonal and extra-tonal tunes. It's Cuba's answer to American blues and jazz. In the context of Cuban troubadours, this music with its new guitar harmonies and sensitive interpretation established a dialogue with the listener through emotion and the syntactic structure of the Bolero, a type of Spanish dance music. César himself is quoted as saying: "The music known as "feeling" represented the most advanced music of the time. We were a generation marked by impressionism, jazz, and romanticism. All these sources nurtured our artistic and musical thinking. Then, we created a new stylistic trend in the Cuban song."
César Portillo de la Luz is a true idol in countries such as Spain and Mexico, but he has also had a lot of success in Europe and America. His songs has been performed by many famous artists all over the world, including Nat King Cole, Lucho Gatica, Pedro Vargas, Luis Miguel, Plácido Domingo, María Bethania, Cristina Aguilera and The Symphonic Orchestra of London. Many famous artists, both Latin as well as American, have covered "Contigo en la Distancia." Probably one of the most well-known covers in the U.S. was performed by American singer Cristina Aguilera.
Here is Cristina Aguilera's rendition of "Contigo en la Distancia" when she performed it for Jay Leno in 2006. Though I think she sang beautifully, I feel she didn't connect with the song on the same level as David did. Perhaps the song got lost in all her vocal acrobatics, which were amazing, but in my opinion, took away from the softness and emotion of the song.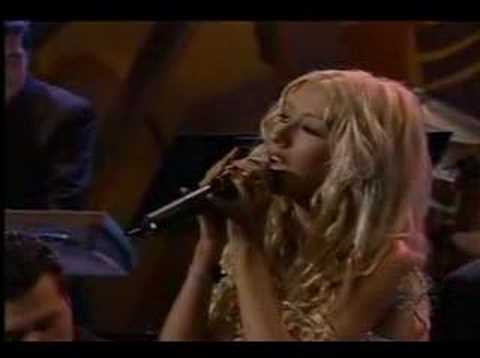 At the Alma Awards in September 2009, David Archuleta won The Year in Music NCLR, New Artist Award and was invited to sing "Contigo en la Distancia" on the televised show. His is a much more toned-down version than Cristina's, but I feel that the meaning and feeling of the song really come out when David sings it. Truly heartfelt and also beautiful.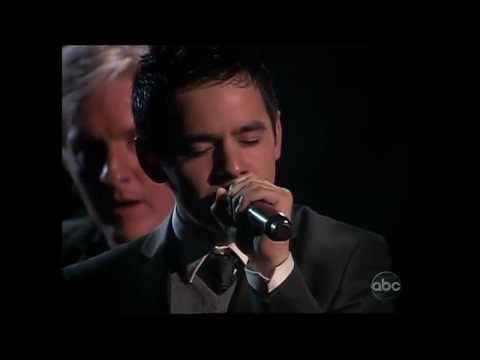 ~ Spanish lyrics to "Contigo en la Distancia"

No existe un momento del dia
En que pueda apartarte de mi
El mundo parece distinto
Cuando no estas junto a mi

No hay bella melodia
En que no surjas tu
Ni yo quiero escucharla
Si no la escuchas tu

[1] Es que te has convertido
En parte de mi alma
Ya nada me consuela
Si no estas tu tambien

Mas alla de tus labios
Del sol y las estrellas
Contigo en la distancia
Amado mio estoy

Contigo en la distancia
Amado mio estoy, oh
Contigo,estoy
~ English translation: "With You at a Distance"

There's no such moment of the day
That could drift you apart from me
The world seems different
When you're not by my side.

There's no beautiful song
In which you don't appear
I don't want to listen it
If you don't.

You have become
Part of my heart
Nothing comforts me anymore
If you're not by my side.

Far beyond your lips
Of the sun and of the stars
With you at distance
My beloved one, I am.

[Repeat 1]

With you at distance
My beloved one, I am, oh
With you, I am
Congratulations to Spain for their big win today and congratulations to David for all that he has accomplished since Idol. He is a true success. Though Spain may have won the World Cup, David Archuleta has won many hearts all over the world 😉
Take care all,
Katie
Listen to Song of Last Week.
David Archuleta, the Voice
Copy this short URL to share this post anywhere: http://www.dabuzzing.org/?p=16888

Tags: "feeling" · ALMA Awards · baf · bigarchiefan · Ce'sar Portillo de la Luz · Contigo en la Distancia · Cristina Augilera · David Archuleta
Filed in: bigarchiefan|columnists|David Archuleta|music|news|opinions|performances|reviews|voice
This Post has earned 1 Buzz.