Songs After thinking long and hard about how to proceed with "Song of the Week," I decided not even to try and follow in the giant footsteps of BIGarchiefan. I'm sure you will agree that her work should stand alone.
Since David Archuleta will soon deliver an entire album of new songs—Other Side of Down is due out on October 5—I thought I'd take the time to review many of his 'old' songs. The focus will be on the impact each song has made since the debut album, David Archuleta, was released in November 2008. I'll comb the web for the opinions of vocal experts, music critics, and David's fans. It should be interesting to discover what has been written about David's first group of songs. Don't you think? You can also add your own thoughts in the comments' section. Let's start with the very first one, "Crush," David's hit single. It debuted at #2 on the Billboard Hot 100.
"Crush" by David Archuleta
First, we'll let David himself tell us about "Crush" in the best way he knows how: his voice. Here's David in the music video for his first single.
"Crush," the music video
(3:32 minutes, nearly 22 million views on YouTube):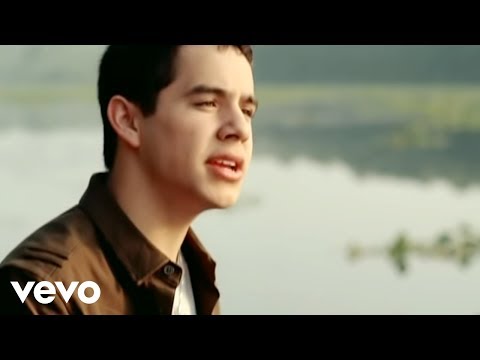 Produced by Emanuel Kiriakou
Written by Kiriakou, Jess Cates and Dave Hodges
Released to radio stations via New York City's radio station Z100 on August 1, 2008
Digital debut on iTunes #1 in the United States
Purchase the album, David Archuleta, on Amazon.
A Masterclass review of David Archuleta's new CD
by Rosanne Simunovic, MasterClassLady, Canadian Vocal Teacher & Blogger Extraordinaire
5 December 2008
Read more: MCL reviews
I love the unbridled enthusiasm that David displays in this opening track and he was very wise in choosing a song that speaks to his youthful persona. This song has enjoyed enormous success for two reasons – it is a positive, upbeat affirmation of young love, as well as a testament to David's flexible vocal ability.

The melody is absolutely contagious and absolutely perfect for airplay. However, it's David's remarkable vocal ability that impressed me the very most. He navigates every area of his range with clarity and precision, while at the same time keeping the expressive elements front and center. Both words and music are very important to David and he uses both of these song elements to create a memorable song that speaks to his enormous artistic gifts.

Oh yes, I should not forget those beautiful background vocals – all David! The verbose elements of this song would have caused problems for many artists, but it's David's enormous technical gifts that have allowed him to perfectly pace the breathing elements in this song . As a result, the words always remain clear and focused.
Exclusive interview: David Archuleta's "Crush" tops charts
by Stephanie Lysaght, LA Times Blog Showtracker
21 August 2008
…Our topic of conversation –- Archuleta's real-life crushes -– was prompted by the outlandish success of his first single, "Crush." Not only was it the top-selling digital download of the week, but "Crush" also hit No. 2 on the U.S. pop singles chart today; the best chart debut in 18 months, according to Billboard….

The single came about somewhat serendipitously. "It was actually the first song that the label played for us to listen to," Archuleta said. "They played just a rough demo of it, and I was just like, 'wow.' " After singing so many mature ballads on "American Idol," Archuleta was drawn to "Crush" for its youthful edge. Above all, Archuleta wanted to avoid coming off as too adult; or, as he put it, as "some cheesy version of Josh Groban."
Xena, fan comment
from LA Times Blog Showtracker
22 August 2008
David Archuleta is no longer confined to the dictates of American Idol, and he is at last free to demonstrate his versatility as a singer and a performer. The show had him pigeonholed as a balladeer, but "Crush" is a midtempo pop-rock song with R&B flavor. Reviews have been overwhelmingly positive. The success of "Crush" is phenomenal when you consider that it has not yet been released for radio in most parts of the country. I'd just like to point out that the gifting campaign referred to by a very bitter "Thank-the-fans" was not accurately portrayed in his/her comment. Copies of "Crush" are not sitting collecting dust on computers. Instead gifts are emailed directly by iTunes to the recipients, most of whom live abroad and cannot download directly from the iTunes website because of it. David is very popular internationally, and these fans want the opportunity to own "Crush" too.
"Crush" Review from Billboard.com
by Chuck Taylor, Billboard Magazine, reprinted by Rickey
15 August 2008
…the prognosis is aces for the launch of season-seven runner-up David Archuleta. "Crush" is a hummable, age-appropriate midtempo pop ditty for the 17-year-old, showcasing his fine mass-appeal vocal stylings with creamy harmonies and some nice falsetto effects. The track is produced by millennium wiz Emanuel Kiriakou, who has worked with Sparks, Jesse McCartney, Celine Dion and Nick Lachey. "AI" has shown renewed radio potency thanks to such super-caliber artists as Chris Daughtry, Jennifer Hudson and Carrie Underwood—along with the democratizing of the consumer vote, via iTunes. "Crush" is likely to put its money where its title is on the charts.
doorsfan, fan comment
from Billboard.com
14 November 2009
dare i say this song will become a classic? crush is pure genius, pure gold, and david's stellar vocals just soar and shine throughout… yes, the song holds up just as strongly today as the day it was released.
Song Review: David Archuleta's "Crush"
by Brandon Lewis, Brandon's Best, Worst, and UNbelievable pop culture blog
1 August 2008
…On NY's Z100 this morning, American Idol runner-up David Archuleta premiered his new single "Crush" for the first time ever on radio. It turns out, the song was just finished last night (which is probably why the radio adds date was pushed back) so not even Archuleta heard the final version.

I was surprised by how much I liked it. I mean with [a] title like "Crush", the corniest concepts come to mind. Of course, his voice sounds phenomenal recorded, so that was never the problem. The production must have been done by Stargate, because it sounds a lot like their previous work, especially Chris Brown's "With You". Nevertheless, it sounds really good. The lyrics are also pretty good, and easily relatable. Everyone has had that big crush on someone, so it's an easy subject to write a song about. However, this song may be one of the best I have heard about the subject (Mandy Moore's was terrible). I'm sure everyone thought Archuleta would have the corny 1st single while [David] Cook would have the awesome one. Yeah, try reversing that a bit….
lettucegirl, fan comment
from Brandon's Best, Worst, and UNbelievable pop culture blog
2 August 2008
I LOVE this song, totally. for me, it's the type of song that you just wanna sing along to when you hear it. I can't stop listening to it since the first time i've heard, i lost count of the no. of times already. Now i'm seriously excited to get my hands on that CD!!!! ahhhh!! is it november already?!!
Read about "Crush" on the very first "Song of the Week" column by Katie, bigarchiefan, written on 4 August 2009.
Listen to Katie's collection of Songs of the Week.
David Archuleta, the Voice
Copy this short URL to share this post anywhere: http://www.dabuzzing.org/?p=17090

Tags: bigarchiefan · Billboard · Chuck Taylor · Crush · iTunes · LA Times · Song of the Week
Filed in: career|David Archuleta|music|opinions|performances
This Post has no Buzz yet.